Body (5 out of 5)
The Olympus E-P1 (starting at $750 online) is a continuation of Olympus' Pen Series introduced nearly 50 years ago. These compact cameras are meant to be able to shoot quality film in a small package. Like the cameras original purpose, the E-P1 is a compact digital camera with a really sleek look.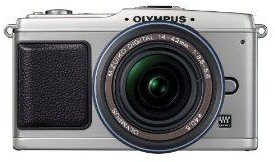 It's very tasteful with its silver stainless steel body and fits in the hand well. Speaking of something from the 1950s, it has that same look and feel to it. The E-P1 is designed to be slipped into a jacket or backpack and does that rather well. Its dimensions are 4.7 x 2.8 x 1.3 inches, and it only weighs 11.8 ounces. Most of the controls can be found at the back of the camera, making it easy to find and use them. The three-inch LCD screen makes it easy to point and shoot with the view finder.
Features (5 out of 5)
One of the really nice features about the E-P1 is that you can change lenses. In fact, the first ones sold will come with two lenses: F2.8 17mm M. Zuiko lens and the F3.5-5.6, 14-42mm M, Zuiko lens. So, you can finally have a compact camera, where you can change out the lenses.
The E-P1 comes with the Micro Four Thirds system. Created by Olympus and Panasonic in 2008, this system allows for the interchange of lenses by any company who adheres to this standard. The camera comes with the Olympus Master software, which is fairly straight forward to use. You can easily edit your photos on your computer with this software.
The E-P1 has a 12.3 Megapixel Live MOS sensor that works extremely well. The image stabilization technology is built into the camera, which means that no matter what lens you have on the camera, it won't suffer from hand shaking.
The systems on this camera have been improved over other snapshot cameras. It has a new image processor that greatly improves the look and color in pictures. It also has a better 18×18 metering mode that's up to 324 zone, which helps control exposure to light.
The camera comes with a lot of other bells and whistles, including a dust reduction system and plenty of art features for still cameras. You can take video with your camera with the 720p movie mode, which isn't too bad for a point-and-shoot camera.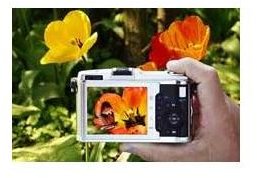 One of the really nice features is the Live View on the view finder. Basically, whatever settings you change can be instantly seen right on the LCD view finder. You get to see what you have captured before you get home. There's also the Multiple Exposure feature, where you can take several pictures and make like a panoramic view right as you take the pictures.
Miscellaneous (4 out of 5)
The EP-1 uses conventional SD/SDHC memory cards, which are faster and easier to find than the normal xD memory cards. You can get up to 300 shots before having to recharge the BLS-1 lithium-ion battery, which is pretty good for a camera this size.
Drawbacks (3 out of 5)
Perhaps, the only major drawback to this camera is the accessories. The two major ones are the clip-on optical viewfinder and the FL-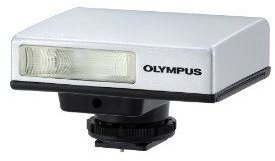 14 external flash. The problem with clip-on optical viewfinder is that you can only use it with the 17mm lens, which kind of limits its usefulness. The problem with the FL-14 external flash is that it doesn't bounce or illuminate objects very well. And, it's rather expensive as well at around $200.
Bang for Your Buck (4 out of 5)
Overall, the camera is very easy to use and portable. While it is a little higher priced than other point-and-shoot cameras, the ability to change lenses makes it well worth the investment.