About the Nikon Coolpix L20
The Nikon Coolpix L20 is a very inexpensive, professional, point-and-shoot digital camera. You could take an expensive, complicated digital SLR and compare it to the L20 and you'd be surprised how they match up. Many people prefer the simplicity of a compact, automatic camera that can still produce fantastic photographs. The Nikon Coolpix L20 is all of this and more. You can produce quality prints up to 16 x 20 inches.
Powered by two AA batteries, the L20 features a 3.6x zoom lens and a vivid 3.0-inch LCD screen. Although the L20 is larger than most compact digital cameras, it's very lightweight. It's easy to hold and allows for good grip, so you can take it virtually anywhere and not worry about it falling out of your hands or pocket. This camera is perfect for both amateurs and beginners.
Nikon Coolpix L20 in Blue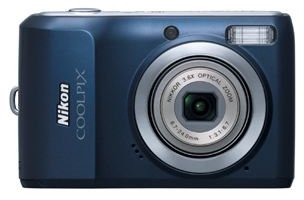 In the Box (3 out of 5)
2 AA Batteries
A/V and USB Cable
Wrist Strap
Software Suite CD-ROM
Design (5 out of 5)
The Nikon Coolpix L20 comes in dark pink, navy blue, and silver. No matter the color you buy it in, you'll be pleased to find that this is a detailed and fun camera to use. It's sleek and comfortable to hold. The huge bright 3.0" LCD screen makes it easy to view pictures. The controls are easy to learn and use, and aren't too crammed together, even though the LCD is large.
Features (4 out of 5)
3.0-inch LCD screen.
Image Processing System: You don't have to wait five seconds to see your pictures load up on the LCD screen. The camera is very quick to respond to scrolling through images and menus.
Scene Modes: Instead of just using the automatic scene mode for every picture, you can choose from the following: Portrait, Night Portrait, Landscape, Night Landscape, Sports, Party, Sunset, Beach/Snow, Dusk/Dawn, Museum, Close Up, Fireworks Show, Copy, Back Light, Panorama, and Food.
Macro Mode: The macro mode is an incredible feature. You can take pictures as close as two inches from the lens and still have them come out sharp and clear.
Portrait System: The L20 is able to detect and fix Red-eye, detect blinking, and focus on and lighten detected faces. It's also able to sense when someone smiles and will take the picture quickly as to not miss the moment.
Cons (3 out of 5)
Grain: There is some grain and noise when there is not enough light in a photo, usually when photographing indoors.
Image Colors: The colors are a bit off in different lighting. They don't always seem natural or vivid.
Video Recording: The Nikon Coolpix L20 does record video, but it can occasionally freeze up.
Price to Value (5 out of 5)
For $111.00, you can be a proud owner of the Nikon Coolpix L20. The price is right since this camera's quality is so close that of a digital SLR. Also, you get a lot of features, reliability, and functionality with this point-and-shoot Nikon.
For more information and to see sample images taken with the Nikon Coolpix L20, please visit their website.