3D Technology
3D technology is the future that everybody is talking about in the technology market. Year 2010 belongs to Panasonic, which has turned the hyperbole into reality first with its first 3D HD TV, then 3D Blu-ray player and now with its 3D camcorder. Since 3D TVs are facing the onslaught since January, here we will cover 3D camcorders that are still bumping along to get our attention. But before that, what features should you consider when purchasing a 3D camcorder?
How to Choose a 3D Camcorder
A 3D camcorder is a fine piece of electronic equipment that allows you to record in 3D. With only a few options available, you're buying decision will depend on how you are going to use the camcorder and its price. Your camcorder should have the following basic features:
Sensors: Large sized sensors are considered good.
Resolution: Standard resolution or HD.
High frame rate: A rate of 15 fps is minimum, 30fps is good and 60 fps is considered the best.
Optical image stabilization: This attribute helps to reduce the edginess from the shots.
Ample optical zoom: Sufficient optical zoom lets you take up close shots, when getting closer to the target is difficult.
Sound: 5.1 channel recording is preferred.
Technologies like face detection, noise reduction as well as intelligent technologies that automatically adjust focus, shutter speed, and exposure.
Photo features.
3D Camcorders
There are only a limited number of 3D camcorders available on the market for consumers who want to enter the world of 3D video recording. One such option is the Panasonic HDC-SDT750K that records in 3D with the help of a conversion lens attached to the mount. The other option is Aiptek i2 3D HD 720p. It's a budget model 3D pocket camcorder that uses two lenses and two sensors to record in 3D.
Panasonic's 3D Camcorder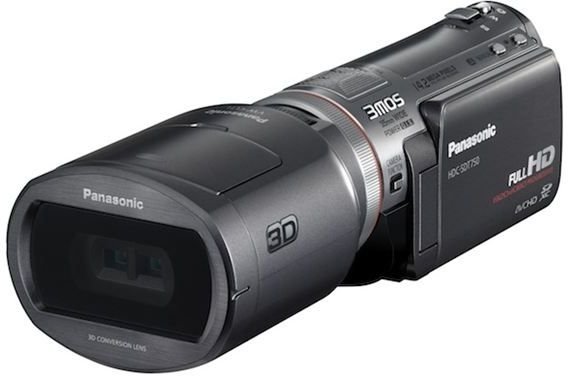 Panasonic's HDC-SDT750 is an end-to-end 3D experience that is the first of its kind to hit the market. It's the first consumer level 3D camcorder that comes with the ability to shoot full HD video at 60 frames per second. The SDT750 is a 1080p camcorder packed with a VW-CLT1 converter lens. This converter lens is a single unit that holds two side-by-side lenses which capture two slightly different images that combine to produce the 3D effect. It features the newly developed high sensitivity 3MOS system, hybrid optical image stabilization and an intelligent auto technology that assures crisp and clear images. It also features an improved noise reduction element as well as 12x optical and 18x intelligent zoom. It records H.264 or MP4 video on secure digital, SDHC and SDXC cards. The device houses 5 directional microphones and support recording in 5.1 channel. The Panasonic HDC-SDT750 costs $ 1399.95.
Aiptek 3D Camcorder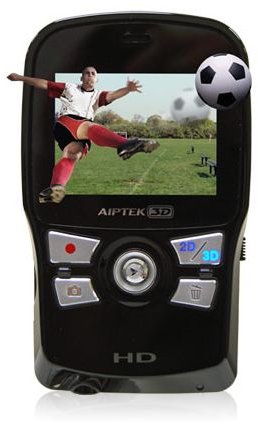 The Aiptek camcorder is the first affordable 3D camcorder. It is a mini USB camcorder, small enough to fit your palm. It consists of two lenses and dual 5MP high definition sensors that allow you to capture 720p 2D video or 3D. The 2.4" 3D display plays 3D videos that can be watched without special 3D glasses. Videos can be easily uploaded to YouTube through the Aiptek 3D camcorder with the click of a button. Aiptek 3D camcorder has a expandable memory capacity of 32GB. This device is affordably priced at $ 183.99.
Image Credits
www.panasonic.com
www.aiptek.com