Cameras for Kids
Stimulate the curiosity and creativity of children by getting them cameras for kids. These gadgets are not only entertaining but informative, as well. Optimize childhood picture-taking experience by getting the best pick among the rich selection of cameras. The following sections serve as guide in choosing the right cameras for your young ones.
Durability and Price to Value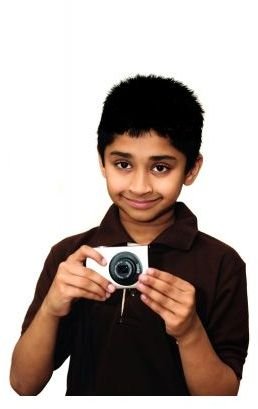 Go for durability. Strength of materials counts in the selection process. The quality of the product is definitely a plus point. It must endure the clumsy and active inclination of children. It must be a tough camera and, if possible, shock-proof for sudden drops as incidents must be expected.
Consider cost. Reasonable spending is advised for kids camera purchase. It is advisable to buy one with price no more than $100. Take note that children may easily outgrow the camera features. In turn, the parents have to purchase another one, and, it will not be too disappointing if the camera gets badly damaged at this price point.
Size, Design and User Interface
Pick the ideal size. Camera size must be considered for little kids. It must not be too big and heavy, and it must not contain parts which are too small to fit in the mouth. The size has to satisfy the safety and abilities of your children.
Good looks. Colour and design patterns are magnets of interest for kids. Bright shades can easily capture their attention. It is explained by the idea that their basic senses are into exploration at this stage. It would be great then to feed their eyes with attractive gadgets such as cameras to introduce learning.
Look for easy operation. Simple control buttons must be provided for children. It must meet the demands of these little minds. It must conveniently give way to little pressing fingers, too. It must be limited to the basic functions to avoid confusion over how the camera works.
Features
Stimulate senses. Choose one with playful sounds and attractive visuals. Funny sound effects and a colourful monitor display triggers interest. It makes the camera use exciting for them when you have comical shutter sounds and interesting LCD themes.
The focus factor. Find one with a face detection feature. It directs the shot to focus on the subjects by searching for facial images. It will get rid of disoriented shots in which subjects tend to be reduced as mere backgrounds.
Red-eye control. Choose one with the red-eye reduction mode. It eliminates the freaky bloody red eyes on photos. It may also come with the pet eye reduction effect. It eradicates the resulting white spot on animals' eyes. Kids are not familiar with lighting conditions while taking shots, so this feature is always helpful.
Turning photo moments into movies. Look for a slideshow mode on the camera. It can turn static pictures into dynamic videos. Young ones can have fun arranging photos accordingly while fusing a musical background. It helps children take pride in their photos and it encourages them to show them off to others.
For sepcific camera recommendations, you may also check another Bright Hub article which recommends the best 4 digital cameras for kids.
Photo Courtesy of FreeDigitalPhotos.net / by Arvind Balaraman