Introduction
Kodak digital photo frames let you display not just one photo, but entire albums. They can easily be placed anywhere in your home and in your office. It's the modern way to cherish your memories one slideshow at a time. Kodak digital photo frames may be from one manufacturer and have the same basic set of features, but each of these digital photo frames offer something unique. If you're thinking of purchasing one of these Kodak digital photo frames, here are 5 recommended choices.
Kodak EasyShare D830 (4 out of 5)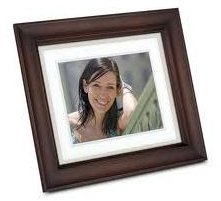 The strength of this digital photo frame lies in its ability to blend in with its surroundings. You can change the actual frame of this digital photo frame so it can match the design of your home or office. It has a discrete connection cable that doesn't interfere with its look and feel. It can even be mounted on a desk or hanged from a wall, giving it more flexibility in matching your house's existing design. It doesn't just give you a pretty exterior, it also gives you an intuitive and easy navigation controls. It even has energy saving features, making it friendly not only to your home decor but also to the environment. We give this digital photo frame a good score.
Kodak EasyShare EX1011 (4 out of 5)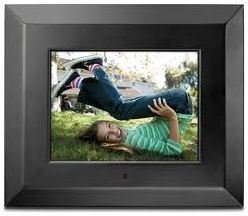 This digital photo frame focuses on wireless connectivity to bring something unique to users like streaming photos from another computer inside the house or, if the home network has access to the Internet, access to the Kodak EasyShare Gallery photo sharing service. It doesn't just deal with photos, it also has the capability to play mp3 and video files. This digital photo frame doubles as a media playback device, acting like a mini version of your home entertainment system. It's definitely not a one-trick pony. For it multimedia capabilities, we give the Kodak EasyShare EX1011 a rating of four out of five.
Kodak Pulse (5 out of 5)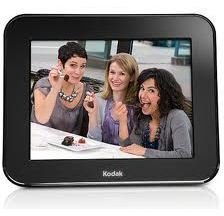 Kodak Pulse is the most social digital photo frame from Kodak. With its sleek design, it gives the user an edgy look and feel, perfect for a device that walks on the cutting edge of technology. It can interface with Facebook, of the biggest social networking sites in the world. Once the user sets up their account on the Pulse, they can get instant notifications whenever the user's friends upload photos. The user sees the photos on this digital photo frame as soon as it gets uploaded. The overall experience of the Pulse is genuinely intuitive and hassle-free. We give it a perfect rating.
Kodak EasyShare P730 (4 out of 5)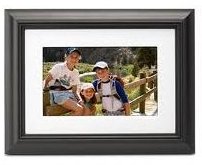 The unique offering of this Kodak digital photo frame is its ability to stay on even without being connected to a power source thanks to its rechargeable batteries. Aside from lasting a long time with being connected to an electrical outlet, this digital photo frame also utilizes Kodak's Picture Finder feature, which makes its first appearance in this model. The Picture Finder feature works by finding photos related to a user-selected photo, making it easier for the user to navigate through their library of thousands of photos. It gets a good rating.
Kodak EasyShare M820 (4 out of 5)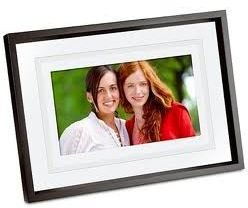 A marriage between photos and music, the Kodak EasyShare M820 lets you listen to music while you're browsing your photos. This is perfect if you want an ongoing slideshow playing in your house without being really disruptive of your other tasks. We give this a rating of a 4 over 5 which is a good score.