Canon PowerShot D10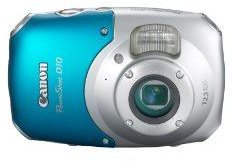 This Canon point-and-shoot was certainly designed for users who live an active life. It's not only waterproof but freeze proof and shockproof as well. The Canon PowerShot D10 can be submerged in water down to 33 feet without going bonkers and is a perfect digital camera to bring diving, snorkelling or surfing.
This sleek-looking digital shooter boasts of a 12.1 MP resolution and a plethora of digital imaging technologies that you normally find in Canon digital cameras. Among its many key features include Smart Auto Settings with 18 predefined shooting modes, blink detection that alerts when a subject has closed eyes giving you a chance to reshoot, DIGIC 4 Image processor, Face Detection technology, self timer, HD movie capture at 30fps, ISO sensitivity settings as high as 1600, rechargeable Li-ion battery and an effective 3x optical zoom. (Price: $329)
Fujifilm FinePix Z33WP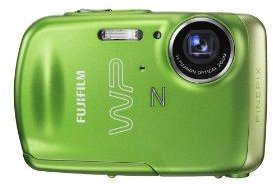 This digital snapper is Fujifilm's first take into waterproof cameras. And as such you can submerge it underwater for up to 10 feet without worrying about damaging the camera's innards and electronic system.
The Fujifilm Finepix Z33WP boasts of a 10MP camera resolution with 3x optical zoom. It has a 2.7-inch 230,000 pixel resolution LCD screen so you can practically see the full details of the marine resources that you have taken. Other notable features of this digital point-and-shoot include face detection technology, automatic red eye removal, couple and group timer modes, and one touch movie button for capturing VGA quality movie at 30 fps. Its Li-ion battery lets you take up to 200 shots per charging. (Price: $150)
Olympus Stylus Tough-6000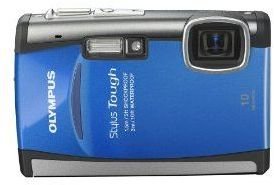 Just by its name alone, you'd immediately deduced that this handy digital camera speaks of durability and dependability even in the roughest shooting condition. The Olympus Stylus Tough-6000 can withstand water submersion down to 10 feet. The camera's body has efficient seals and gaskets that keep water out. Aside from its waterproof features, the Olympus Stylus Tough-6000 is also shockproof – having the ability to withstand drops from 5 feet. Even cooler is the fact that the Stylus Tough-6000 is also winterized – meaning it will still perform even when you are in an environment with below-freezing temperatures. You don't even have to worry about picture blurring even if you are already shaking since the camera has sensor-shift image stabilization feature that compensates for camera shake.
Other features of the Olympus Stylus-6000 include 10.1MP camera resolution, digital image stabilization, 3.6x optical zoom plus 5x digital zoom, VGA and widescreen resolution, 25 shooting modes, xD picture card support plus a microSD memory card adapter, and advanced face detection technologies. (Price:$219)
Pentax Optio W60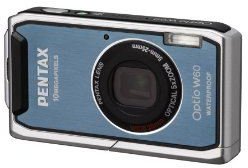 If you're a Pentax digital camera fan who is in need of a waterproof camera, the Optio W60 is definitely a perfect choice. While waterproof camera brands allow you to bring their cameras below 10 feet of water, the Pentax Optio W6 extends this further down to 13 feet and uses it for 2 hours. The camera also lets you focus on subjects as close as a centimeter so you can capture macro shots of marine creatures under water without getting too close to the subjects. And you don't have to worry about destroying your camera in the water since it has the proprietary Pentax Super Protect coating that repels water and scratches that extends to the camera's lens.
The Pentax Optio W60's key features include 10MP camera resolution with 5x internal zoom, smile capture and blink detection technology, shake reduction system, ISO settings as high as 6400, HD movie capture, frame composite function, anti-reflective coated LCD monitor, and supports SD/SDHC memory cards. ($489.99)
Panasonic Lumix DMC-TS1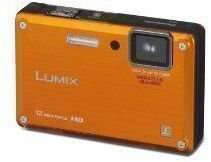 If powerful features are what you're looking for in a waterproof camera, then the Panasonic Lumix DMC-TS1 is the right camera for you. It has an effective 12.1MP camera resolution with 4.6x optical zoom and 4x digital zoom giving you a total of 18.4x zoom capability. It can withstand 10 feet of water depth as well as shocks from accidental drops up to 5 feet.
Other features in its arsenal include a 2.11-inch LCD screen with automatic 7-step brightness adjustment, optical image stabilization, wide-angle lens, HD movie capture at 30fps, various scene modes including Panorama assist scene mode, LED illumination when capturing motion image, easy-to-navigate camera menus, macro zoom function, and high-speed burst that fires off 10 shots per second. (Price: $369)