The Importance of a Good External Hard Drive
As we move on to the age of digital photography from that of film, one component which has become essential is the computer. Falling prices of memory cards and digital cameras have made us shoot much more than ever before. Today's high resolution digital cameras produce image files which are increasingly larger in size. In such a scenario, the one component which gains primary importance is a good external hard drive, as that's the place all our photos get stored to. And it's not unusual for a person, even an amateur, to have thousands of photos stacked up on his or her hard drive. Considering the central importance of this piece of hardware in our photography workflow, we'd rather have a sturdy and large enough external hard drive. This article focuses on what to consider when buying a good external hard disk for storing photos, and a roundup of the top contenders in this genre.
What to Consider when Buying an External Hard Drive
External hard drives come in two flavours. 'Pocket' external hard drives are highly portable and lightweight, and draw power from the computer through USB for its functioning. They are ideal solutions if portability is the need. 'Desktop' external hard drives are larger in size, and require their own dedicated power supply. These are cheaper, have a stronger casing and usually come in larger capacities.
The factors to be kept in mind while buying an external hard drive for storing photos are:
1. Always go for a reputed brand. It doesn't make sense to try and save a few dollars when it comes to risking all our memories gathered over so many years. Though there's no guarantee an external hard drive manufactured from a well known brand won't break, the chances of it happening is definitely smaller.
2. Go for as high a storage capacity as you can afford. Plus a little more. With cameras producing increasingly larger sized image files and digital technology making us shoot more photos and videos than ever before, it'll never hurt to have extra storage space at your disposal.
3. Choose high speed connectivity (for example, FireWire 400 or 800) over USB 2.0 if you're a regular photographer. Though costly, the speed difference it offers is considerable.
That said, let me quickly run you through some really good external hard drives. This list is not exhaustive, and there are many other reputed brands available. It's just that you won't go wrong with these!
ioSafe Solo

Amongst all the external hard drives available, the one that significantly stands out is the ioSafe Solo. The first waterproof and fireproof hard drive, the ioSafe is compared to the 'black box' of an aircraft and your photos will be protected from temperatures up to 1550°F.
Learn more about this external hard drive by reading this ioSafe review.
$1000 disaster recovery service included for 1 year
Fireproof up to 1550°F for 1/2 hour
Waterproof up to 10′ depth, 72 hours
LaCie Rugged All-Terrain Triple Interface Pocket Drive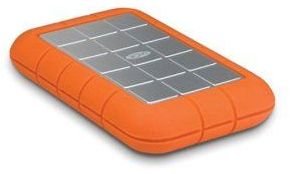 A shock resistant rubber sleeve, protective scratch resistant aluminum shell and internal anti-shock rubber bumpers provides adequate protection of your data
USB 2.0, FireWire 400, FireWire 800 connectivity
Also offered is one year of LaCie's online backup service. With this service, the data that you store on your computer will be encrypted twice and uploaded to the offsite data center where they will remain encrypted, maintaining your privacy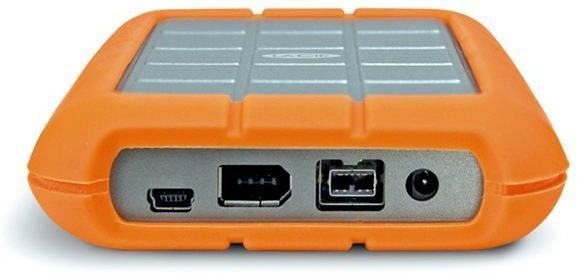 Available in 250GB ($105) and 500GB ($147)
LaCie 301442U d2 Quadra Hard Disk External Hard Drive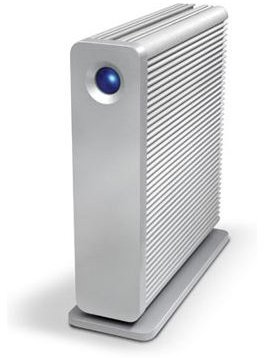 4 connectivity ports – eSATA 3 Gbit port, two FireWire 800 ports (9-pin), one FireWire 400 port (6-pin), and one hi-speed USB 2.0 port
Offers a ridged aluminum design which helps in efficient dissipation of heat and quiet operation
Available in 500GB, 750GB and 1TB
G-Tech G-Drive Mini
3 connectivity ports – USB 2.0, FireWire 400 , FireWire 800 connectivity
One of the most reputed of HDD brands.
As I mentioned earlier, this list is by no means exhaustive. The G-Technology 500GB G-Drive Q Quad Interface External Hard Drive, WD MyBook Studio Edition (500GB/1TB/2TB) and the Iomega photo hard drive XL are other worthy contenders too.
Happy shopping!