Tennis shoes are a very popular choice of footwear for both children and adults. A great way for preschoolers to gain some independence is by learning to tie their own shoes. This skill, however can be very frustrating for children to learn. In order to ease their anxiety, provide hands-on activities where students will learn basic information about wearing, tying, and lacing tennis shoes.
Introducing Facts and Functions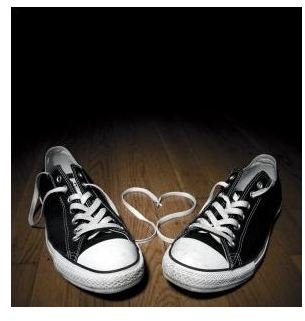 In preparation to introducing the basics of tying shoes, teachers can request that parents send their children to school wearing tennis shoes with laces on the specified date. A preschool theme on when these shoes are worn can be enhanced with bulletin board pictures of people wearing tennis shoes while playing sports, running, or walking through a park.
Preschool teachers can begin the lesson by briefly explaining to students when tennis shoes were first invented, how they are useful in protecting feet during physical activities, and why they are comfortable for most people to wear. Children can participate by answering questions about where and when they like to wear sneakers, what their favorite color of show is, and how these shoes make their feet feel.
A Demonstration on How to Tie Shoes
Typically, children in the 3 to 4 year age group are not yet developmentally able to tie their own shoes, so this demonstration serves as an introduction to the concept. Teachers should use an adult-sized shoe during the demonstration so that the preschoolers can easily see how each step is performed.
Directions:
Ask the children to sit in a semi-circle so that they can all view the shoe-tying process clearly. Begin by showing the students how to cross the two tennis shoe laces to form an "X".
Explain to the children how one lace is looped under the "X" so that a knot is formed. Ask a student volunteer to pull both ends of the laces tightly until the knot is resting against the top of the shoe.
Show the preschoolers how "bunny ears" are made with the laces, and finish the demonstration by folding one bunny ear under the other and pulling tightly to make a bow. If time permits, allow the children to take turns having their own shoes tied.
Coloring and Lacing a Paper Cut-Out
This craft activity includes the opportunity for children to color and lace their own paper shoe. Teachers can help young children to develop fine motor skills by demonstrating how the yarn is laced through the holes in the paper.
Materials needed:
Tennis shoe template printed on construction paper (1 per child)
Hole punch (for teacher's use only)
Crayons or markers
Long strands of yarn (1 per child)
Directions:
Before giving each student a template, use a hole punch to make openings that represent the lace holes found on an actual tennis shoe.
Hand each preschooler a template, and allow the children to decorate their "shoes" with crayons or markers.
Give each child a strand of yarn, and show the students how to lace the yarn through the holes in the paper tennis shoe. Provide assistance as needed, and help each student complete the project by tying the ends of the yarn into a bow.
Once completed, have the students bring them home to practice.
Learn How to Tie With a Song
A fun way to teach preschoolers to tie their shoes is by singing a song. Teach your preschoolers the following song while either using a real tennis shoe or a paper one.
Shoe Tying
Want to learn how to tie your shoe?
It's a very fun and easy thing to do
Just go loopity loop and through the hoop
Pull it tight, now that is right
Lace them up – now your ready to go!
Helpful Shoelace Books
Reading shoelace books is a great way for preschoolers to learn the basics about shoe tying. The Zoo's Shoes by Lynn Brunelle is a cute board book that is shaped like a shoe and uses a bunny to teach the children how to tie their shoe in a bunny ears knot. Another fantastic book that uses fun rhymes and colorful illustrations to show children how to tie their shoes is Red Lace, Yellow Lace by Mark Casey, Judith Herbst and Jenny Stanley. Both of these books provide actual laces and tips on how to tie your shoe.
This preschool theme is both enjoyable and educational for young children. Teachers can continue to encourage lacing skills by keeping some paper tennis shoe templates on hand for preschoolers to work with throughout the school year.
Do you have a comment or any suggestions on how to get preschoolers to tie their shoes? We would love to hear from you! Just leave a comment in the section below.
References
Brunelle, Lynn. The Zoo's Shoes. New York: Workman Publishing Company, 2008
Image: http://www.sxc.hu/photo/1115043 by Bizior under the royalty free license.
Casey, Mark and Herbst Judith. Red Lace, Yellow Lace. New York: Barron's Educational Series,1996.