CanoScan LiDE 600F (5 out of 5)
The Canon CanoScan LiDE 600F is one amazing little scanner. It's got a ton of features, plus it's very portable. This would make a great scanner for someone with a laptop because it would easily fit right inside a laptop case. It has enough features to make it a worthy addition to your desk, too.
When I was setting this thing up, the first thing that struck me was that it has no power supply. There's nothing to plug in because it gets all it needs from the USB port. This means you will need to plug it either directly into your PC, or a powered hub. If you use a USB hub, it has to be one with a power supply connected, otherwise it may not have enough power for this device to work. It depends on what kind of hub you are using. Not needing a power supply is the main reason why I say this thing would be a perfect companion to a laptop computer.
Not only does this thing function like a regular scanner with a glass panel inside, but it also includes an attachment for scanning film. You can take your old photo negatives and scan them using this scanner and the included software. It's much better than paying someone to develop the photos, then scanning those photos and blowing them up. Unfortunately, I have no way of testing the film scanning function since I have been strictly digital for several years.
To test the image scanning quality, I used the cover of a calendar I had on my desk. It was some kind of wildlife calendar that featured a large mountain goat on the front. The animal is giving sort of a side profile shot, and I noticed that you could just barely make out its eyelashes in the photo. When I scanned it, the eyelashes showed up just as clearly as in the photo, as did all the other details. The color was very accurate and it even picked up the texture of the paper it was printed on. The scanning process only took a few seconds to complete.
This scanner has a maximum resolution of 4800 x 9600 dpi, or dots per inch. If you scan at the highest image quality setting, you'd better have a lot of RAM and hard drive space because the image will be huge. It's great for doing hardcore editing, like restoring old photographs where you need to blow them up real big to get into all the tiny little details of image editing. It utilizes a 48-bit color palette, meaning it is capable of detecting 281 trillion different colors.
Canon included a ton of software with this scanner, but you'll need all of it to support all the functions of the device. There's stuff for photo editing, image correction, OCR (Optical Character Recognition) for scanning pages of text and turning them into text file documents, and much more. Pretty much any kind of software you will need to process scans after they complete is included here. Furthermore, the scanner itself has a few buttons on the side of it for quick and easy scanning, including one that lets you scan directly to a .PDF (Adobe Acrobat) file.
If you are in need of a basic scanner, the Canon CanoScan LiDE 600F might be overkill, but it sure packs in a lot of features for costing less than $150 – it's currently $132.95 at Amazon.com. I remember back years ago when the first scanners were these tricky little handheld devices that only worked in black and white, and they cost hundreds of dollars. They've come a long way since then.
Images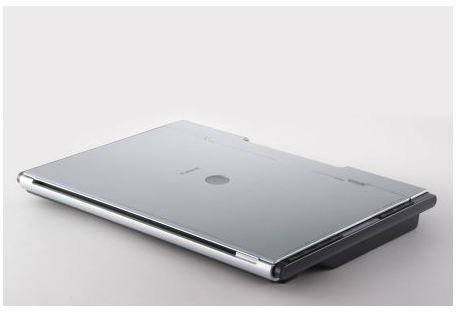 Related Reading
The Basics of Choosing a Scanner