Options to Boot Virtual Machines in Windows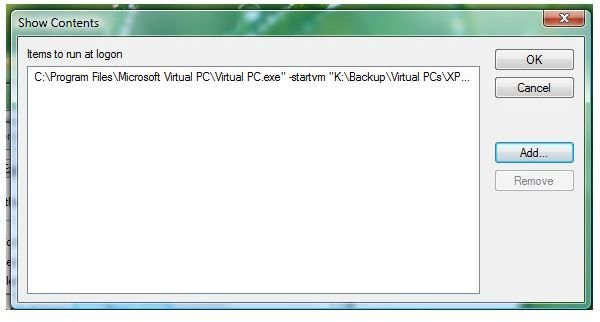 Virtualization Program Gets Better
Virtual Machine can be started in several ways but only if you have the newer version of the virtual machine software.
Using virtual machine is used for starting another operating system without the need to shutdown the computer and then boot to another installed system (this is called dual or multi-boot systems). With a virtual machine, there's no need for users to purchase an extra computer just for the purpose of testing or running an old version of a program which only runs on older systems. Find out below more on how one can boot virtual machine in several ways.
Windows Virtual PC and Virtual Machine
Microsoft's Windows Virtual PC in Windows 7 is the newest build that offers a new method to boot virtual machine. Some of the boot options using Virtual PC in Windows 7 may work also for Virtual PC 2007, as long as a group policy is setup, or the user account has administrative privileges.
If you like to automatically boot a virtual machine (not just the Virtual PC application but the virtual machine operating system) whenever a computer starts, configure the following:
Run Local Group Policy Editor (GPEDIT.MSC), navigate to User Configuration > Administrative Templates > System > Logon, and then double-click Run these programs at user logon. Click on Enable radio button, and then click Show button. Next, click Add and then enter the path of the Virtual PC application and the virtual machine e.g. C:\Program Files\Microsoft Virtual PC\Virtual PC.exe" -startvm "K:\Backup\Virtual PCs\XPProSP3\DXP Pro SP3.vmc" –singlepc
The next time you turn on or restart the computer, Virtual PC and the virtual machine you want to use should automatically run.
Boot Virtual Machine with USB Devices Attached or Shared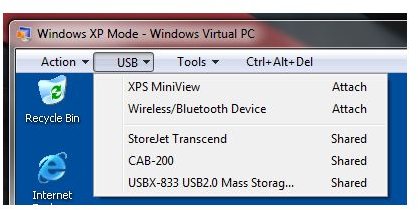 The Virtual PC in Windows 7 now supports USB 2.0 devices which means you can redirect any USB device to the virtual machine instead of the host machine, if you prefer. For example, you want a digital camera, MP3 player, phone, PDA, USB CD writer/reader, portable media players, wireless network adapters, USB removable drive (external drive, flash drive), webcam or video camera to run on virtual machine, instead of the main or host computer.
To do the above task, simply boot the virtual machine, click USB and then click Add or attach a device. After you've installed the drivers, if it is not installed yet in the Virtual Machine, you would be able to use the USB 2.0 devices in the guest operating systems whenever you boot virtual machine. Some USB devices can be shared while others are attached only (not shared).
Automatically Logon to Virtual Machine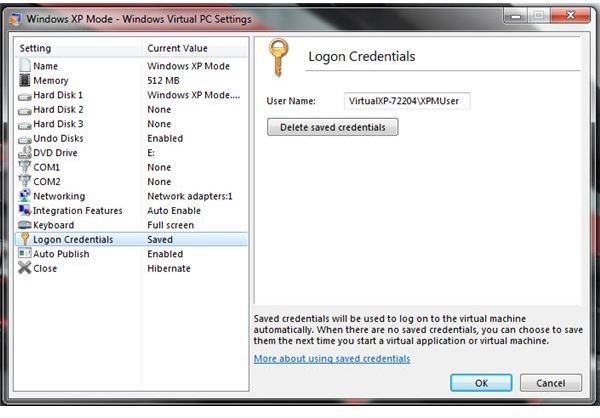 Another option for booting a virtual machine is to automatically logon and it can be done easily by deleting saved credentials. In the virtual machine settings, click Logon Credentials, and then click Delete saved credentials.
Of course, you can also use the old method of configuring Windows in any machine to auto-logon: In virtual machine window, type control userpasswords2, hit OK key on the keyboard, and then uncheck the box for User must enter a user name and password to use this computer, after selecting a user name.
Save Undo Disks, Close and Shutdown Virtual Machine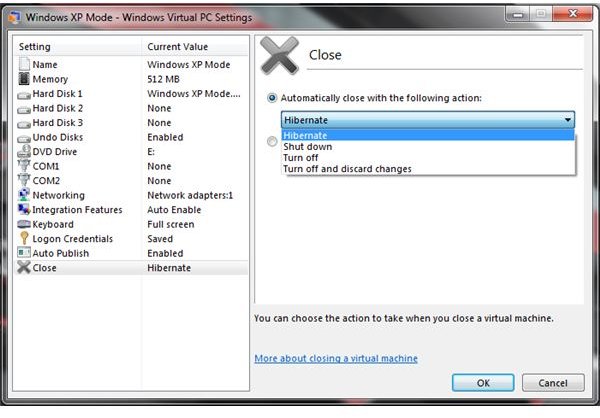 One of the neat features in Virtual PC 2007 and Virtual PC in Windows 7 is to be able to use the Undo Disks feature. Such option exists also in other virtualization software e.g. VirtualBox but you have to create a snapshot before you can revert or merge to the original virtual machine. The Undo Disks in Virtual PC are easy to use because when enabled, you have the option to apply or discard changes in the virtual machine. To enable the Undo Disks option, simply enable it in the settings.
Closing and shutting down virtual machine does not require you to shut it down from the operating system. By simply clicking the close (X) command in Virtual PC window, you will be presented the options to hibernate, shutdown, turn off, or turn off and discard changes. To shutdown without having to choose, simply press Ctrl+Alt+Del, and then it will shutdown. However, if there is a virtual application running, and you want it shutdown as well, press Ctrl+Alt+End keys. Another option is to configure Virtual PC to automatically do the shutdown actions without a message.
Image credit: Screenshots taken by the author.