How to Use a VMware live CD to Access VMware Virtual Images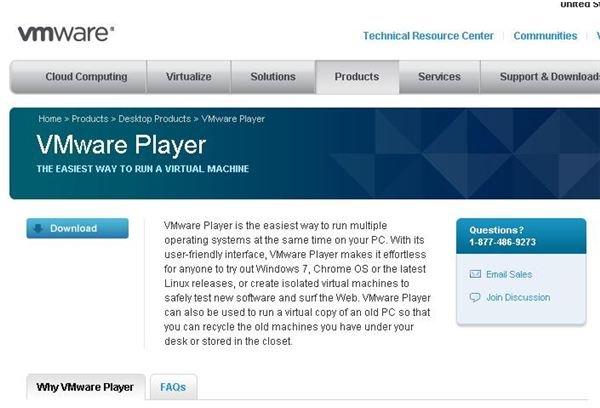 About VMware
VMware is the maker of one of the leading computer virtualization products on the market today. The company makes a broad range
of products that power data centers and PCs by creating virtual machines that run as separate machines on a computer. At the enterprise level, VMware products power multiple servers on each physical machine; saving space and money while presenting powerful flexibility to scale to user demands.
The VMware Player is a low-end consumer grade virtualization product that allows users to load virtual machines as appliances within the VMware environment. This allows ordinary users to operate PC's within their computer that can function as firewalls, or run alternate operating systems. Some virtual machines that run under VMware player are available for sale, while others are available as free online downloads.
The power of virtual machines can be further enhanced by placing them on bootable read-only media such as CD-ROM. This allows a computer to boot into an environment that is independent of any installed operating system to perform roles such as kiosks in retail environments, routers and firewalls in IT departments, and a plethora of other specialized roles. By creating this so-called "live" CD, vendors can update PC's and their roles simply by distributing a new version to users, meaning that an entire machine can change as easily and as often as necessary simply by replacing the CD in the drive and rebooting the machine.
VMware live CDs will start a VMware virtual machine from a CD, making it possible to run operating system-specific applications independently from the host machine's operating system.
(Image Credits: Screen shot taken by Bruce Tyson)
Downloading an Image
VMware live CD images seem complicated to build, but some popular versions, such as the one by MOA, come with in-depth instructions and videos that take you step-by-step through the process. The MOA framework is similar to other Live CD builders such as Windows PE, the BartPE utility, Knoppix, and Slax.
Once you have chosen your Live CD, you use the tools available for it to define VMware Player as an automatic startup program that in turn launches the application you need to run when the virtual machine boots.
Be aware that a variety of Live CD images are available. For example, if you need a lot of disk space, you may want to consider using a DVD or a USB flash device instead of a CD as your boot device.
Making the VMware Live CD
Once you have a live CD environment, you need the version of VMware player that runs on your operating system. You will have to register for a free account on the VMware Web site. After you register, a link is sent to your email address that allows you to download the software that runs in Windows or Linux. Be sure to choose the player that will run with the operating system that boots your Live CD, not the operating system that runs your computer.
Next, download a virtual appliance (or build your own). Some VMware images are available for free, but others are for sale.
Finally, when you have the virtual machine ready, use your live CD builder to configure and then burn your VMware live CD.