Change Task Folders in OneNote How To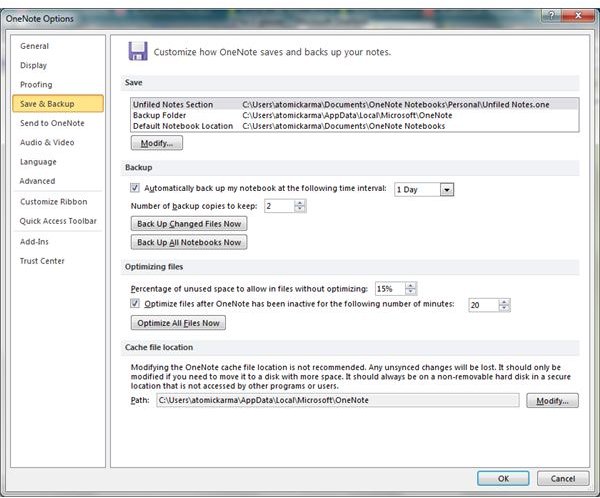 Don't Let OneNote Manage You!
OneNote is a great tool, allowing you to quickly create digitised versions of documents for storage on your PC, laptop or network drive.
As an increasingly common tool that is now part of Microsoft Office Web Apps and Microsoft Office Mobile, OneNote can also be used to keep notes, for collecting data for projects (in a sort of "scrapbook" format) and even retaining digitised receipts printed following online transactions.
While OneNote might seem quite rigid in how you manage documents within it, it really isn't – there is even a way in which you can change folders in OneNote, if you know how!
Change the Default Task Folders in OneNote
Before you can change your default task folders in OneNote, you will need to identify where they can be found. This will differ depending upon which version of Windows you are running, as well as how you have installed the operating system. These file paths assume Windows is installed on C:\.
• In Windows Vista, the Backup folder for your OneNote notebooks is located at C:\Users\[username]\AppData\Microsoft\OneNote\12.0\Backup.
• In Windows 7, you will find the Backup folder in C:\Users\[username]\AppData\Roaming\Microsoft\OneNote\14.0
• If you're using Windows XP, the Backup folder for your notebooks can be found in C:\Documents and Settings\[username]\Local Settings\Application Data\Microsoft\OneNote\Backup.
Note that where you see [username] you should substitute this with your own computer login.
How to Change the OneNote Task Folders
You can change the default folder location for OneNote 2007 – and thereby save backups to a new locations – by running the application and browsing to Tools > Options in OneNote 2007 and then in the Options box, choose Save in the Category list.
Next, in the Paths list, go to Backup Folder > Modify – in the Select Folder box, you can simply browse for the folder you now wish to store your OneNote backups!
In OneNote 2010, you can do this more quickly by going to File > Options > Save & Backup and selecting a new folder via the Modify… button.
Advantages of Changing the OneNote Folders
By altering the location you save OneNote documents to, you are able to then access them from different PCs. For instance if you change the OneNote task folders to a location on a network drive then when you have logged on from a different PC or laptop you can then browse to this folder to access your OneNote files. You might also opt to access the same location via a mobile device. Alternatively you might save your files to a removable storage device so that you can then access them at home or while in transit.
With the OneNote files saved to a network folder, in a corporate environment where the local policy dictates a regular backup routine you will be safe in the knowledge that your notes and data that you have collated in OneNote will be backed up every evening!