Record Family Tree Information in Word Documents
If you're interested in researching your family tree, you might be looking for ways to compile or illustrate this information in a document.
Building a document full of lines and text in Word can be pretty time-consuming, and looks quite dull at the end. A family tree should be visually interesting and at least try and reflect the love you have for your forebears, if not actually attempt to try and represent them as people with lives.
So if an all-text chart of your family tree isn't suitable, what is?
As it happens, there are several genealogy-related templates in Microsoft Word 2010, designed to provide you with a means to record and print your family tree for others to see!
Finding Genealogy Templates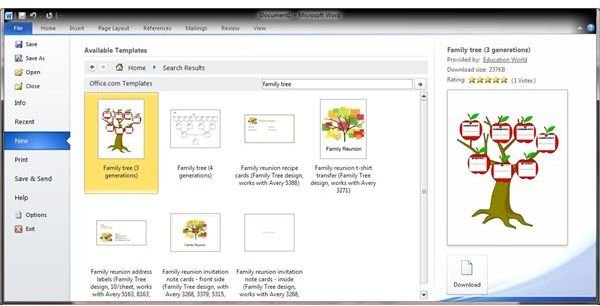 To find a suitable genealogy template for your family tree, begin by opening Microsoft Word 2010.
There are two main templates available via Office Online and these can be accessed via the New document tool.
Go to File > New and in the Office.com Templates section, type family tree, then click the arrow to begin the search.
Your search should return two results that can be used for these purposes – click each one to view the preview on the right-hand side, and use the Download button below the preview pane to download the template to your computer.
Using Genealogy Templates in Word 2010
After downloading the template, you will be able to add your personal family information to it. This can be easily done by double clicking each of the text fields and entering a name. You might also resize the font in order to also squeeze in a date of birth and/or a date of death.
Remember to give the document a name as well as a Topic – this should probably be the name of the person the tree is focusing on, for easy indexing, but you can of course name it how you choose.
Don't forget to save the document once changes have been made – make sure not to save it as a .DOT template file as this will apply the names in your family tree to the template itself!
Other Forms and Templates Online
There are many other sources of forms and templates for use in Word that you can find online. Many of these will also be compatible with older versions of the word processing application.
Easy Genealogy Forms – This is a great selection of forms for older versions of Office, also including versions for Mac computers.
Cyndislist.com – If you're interested in genealogy and family trees, you should have this site in your favourites list
Office Online – While Word has limited options, there are templates for other Office apps such as PowerPoint, Excel and Access.