Finding Applications Data - Windows 7 Tips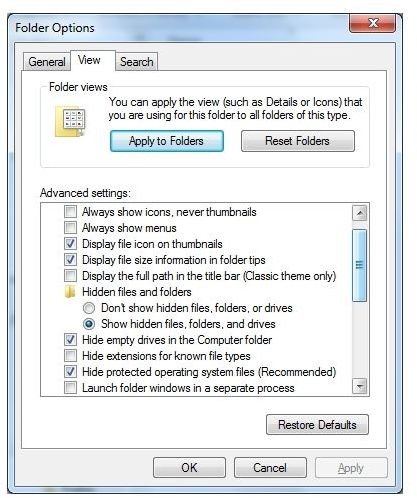 Windows 7 Culture Shock
New users of Windows 7 might find that upgrading from Windows XP and earlier is a bit of a culture shock – especially when it comes to navigating around system and profile files.
There are several key changes to the operating system which means accessing certain locations is difficult – or leads you elsewhere entirely!
The Applications Data folder is one example – whereas in the past it would hold some useful files placed by various applications you might use, in Windows 7 it doesn't. The My Documents folder in Windows 7 has changed a little as well. While the folder might appear to still exist, its purpose is quite different in the new operating system.
What is the Application Data Folder in Windows 7?
In truth, in Windows 7 the Application Data folder isn't actually a folder at all – it is a junction point.
A junction point is basically a script that redirects to a different folder. In Windows Vista and latterly in Windows 7, junction points are used to maintain compatibility with legacy applications. You can identify a junction point easily – it appears to be a standard folder icon, but also has a small arrow in the corner.
Junction points aren't visible by default – for instance if you were looking for the Application Data folder in Windows 7, you would open Explorer, press ALT to display the classic menu options, go to Tools > Folder Options > View and clear the checkbox for Hide protected operating system files (Recommended).
For instance, while the default location for many applications to store regularly accessed, profile-specific files and folders might in Windows XP and earlier have been:
C:\Documents and Settings\[username]\Local Settings\Application Data
… and accessible to users, the operating system and applications in Windows Vista and Windows 7, the Application Data folder is accessible only via junction points.
Other Junction Points
Junction points shouldn't be treated as anything new – they're little more than folder-based scripts that perform the same tasks as Start menu shortcuts such as the links to Music and Pictures.
There are several junction points in Windows Vista and Windows 7, not just the one for Application Data.
Some of these include:
\ProgramData\Application Data which points to \ProgramData
\ProgramData\Desktop points to \Users\Public\Desktop
\ProgramData\Documents points to \Users\Public\Documents
\ProgramData\Favorites points to \Users\Public\Favorites
\ProgramData\Start Menu points to \ProgramData\Microsoft\Windows\Start Menu
\ProgramData\Templates points to \ProgramData\Microsoft\Windows\Templates
There are of course many others, but these are among the most commonly used juntion point locations for legacy Windows XP and Windows 2000 applications.
How to Access the Applications Data Folder in Windows 7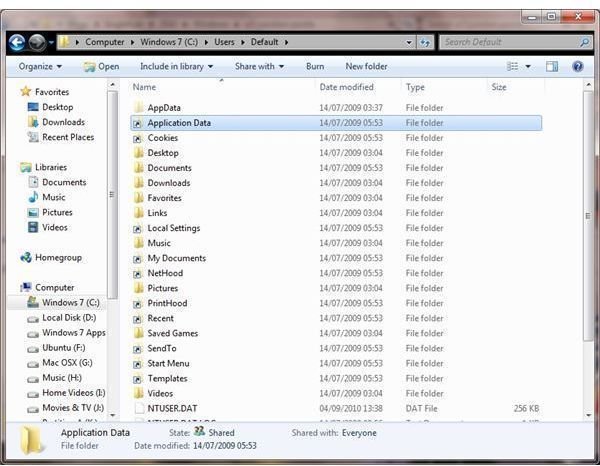 So to find the files you were looking for – which in Windows XP would be found in the Application Data folder – you will need to browse to a different location.
The default location (assuming C:\ is your System volume) is:
C:\Users\[username]\AppData\Roaming
…where [username] is the name of your Windows 7 profile.
You can access this location via the Search box in the Start menu (simply type it in or copy and paste the filepath above, remembering to include your own Windows 7 username), or by browsing directly to the folder in Explorer.