Leaving Email on Server
Leaving a copy of email on the server can cause Microsoft Outlook double emails. This is because not only do you keep a copy of the email the server does too. Let's check to see if you have this setting set by doing the steps below
Open Outlook and click on Tools on the toolbar at the top. Next click on Account Settings.
You will see the accounts that you have set up listed.
Choose the correct account and click Change
Click the Advanced tab and check to see if Leave a Copy of Message on Server is checked. If it is uncheck it
Click OK to save and exit out of the window.
Mulitple Accounts
If you have multiple accounts in Microsoft Outlook they need to be separate accounts. Make sure they are not aliases of the same mailbox. If the email account is an alias that means you have the same account that is configured twice. This means emails being sent from either alias will be received in the same mailbox, which results in double emails.
To understand aliases think of it as different ways to send mail, such as you can send mail to more than one person at a mailbox, or you can reach more than one person at the same phone number.
You also have an option during configuration to leave a copy of the mail on the POP3 server. If this option is chosen both accounts will receive the same email, which will give you duplicate emails. To stop these duplicates open Outlook and click on Tools and Options. A dialog box will open and you will see different tabs at the top. Click Mail Setup and click Send/Receive. Click on Edit and select the alias account. Uncheck the Receive mail items box.
Rules
Sometimes, email filtering rules can cause double email problems. When you set up a rule to move only some of the email messages to different folders, called the Move to Folder rule, this tends to cause this problem more often than other rules. To fix this open Outlook and Click on Tools and Rules and Alerts, and click on the Move to Folder rule. Once the rule is open select Next and this will open a Select Actions window. Select Stop Processing More Rules and click Finish.
.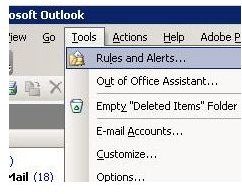 Anti-Virus
Sometimes anti-virus software can cause double emails in Microsoft Outlook. This is because if the anti-virus has a feature that scans incoming email for viruses it will stop the receive status temporarily while it is scanning. Outlook doesn't know what to do with this and thinks the email didn't make it to your inbox so it downloads another one. Turning off email scanning will fix this problem. Refer to the documentation of your anti-virus to know how to do this. Turning off email scanning does not turn off your anti-virus and your computer will still be protected.