About Email Accounts in Microsoft Outlook
When you set up a new email account with Microsoft Outlook 2007 you don't need to necessarily know every server detail, as Microsoft Outlook will automatically configure the account for you. The information you do need to have on hand is the name, password and email address of the account. If you are on an Exchange server you may not have to have any information at all. This information is stored on the network and Microsoft Outlook can find the information needed to connect to the Exchange server.
Profiles are basically files that hold all of the information about your email account. such as information about the account and the account settings. When you open Microsoft Outlook for the first time a new profile is automatically created for you. The next time you open Microsoft Outlook the profile that was created previously will start and every time thereafter.
There is usually one profile per person. There are times when it might be useful to have a separate profile set up for work and a profile for home. If you have multiple users on one computer then the profiles are kept separate with different profile names for each person.
Delete Microsoft Email Accounts in the Current Profile
Open Microsoft Outlook and Click on Tools then select Account Settings. Select the account you want to delete and choose Remove. Click Yes to confirm the removal.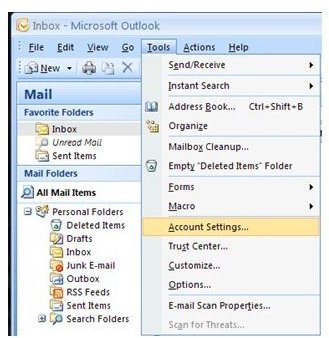 Delete Microsoft Email Accounts in Another Profile
Close Outlook. Click on Start and select Control Panel. Click on Mail within the Control Panel. The Mail Setup dialog box will open. You will see the name of the current profile in the title bar. You can select a different profile by clicking Show Profile, select the profile and click on Properties.
Click on Email Accounts and select the account. Click Remove and confirm by clicking Yes.
NOTE: If you see only 8 icons on the screen when you click on Control Panel then you are in Category View. You need to be in All Items view to see all of the options. To do this look for Category, Large Icons or Small Icons on the top right side of the screen (next to View By). To be in the All Items view choose Large Icons or Small Icons.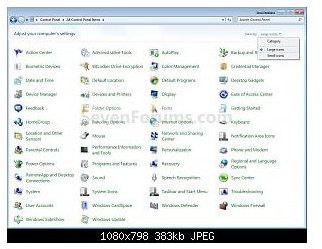 The Difference Between POP3 Accounts and Exchange Accounts
You will not delete any items that were sent and received when you remove a POP3, IMAP or HTTP account. You will still be able to use the Personal Folder file (.pst).
Exchange accounts are a little different. Since they reside on a server the data in the profile remains on the mail server until you delete it. If you want to remove the data from an Exchange account you have to move the data to a .pst file then remove it.