Outlook 2007 Won't Open? What to Do if You Cannot Start Microsoft Office Outlook - Shortcuts and Add-Ins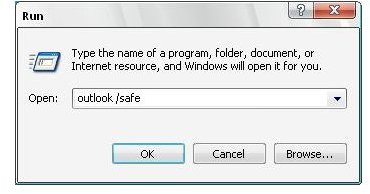 Reason Why Outlook 2007 Won't Open
Microsoft Outlook is a great organizing and productivity tool, combining email (POP3, IMAP and Exchange), calendar and other extremely useful functions.
Occasionally you might find that Outlook 2007 won't open – this isn't unusual and might be due to a number of factors, which include:
A corrupt installation
Conflicting Outlook add-ins
An incorrect desktop shortcut
Often these issues occur in Microsoft Vista, but are just as likely to affect users of Windows XP and Windows 7.
A number of manual fixes (outlined below) can be performed if you cannot start Microsoft Office Outlook. Some alternatives can be found in the article Troubleshooting Outlook - Outlook 2007 is Not Responding.
Checking Shortcuts
The first thing to check is whether or not the desktop or quick launch shortcut is correct.
To check this, right-click the Outlook shortcut icon and choose Properties; next, on the Shortcut tab, go to Open File Location.
If the shortcut is correct, you should find yourself in a folder that includes a file called Outlook.exe.
An incorrect shortcut will either take you to a completely different folder or inform you that the location does not exist. If this is the case, browse in Windows Explorer to the correct location, typically (for Office 2007) C:\Program Files\Microsoft Office\Office 12\.
This folder will feature the Outlook.exe file. Double click to run – if successful, exit Outlook and right-click the icon, selecting Send To > Desktop (Create Shortcut).
Disable Outlook Add-ins
Various add-ons are available for Office products, and there are many designed for use with Outlook 2007. Some of these might be tools to scan emails for viruses and other security threats, or they might be connectors to other mail services that Outlook isn't compatible with.
These add-ins might be made by third party products, or by Microsoft, but when you cannot open the Outlook Window, one thing you should try is running the application with the add-ins disabled.
To remove these, you will need to open the application in Safe Mode. This can be done by going to Start > Run and typing:
outlook /safe
then click OK.
Next, go to the Tools menu and follow the path to Trust Center > Add-ins. Here, you can view the extensions and add-ins that are active and inactive – these can be disabled by clearing the check boxes. You should then close Outlook and try to launch normally.
Lose the Outlook Views
Alternatively, your Outlook views might be causing the problem. In Outlook 2007, views are different ways of displaying emails, with various sorts and priorities set in order for you to see the information you want.
On occasion, these views can cause problems, particularly if there is an issue with one or more emails within the view.
To remove the views, you will need to open the application with all custom views disabled. This can be done by going to Start > Run and entering outlook /cleanviews and then clicking OK.
Office Repair and Restore Point
Finally, you might consider a repair of the application before performing a last-gasp reinstallation.
Microsoft Office 2007 comes equipped with a repair tool, ideal if you cannot start Microsoft Office Outlook or any of the other applications in the suite.
To use this, go to the Office button in one of your other Office apps and go to Options > Resources > run Microsoft Office Diagnostics. Click Diagnose to begin the wizard that will begin a scan and check of all Office tools – this utility will reinstall any damaged components, potentially resolving any issues that you might have.
After a reboot, you should try Outlook 2007 once more – if it fails to open once more, you may need to resort to restoring a previously made restore point. If a restore point is available, this will wind back your entire PC to the state it was in on the specified date. Potentially this could cause you other problems so use with care.
To revert to a previous point, go to Start > Accessories > System Tools > System Restore and choose a restore point to go back to.
Uninstall and Reinstall
Failing all of these methods of resolving issues that might cause Microsoft Outlook 2007 to refuse to open, you will be left with one choice – uninstall and reinstall. For the best results in this situation, you will need to make a copy of your mail folders in the event that they are deleted in the uninstall process.
These are typically found in C:\Documents and Settings\User Profile\Local Settings\Application Data\Microsoft\Outlook\ - you're looking for the outlook.pst file which is potentially very large, so making a copy of it might require additional storage such as a secondary hard drive, a DVD-R or some other form of large capacity drive.
Once you have reinstalled Outlook 2007, you can browse for this file when creating a new account, thereby restoring emails, tasks and calendar entries!