Why Use OneNote?
Microsoft's OneNote program is the only product that literally allows you to keep everything in one place. You can have written reports and links to written reports. Track all tasks associated with a particular client or project. Keep a list of your clients along with contact notes, and link to their websites, and your files on them (or keep a list of potential clients). Use OneNote to research and write articles or reports. Whatever you use OneNote for, it will keep everything in one place. Here's a list of suggestions for organizing your notebook for a home business.
The First Section – The Master Map of Your Notebook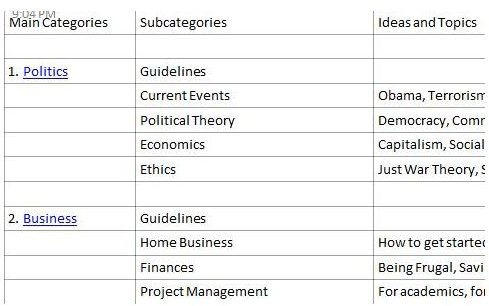 The first page of your notebook will really serve more like a table of contents – much like you would use in a regular binder. The only difference? You can link to any page in the notebook from the home page. How is this helpful? You may not want to list every client page on your table of contents, but you might want to list current clients on the front page. Because I'm a writer, my front page is divided up into categories – Business writing, Fiction Writing, Politics, Humanities, Entertainment – the categories I write most about. I then list "Projects," "Accounting" and other writer tasks. You can see a sample of this to the left.
Take a few minutes now and brainstorm the tabs you will need for your notebook. Type them into your blank OneNote page. Title this page and title the section "Master List."
Next, create the tabs you know you will need. Right click on a tab to create a hyperlink to it. Go back to that first page, right click on the words describing that tab, create a hyperlink, press control+V to paste the created hyperlink. Viola! You can now navigate to the tab you want from the master map page.
The Second Section – A Calendar and List of Recurring Monthly Tasks
In your second section, you will want to insert a monthly or weekly calendar depending upon how many repeating tasks you have. Now, take a few minutes to input all business-related tasks for the year you already know. When you finish typing each one, if you use Outlook, you can create an Outlook task automatically. Place your cursor next to the task and click the follow up flag at the top of your screen. If you click the downward facing arrow next to the task flag, you can select a due date for your task and set it up.
The Third Section – Your Projects List
This section will have a list of all current projects you are working on for your home business. Microsoft OneNote in combination with Outlook can be a great simple project management tool. On the first page in this section, create a list of projects you are currently working on along with their deadlines. Leave some room for each project to make notes. Next, create a separate page for each project and list each step required to be completed for the project to be done. Now, you can assign deadlines to each of these tasks and create tasks for each item in Outlook the same way you did before.
Section Four – Your Clients
You may already have all your client information inputted into Microsoft's Outlook. Even so, you should include a client list in your OneNote notebook. I would suggest using a separate page for each client. On each of these pages, you will include the contact information, any projects (and you can link to the projects like you did for your cover page – right click on the project page, create hyperlink to page, right click on your project name on the client page and create a hyperlink.), and the last contact you had (useful for following up with former clients). You may also paste details from emails and keep meeting notes as sub-pages (especially if you use your mobile computer or a digital notepad to take notes on meetings).
Section Five – Accounting

Keep track of your income and business expenses here. You can either use an Excel worksheet for home office accounting and copy and paste it (or link to a password protected worksheet) or you can create a table in OneNote. You can also print your online banking and PayPal statements to OneNote. Just be sure you password protect this section. To password protect your accounting section (you may also want to password protect your clients section) click on "file" and then "Password protect this section." Once you've made this selection, you can set your password – just don't forget it. A tip: Password protect the section as soon as you create it.
Other Section Suggestions
There are other sections you may wish to include in your notebook. Here's a list of suggestions:
Journal – if you like to track your productivity, goals, and accomplishments, this can be a great section. Either divide it by areas of your life, or by months.
Marketing – this might be a great place to track website ideas, brochure ideas, marketing plans, blog topics, etc. Remember that, especially if you are self-employed or running a small business out of your home, that marketing will be an important part of conducting daily business.
Meeting/Conference Notes – you may want a special place to keep all meeting notes. You can link from each meeting page to the clients involved (or vice-versa). Also, if you go to conferences, you may want to keep conference notes in a section.
Prospective Clients – these are the people you would like to work with.
Reference – divide this up by areas. For example, I have how to write articles, philosophy articles, business articles, etc. indexed in my reference section.
Miscellaneous – this is for those books you want to read, the music you'd like to listen to, conferences you want to go to, office supplies you need.
Sharing Your Notebook
Finally, if you have both a desktop and a laptop (or netbook) you may wish to share your notebook across a network connection – this is actually a neat feature, because OneNote updates every time you enter information onto it. Rumor has it that you will be able to share notebooks across internet connections with the Office 2010 release of OneNote, we'll have to wait and see if this is true. To share your notebook over a network, click on "Share" and then "Create a shared notebook."