Convert your Flash Videos to Windows Media Player Format
Flash is the reigning web standard for displaying streaming videos online. Flash totally took off with the advent of video streaming and sharing sites like Youtube, Vimeo, etc, and is currently used in almost every video streaming site. If you use such sites regularly, you must be downloading videos in the FLV format. FLV videos are very compact, but they don't work directly with Windows Media Player without installing the required codecs.
You can usually play FLV flash videos by installing codec packs like K Lite Codec Pack or by installing VLC Player, GOM, or KM Player which install the most commonly used codecs themselves. You can also download FLV player – a light and fast flash player, just to play the FLV files.
But if you want to view the FLV files on Windows Media Player, you will have to convert it to a compatible format which can be played natively, like WMV, AVI, or MPEG files. There are many conversion tools available on the internet which can do this. Some of the popular ones are Auto Gordian Knot, Super Video Converter and Total Video Converter. In this tutorial, we will use Total Video Converter as it is the easiest to use of the three, and it is also the smallest to download. You can download Total Video Converter from Total Video Converter Download. It is trial software that is free for 15 days.
To convert your Flash FLV videos to a format compatible with Windows Media Player using Total Video Converter, download it, and install. Then fire it up and click on the New Task button. In the menu, click Import Media Files, browse to the Flash files you want to convert, and click Open.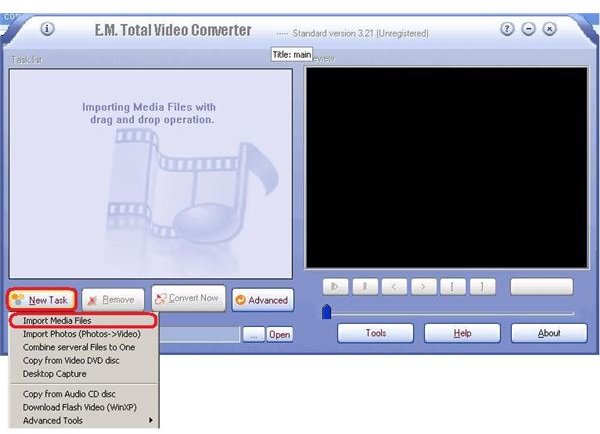 You will get a list of file formats in the next window which you can convert your file to like 3GP, AVI, FLV, MOV, MP4, MPEG, WMV, and MKV.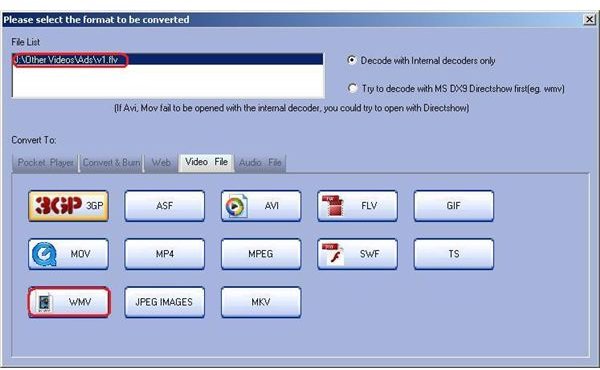 To play the videos in Windows Media Player, without the need for any codecs, you should convert it to either WMV, MPEG AVI, MPEG or WMV AVI. After selecting the format, you can edit the conversion settings by clicking on Settings. After that, click the Convert Now button and the video will be converted into the selected format.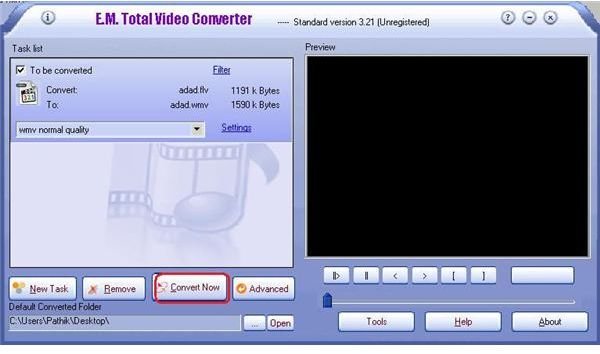 The converted video will be stored at the default location. You can now open it directly in Windows Media Player without installing any codecs. You can also use any other conversion software if you want to.
Even though this tutorial is mainly concerned with converting Flash videos to WMP videos, I would still recommend you play FLV files on Windows Media Player using codecs, as they are less in size compared to WMV, MPEG,or AVI videos. Also converting a low quality FLV video to a WMV video doesn't improve the quality, it just increases the size.