User Interface & Extensibility
When you consider Windows Live Mail, it has a sleek, crisp and clean user interface, wherein the contacts list opens in its own window. Some users find it handy, while some of them find it rather annoying or probably next to useless (if not annoying).
On the other hand, its counterpart Thunderbird comes with a user-friendly interface and the basic functionalities. However, there are a number of extensions and plug-ins available from the house of Mozilla, to make it more powerful.
When the discussion boils down to a comparative analysis of Thunderbird versus Windows Live Mail, in terms of extensibility, the latter one turns out to be a big loser. With the handy Contacts Sidebar extension, Thunderbird can display contacts in the main window, while no such option is available for WLM.
Thunderbird Overview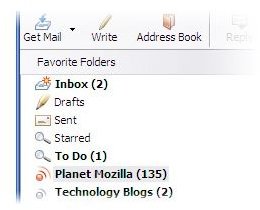 WLM Overview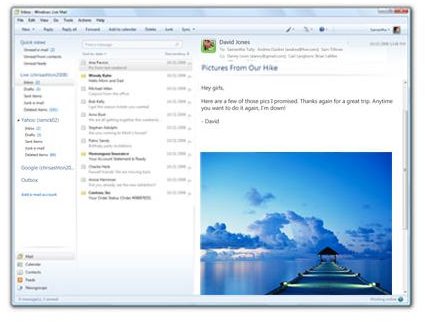 Accessing Multiple E-Mail Accounts
In terms of accessing multiple e-mails accounts, both Thunderbird as well as Windows Live Mail are proficient in this regard, though some users have had loads of trouble using hotmail with Thunderbird. Basically, it just happens that sometimes you need to feed in the password twice while accessing Hotmail through Thunderbird (this has not been accepted as a bug though), while no such complaint has been brought to notice by Windows Live Mail users.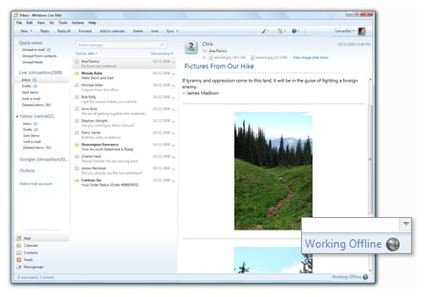 Common Issues & Sources of Trouble
Moreover, there are a good number of so-called bugs (which Microsoft doesn't bother accepting as bugs, let alone try to fix them) in WLM that have been a source of distraction for users. For instance, the color scheme suddenly changes whenever someone adds a new contact. Something similar happens when you click on Options or try to open a dialog/properties box; the overall look is quite shabby and kind of reminds you of Windows 95 & 98 rather than XP or Vista.
On the contrary, Thunderbird users don't have any such complaints, though the hotmail issue has been the biggest disappointment to date. Unless you have a premium Hotmail account (which not many bother to take) you need to go to hotmail.com every single time and sign in rather than accessing it directly through Thunderbird whenever you want to access multiple Hotmail accounts simultaneously. But, except for Hotmail, all other email services work fine with Thunderbird so perhaps it's just the result of rivalry between Mozilla and MS.
The Cold War!
Taking this comparative analysis of Thunderbird vs Windows Live Mail further ahead, let us see what kind of unique features each one of them has to offer. One can integrate Windows Live Mail with Windows Messenger and Newsgroups as well as with RSS feeds. Thunderbird may not do this in its base version, but then you can always count on the add-on plug-in manager to find the extra goodies that you need.
Until now, we have been discussing the differences between Thunderbird and Windows Live Mail, but if you're wondering how well they work hand in hand, then here's some bad news. If you're trying to switch from Thunderbird to Windows Live Mail, unfortunately there's no option in WLM to import any email/settings settings from your Thunderbird profile.
Search & Miscellaneous Options
While Thunderbird provides the option of "tagging" messages with pre-defined meaningful descriptors like "To Do" or "Done" as well as letting you create your own tags, WLM totally lacks such a possibility. Even in terms of search filters, Windows Live Mail doesn't provide a way to search the title and body of an email separately. On the other hand, the advanced search option of Thunderbird has been always been acclaimed to be lot better than its counterpart in WLM.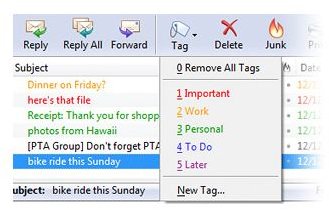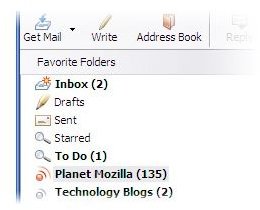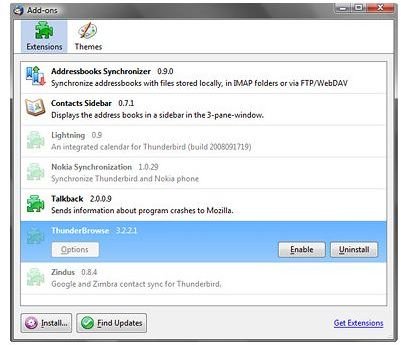 The Bottom-line
Of course, the choice of browser, e-mail client, text-editor and similar things always varies from one individual to the other, and the same thing is applicable in case of the Thunderbird vs. Windows Live Mail scenario, too. But, as far as inconsistencies are concerned, there are a whole lot of them in Windows Live Mail, while the count is pretty low in case of Thunderbird. However, most existing WLM users have been continuing with it for a long while rather than shifting to Thunderbird (some are hardcore MS fans, but things may change in the future).