How to keep track of your bandwidth usage?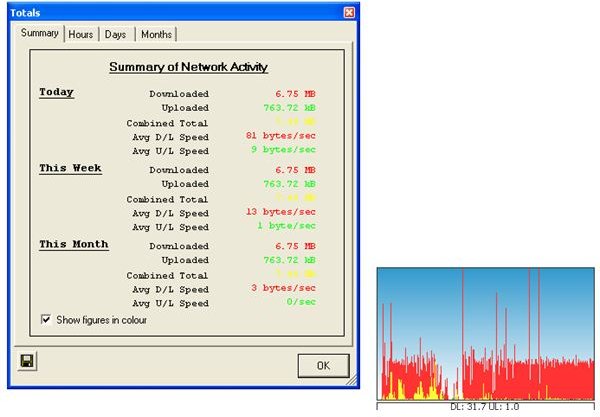 BitMeter 2 (Freeware, Size: 1.2 MB)
BitMeter 2 is one of the most popular bandwidth monitor tools out there. It has an easy interface which displays a scrolling graph showing your upload and download speed. The upload and download speeds are represented by different colors on the graph and the graph is constantly updated. A numerical display at the bottom of the windows shows the current speeds.
The data on the graph can also be viewed numerically and exported to a spreadsheet for further analysis. BitMeter can be set up to alert you in case you have downloaded a certain amount, which helps you not to cross your bandwidth cap. It also has some built in tools like a calculator which can calculate the time it will take to download a file.
NetMeter (Freeware, Size: 600 KB)
NetMeter provides you with graphical and numerical statistics on your download and upload speeds and bandwidth usage. It provides you with daily, weekly, and monthly usage statistics.
Freemeter (Freeware, Size: 47 KB)
It's a free and lightweight bandwidth monitor tool for windows displaying your bandwidth usage in real time. It also includes tools like ping, trace route, UPnP Nat, etc.
Bandwidth Monitor (Commercial, Free to try, Size: 1.2 MB)
Bandwidth Monitor displays real time download and upload speeds in both graphical and numerical forms. It monitors all network connection on your computer and provides you with daily, weekly and monthly bandwidth usage reports. Apart from bandwidth monitoring it also has built in tools like speeds stopwatch, transfer rate recorder, etc.
Bandwidth Monitor Pro (Commercial, Free To Try. Size 1.4 MB)
Bandwidth Monitor Pro keeps detailed log of your bandwidth usage logging all your network adapters at once. The display of information and type of graph and colors are customizable and it has an alert system which alerts you of various factors depending on the conditions you set up. For example, you can set it up to alert you when you are reaching your bandwidth cap.
Images