Apple wants to sell your ringtones for your iPhone from the Apple Store for two dollars. Figure that's a buck for the song, and another buck to convert it to a ringtone.
An open secret is that any Windows PC with a stereo mix feature and with iTunes installed, and the freeware Audacity sound-wave editor can make completely free ringtones that you can import into iTunes. From that point, it's not overly involved to convert them to AAC (.mp4) and then into ringtones.
Follow along, and we'll show you how.
But first, a caveat. If you have a Vista notebook, stereo mix may have been disabled by the manufacturer. To check, right-click the speaker icon in the system tray and select "Recording Devices." In the Sound dialog, right-click in the list area and select "Show disabled devices."
Is "Stereo Mix" in the list? Does the label beside it say "Working?" If not, right-click it and select "Enable." If you don't see Stereo Mix there at all, your laptop is not set up for recording multiple sources, and this procedure will not work for you.
Update: If you have a laptop with disabled stereo mix, please see the link at the end of this article for a method that can be used to restore a stereo mix or "what u hear" function on a laptop that has it disabled in firmware.
Images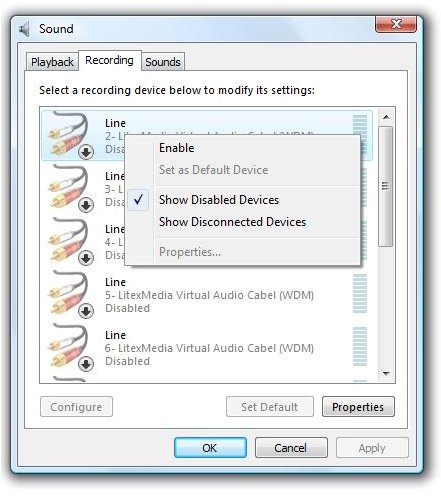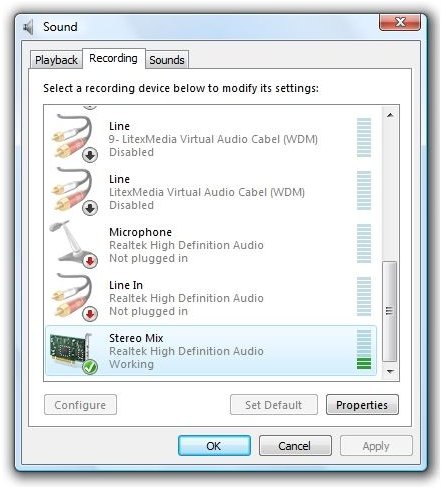 Install Audacity
To start creating your own ringtone, download Audacity from the sourceforge website.
It's about a 4 MB download. Save it to a folder you'll remember, and when it arrives, double-click the file to run the installer.
Images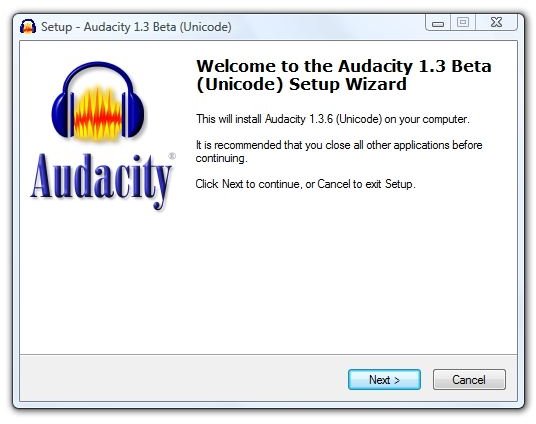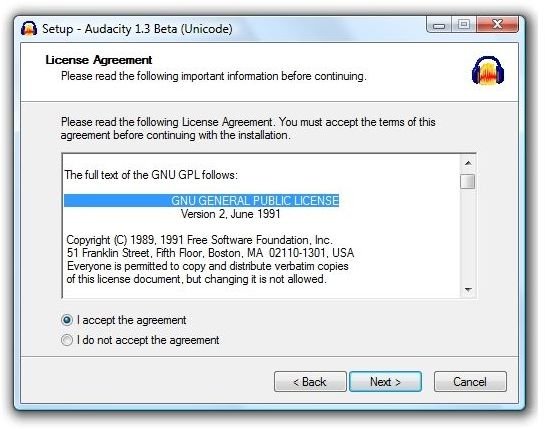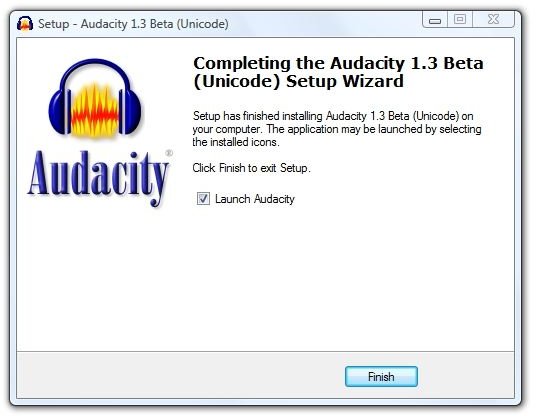 Add MP3 Support . . . If Needed.
When you grabbed Audacity, did you get the stable version or the beta version? If you got the beta version, you can skip this section.
If you got the stable version, you need to add more software in order to support creating MP3 files in Audacity. Fortunately, the free LAME encoder does the job just fine.
The LAME encoder is distributed as a zip file. Save it to a folder you'll remember. When it arrives, right-click it and select "Extract All" to unzip it.
Images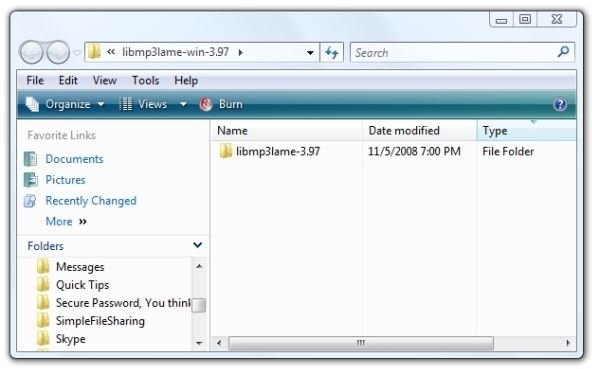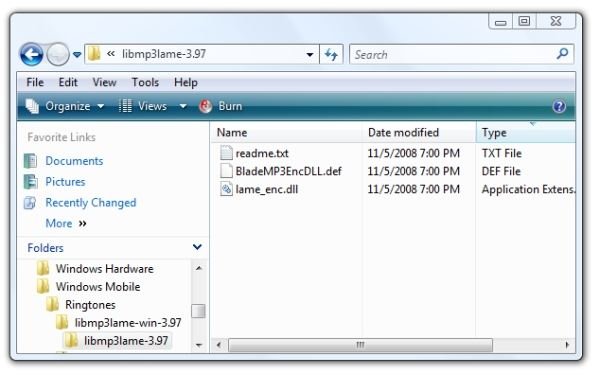 The single "lame_enc.dll" file should be copied to your C:/Program Files/Audacity folder.
Making the Recording
Now we're ready to try recording a snippet to create a ringtone. The idea here is that Audacity will record whatever we choose to listen to.
There's only one more thing to check. Start Audacity and select Edit, then Preferences. On the "Audio/IO" tab, see what device is showing under the "Recording" block on the right. It should be set to "Stereo Mix" and two channel (stereo).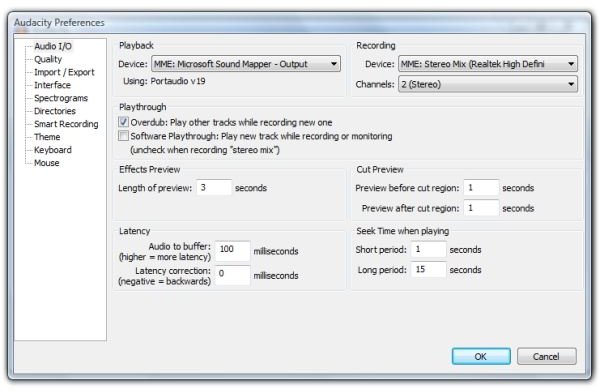 With Audacity already started, start up iTunes or any other music player on your PC and locate the song you want to play.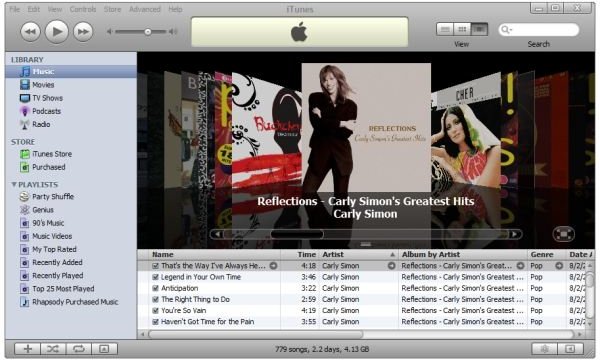 Audacity will let you edit the waveform to get exactly the section of music that you want to include in your ringtone. The iPhone will accept up to 3 MB, but only a fraction of that will be used for a thirty-second ringtone.
You may want to listen to the song all the way through first to decide which part you want to snip. Then play it again, and when that segment approaches, click the red Record button in Audacity. Continue recording until slightly past the section you want to use. In iTunes you can use the time display to roughly mark the start and end of the part you want.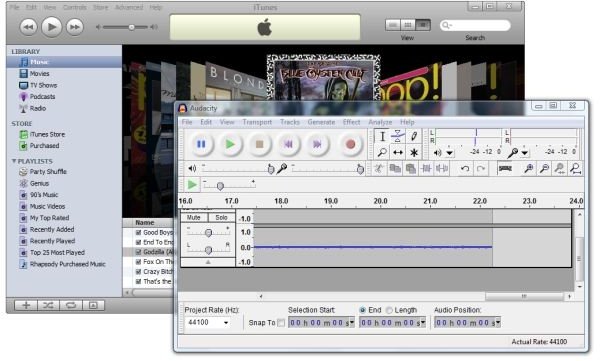 After recording your snippet, stop your music player and click the green Play button in Audacity to review your recording. In my case, I was happy with the starting position, but there were about two or three seconds at the end that I didn't need.
To delete an unwanted section, click the time-line and drag the "hand" cursor to the position that you want to stop at. This was easy for me because it was at the end of the snippet. All I had to do was high-light the last few seconds and press Delete on my keyboard.
Note at this point you need to click near the beginning of the timeline in order to play the recording again.
Images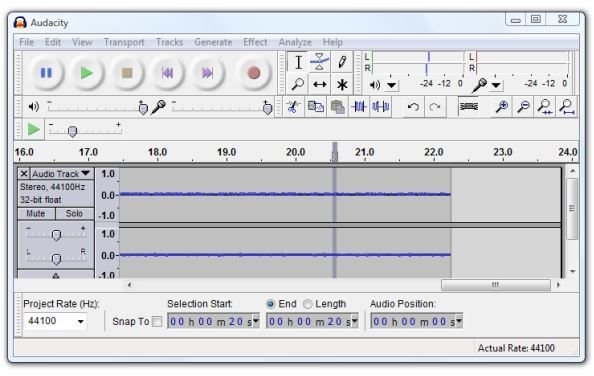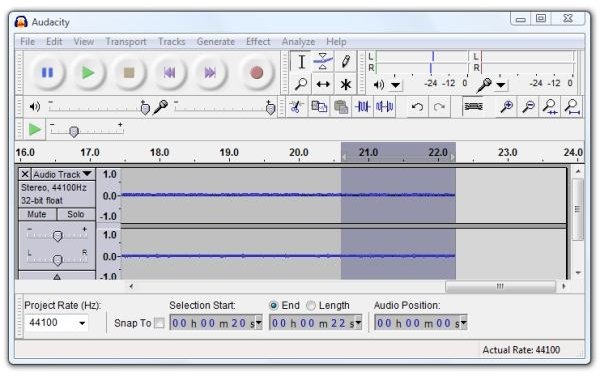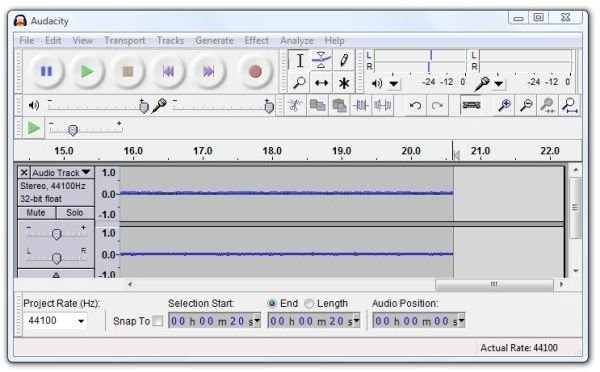 Saving Your Newly Created Ringtone
As a precaution, it's a good idea to save your first effort at capturing a snippet as an Audacity project. This is easy. Select File and then Save Project As . . . This is handy because we may want to come back and reopen the original file in case we have problems.
To save the ringtone as an MP3, select File, then Export . . . Save file type as MP3, and select your name for the ringtone.
Now we need to import the ringtone into iTunes. iTunes has no problems with playing MP3s, but we want to convert it to AAC format first.
In iTunes, go to your music library and select File, then Add File to Library. Navigate to where you saved the MP3 ringtone, select it, and choose "Open."
Then find the MP3 in your collection, probably by sorting by song title, click it once to select it, and then right-click it and choose "Create AAC Version" iTunes will do this quickly and reward you with a fancy little chime when it's done.
Images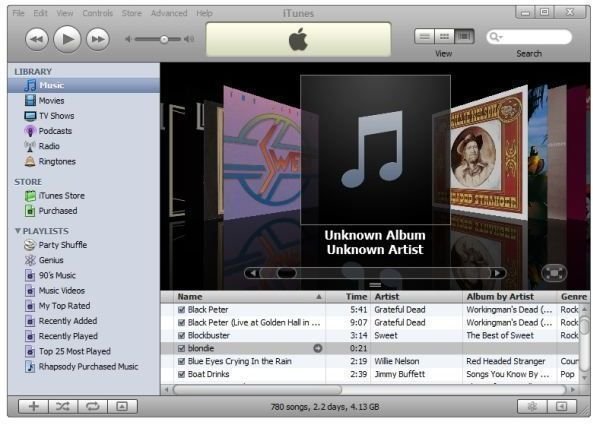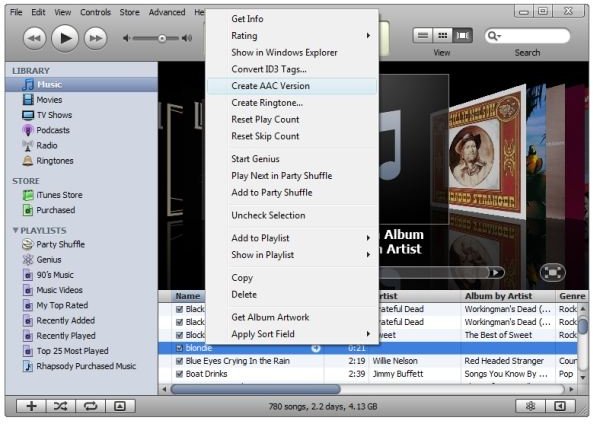 Next: Importing the Ringtone into Itunes, Troubleshooting, and Conclusion
And now you have two versions of the song/ringtone in your library.
Leaving iTunes, open your Music folder. In Vista, press the Windows key and then click your name at the top of the list. Then open the Music folder and select iTunes, then iTunes Music. You'll probably find your snippet under Unknown Artist/Unknown Album.
Once you find it drag it out to your desktop.
Right-click the file and select Properties.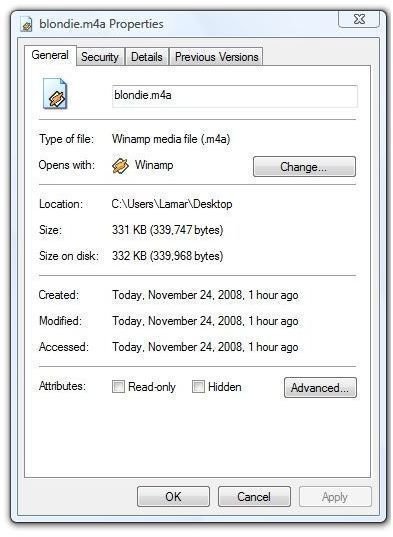 Then change the extension from .m4a to .m4r. Vista will warn you that this may stop some applications from correctly identifying the file, but that's okay.
And here's the fun part. Double-click the file, and iTunes should start to play it.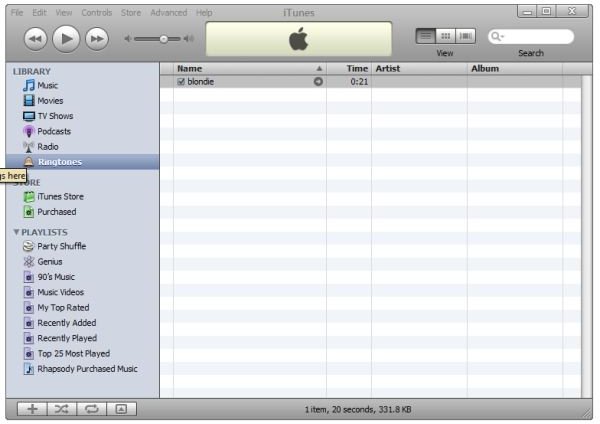 If you have not previously purchased ringtones, iTunes will have just created the ringtone directory.
And that's it. You've done it. The ringtone should transfer to your iPhone just as any purchased ringtone does.
If The Sound Volume Is Insufficient . . .
Here's where it's handy to open the Audacity project file saved when creating the snippet.
Open the project file, if you have it, or the saved audio file directly. Click on Effect, Amplifier, then Amplify.
At the top of the dialog, you'll see "Amplification" and a value beside it. Increasing this number makes the snippet louder. Increasing this number too much causes "clipping," which causes distortion. You want to avoid clipping. Fortunately, the dialog has its own form of feedback. If you select too large a value, the "OK" button won't appear unless you click "Allow clipping."
As you can see in the images below, amplifying our snippet by three decibels increased the size of the waveform and made the snippet louder.
Images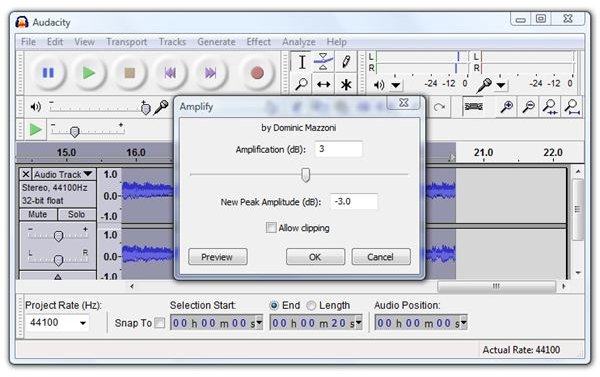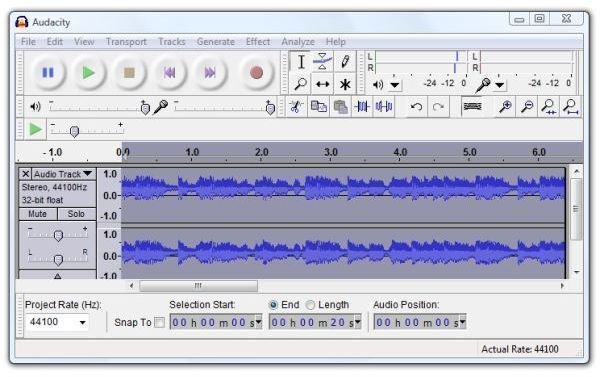 And Finally . . .
We should now touch on the legality of what we just did. I'm not a lawyer, but I think that iTunes does have a right to charge for ringtones purchased from them. However, this technique can be used with any source of music played on the PC, and you've already paid for the music once – right? Furthermore, you provided the work that made it possible by recording and converting the sound to MP3 format. Everything else was done by using features that iTunes already provides.
I mention this because there are some Mac applications that convert purchased iTunes music directly from AAC to ringtone format. These developers and Apple have been in a cat-and-mouse game since ringtones for iPhone were first announced.
Things have been quieter on the Windows platform, and the fact that iTunes still allows this method, which is basically importing your own music, implies that Windows users are not the greater concern for Apple.
Then again, this was tested with the 8.0.2.20 version of iTunes, and this procedure may stop working in the next release. Who knows? Let's enjoy it while we can.
Further Reading
How to Fix Crippled Stereo Mix in a Laptop – Have a nice new Vista laptop? Did the laptop manufacturer leave out the "stereo mix" feature to prevent you from recording nasty old big content's copyrighted music? Did it also BREAK your karaoke and legitimate usages of stereo mix? Here we look at using Virtual Audio Cable to get stereo mix back.
How to Speed Up Vista's Boot Time – Can you bake bread in the time it takes for your Vista PC to start up? Or does it seem that way? Fortunately, there are some relatively easy steps to take to speed up Vista's boot time. We describe four of them here.
How to Make a Bootabe Disk in Vista – Need a backup method to start a Vista PC? Creating a bootable disc in Vista is not as easy as in previous versions of Windows, but it can be done. This article tells you how.
How to Test High-Definition Video on Your Laptop or PC – Want to find out what high-definition video looks like on your current Vista or high-end XP PC without spending any money or buying any additional equipment? You'll find out quickly if your PC can handle 720p or 1080p video. All you need is a fast Net connection and Windows Media Player 9 or 11.