If you want to upgrade your current PC or install Windows 10 on a different machine you can use the media creation tool to do so. This guide will walk you through creating installation media for Windows 10 on either a USB Flash drive or DVD. Once your media is created, you'll be able to install Windows 10.
What You'll Need
Before you get started, make sure you have a computer that can run Windows 10. Be sure to read the Windows 10 System Requirements first. Next, you'll need a USB flash drive with about 4GB of space on it as well as 4GB of space on your computer to host the download. Likewise, if installing on a DVD make sure you have a good quality blank DVD and a DVD writer.
Download the Media Creation Tool
Navigate to the Windows 10 Download page
Next, download either the 32-bit or 64-bit version of the tool. Note – you should choose the version of the tool you will be running the tool from – not the machine you will be installing Windows 10 on.
The tool is about 20MB so if you have a decent internet connection it shouldn't take more than a few minutes.
Using the Media Creation Tool to Create Installation Media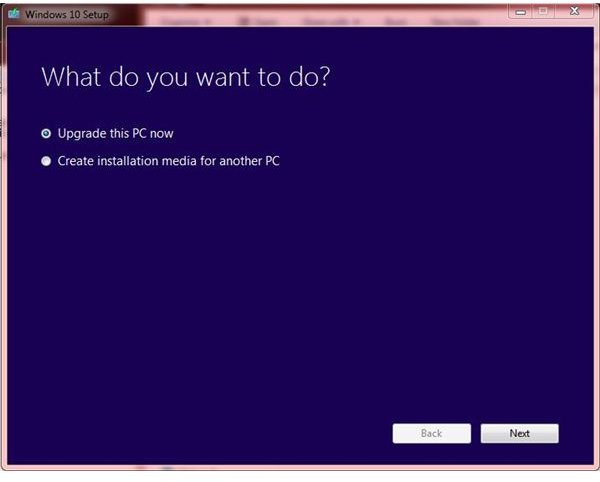 If you want to upgrade your existing machine, you can use the media creation tool to do so.
1. Once the tool has finished downloading, click on the setup file to start it.
2. Choose the option to Create installation media for another PC and click Next (Figure 1 — click on image to enlarge).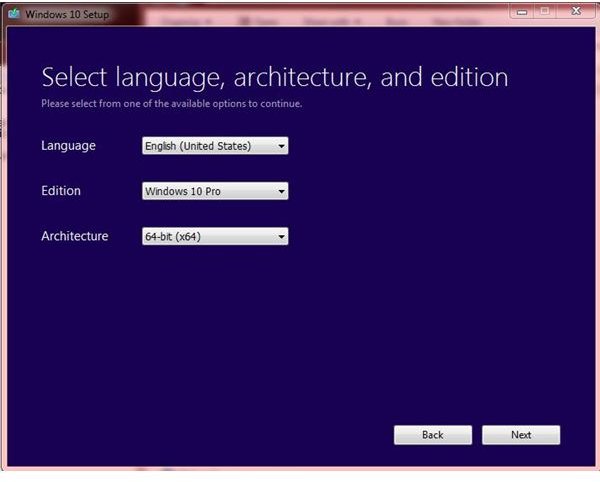 3. Next, select your language, edition and architecture (Figure 2). To determine the edition you'll want to install on your media refer to the below text.
4. Choose the type of media to create – either a USB flash drive or an ISO file to later burn to DVD. Click Next.
5. Skip to the section below that pertains to the option you chose.
Here's how to determine which edition of Windows 10 to install.
If you have any of the following products installed, you'll want to install the Windows 10 Home edition.
Windows 7 Starter, Home Basic, Home Premium
Windows 8/8.1, 8.1 with Bing
Windows 10 Home
If you have any of the following products installed, you'll want to install the Windows 10 Pro edition.
Windows 7 Professional, Ultimate
Windows 8/8.1 Pro
Windows 8/8.1 Professional with Media Center
Window 10 Pro
Create DVD Media
Next, we'll create DVD media. Skipt to the next section to cover creating USB Flash media.
1. If you selected DVD you will need to choose the path you wish to save the ISO (image) file.
2. Note that the ISO image file is quite large – about 3GB. Make sure you have enough space available.
3. Once the ISO image has been downloaded you will need to burn the image to a blank DVD using image burning software. My favorite tool to use for this is called ImgBurn. ImgBurn is a free tool used to create bootable DVDs from an image (ISO) file. You can download ImgBurn from the official website.

4. Install ImgBurn – be sure to do a custom installation and decline any 3rd party software installations if you do not want them installed!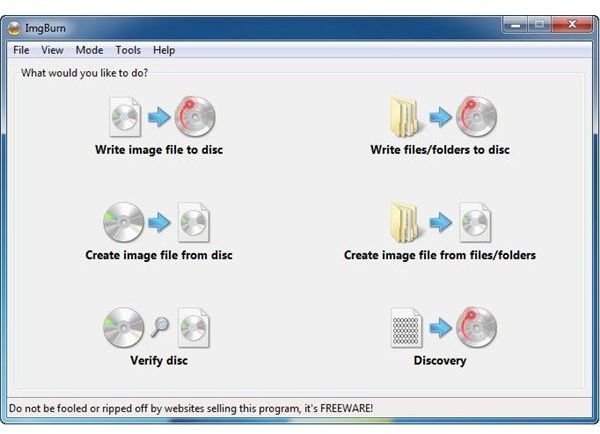 5. Once installed, insert a blank DVD to be written and start ImgBurn.
6. Click the option to write an image file to disc (Figure 3).
7. Select your ISO file under the Source heading.
8. Select your DVD for the Destination.
9. Click the big icon on the bottom left to start the write process.
10. After a few minutes your image will be written to DVD.
Create USB Flash Media
Creating a bootable Flash drive will be much easier. It consists of a single step.
If you select USB flash drive, the program will download and install the image on the flash drive. Follow the directions as guided.
Using Your Media to Install Windows 10
Now that you have bootable media for Windows 10 you can use the DVD or USB drive to install or repair Windows.
If you wish to perform an upgrade on a machine with Windows 7, 8 or 10 installed, make sure your media is loaded and run the Setup.exe program on the device. If you are installing on a computer with no operating system you can install your media and boot to it.
The Windows 10 setup application will walk you through the rest of the process.
I hope you've found this article useful – feel free to leave a comment!