Fixing an Inbox Error Message in Microsoft Outlook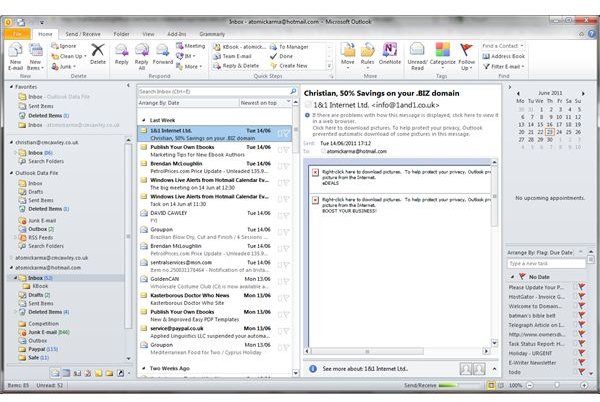 The Microsoft Outlook inbox is the hub of your email communications, the initial home of any messages that you receive and a de factor indexing system for you to find messages by date, sender, subject or any other method.
Given the size of a typical Outlook inbox it should come as no surprise to learn that the collection of emails – and there can be thousands at any one time – can be prone to errors. If we consider that Outlook stores all of your emails in a database known as a PST file and that databases need regular maintenance, it should be obvious that from time to time problems might arise.
For instance, various inbox error messages can occur in Microsoft Outlook; while the majority of these can be easily resolved by simply closing and reopening Outlook, a few of them require a little more attention to resolve.
The Server Could Not Be Found/The Operation Timed Out
Probably the most common Outlook inbox errors are those concerning connectivity. Whether you have received a message reading The server could not be found (often with the 0x800ccc0d error code) or The operation timed out waiting for a response from the receiving (POP) server 0x8004210a or any variation on these, then your problem is one of connectivity.
This isn't simply a case of checking your Internet or network connection, however, although a reboot of your computer might be a good idea if one of these errors suddenly occurs after hours of trouble-free use.
Instead, consider an anti-virus solution and scan your PC for malicious software and infections that might be compromising either Microsoft Outlook or your Internet connection. It isn't uncommon for viruses to disrupt your connection to the web, for instance, thereby preventing you from discovering how to remove them manually or updating your anti-virus software. Our full guide to removing threats in Windows [LINK] should provide more assistance in this area.
Anti-Spam and Other Add-ins
While Microsoft offers a basic anti-spam tool by way of the Outlook Junk email filter, other companies offer a higher level of protection in the shape of anti-spam software that can be installed on your computer and used in Outlook as an add-in.
Whether you're using one of these or some other add-in software, problems can occur that might result in an inbox error message. In order to resolve this you will need to disable the add-in, which is done via File > Options > Add-Ins in Outlook 2010. Select Manage > COM Add-ins and click Go… to open the screen that will allow you to disable any add-in that you suspect might be causing the problem, and then confirm the change and restart Outlook. If the inbox error doesn't occur then it is likely that you have correctly identified the problem. You should contact the developer of the add-in to find out how to proceed using it, or else uninstall it via Start > Control Panel > Uninstall a program.
Inbox Synchronization Error 0x800CCC33
This error shouldn't be too much of a problem in modern versions of Outlook. However if you're still using a version of Outlook that isn't 2007 or 2010 (and many organizations still rely on older releases of the software and Exchange server) then you might find that this error has been occurring with some regularity.
Here is the full error message:
Task 'Hotmail: Folder:Inbox Synchronizing headers.' reported error (0x800CCC33) : 'Access to the account was denied. Verify that your username and password are correct.The server responded 'Forbidden'.
Caused by an inability to sign-in to an MSN/Hotmail account, the reason for this happening is that since 2009 WebDAV access to these accounts has been withdrawn in favor of POP3. For the best results accessing an MSN/Hotmail/Windows Live email account with Outlook you should opt for the Outlook Connector, although for Outlook
Inbox Repair Tool
Finally, there are many ways in which a database error might disrupt your Outlook inbox. Such error messages are plentiful and there isn't space to list them all in a single article.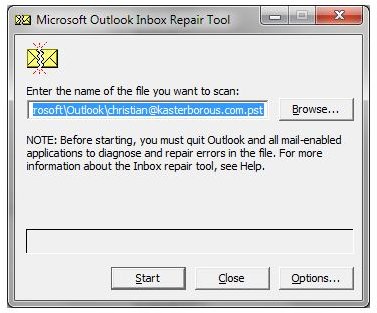 However Microsoft have long been providing a fix for such problems. In the past this was known as the PST Scan tool but in recent years it has been known as the Inbox Repair Tool. This is an improved version of the older utility, and its job is to scan the PST database that holds your emails and detect and repair any errors that it encounters.
Before using the Inbox Repair Tool you should make a copy of your PST file, which is typically found in C:\Users\Specific User\AppData\Local\Microsoft\Outlook (although you will need to enable access to this via Organize > Folder and search options > View > Show hidden files, folders and drives in Windows Explorer).
By default, the tool can be found in C:\Program Files\Microsoft Office\Office14 – simply double-click scanpst.exe to run the utility and the Browse… to find the PST file.
With the file selected, simply click Start to begin; any problems that are detected will require you to select Repair.
References
Author's own experience.
Screenshots provided by author.