Fixing Common Microsoft Outlook Email Problems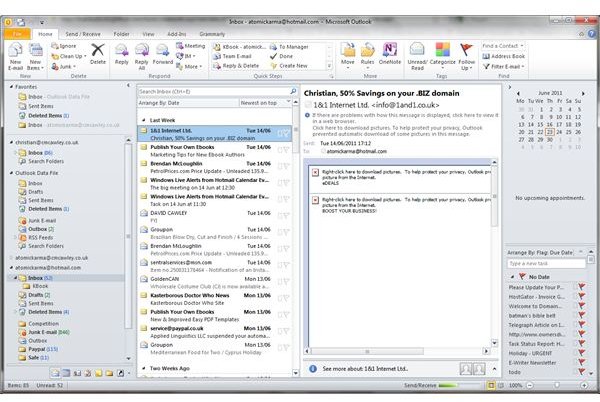 Microsoft Outlook Errors You May Recognize
As the most commonly used email client on the planet, Microsoft Outlook has a huge number of users logging on and checking messages, editing meetings and tasks and forwarding contacts every hour of the day, all around the world. A key element of the Microsoft Office suite, the 2010 release of Outlook appears to be the most successful and stable yet, offering fixes to issues that occurred in previous releases and managing emails, calendar data and more, often syncing with an Exchange server.
However, as successful as Microsoft Outlook 2010 has been, the software still has a few issues that pop up occasionally to frustrate the user. These might be related to problems launching Outlook, full mailbox errors or problems sending messages, but all of these common Microsoft Outlook email problems can be easily resolved with just a few clicks and a bit of patience.
Can't Start Microsoft Outlook? Try This
One of the most common problems with Outlook is successfully opening the software. Often this is related to problems with the navigation pane on the left-hand side of the screen, and as this is an important element of the software you will be unable to start Outlook without first taking action.
The navigation pane can be reset or deleted to resolve this issue. First of all, you might prefer the less drastic reset action, which is performed by pressing WINDOWS+R and entering the following command:
outlook.exe /resetnavpane
(note that there is a space between ".exe" and the forward slash).
Click OK and the email client should launch, complete with a reset navigation pane.
If the above solution has no effect, you will need to browse to the XML file and delete it. This is typically found in %appdata%\Microsoft\Outlook, so paste that command into the Run box (again using WINDOWS+R) and find the configuration file with your Outlook profile name. You may need to use the Organize > Folder and search options > View tab to remove the check against Hide extensions for known file types in order to identify or distinguish the XML file before deleting it.
Repair Damaged Folders/PST
Another common Outlook problem comes with slow or sluggish performance, waiting to send and receive emails or even simply switch folders. These problems can be due to a slow local area connection or cabling issue, so if the following doesn't work, try calling a technician and get them to check your computer hardware.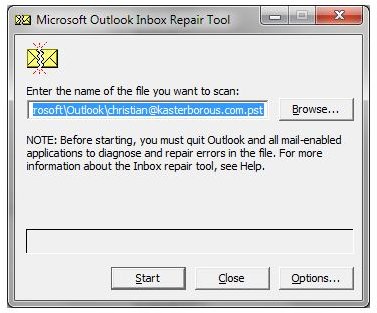 If the problem isn't hardware related then it is data related and as Outlook manages a vast amount of data every day in busy work places, such an issue can occur semi-regularly. Rather than pressing on and putting up with the lags, your best option is to close Outlook, open Windows Explorer and browse to
C:\Program Files\Microsoft Office\Office14
Here you will find the scanpst.exe tool, which you can use to fix the PST file which stores your emails. Use the Browse button to open the PST file, which you will find in
C:\Users\[username]\AppData\Local\Microsoft\Outlook
…in Windows 7, while for Windows XP the PST file will be stored in
C:\Documents and Settings\[username]\Local Settings\Application Data\Microsoft\Outlook
(You can also find the location of your PST by right-clicking Inbox in the Outlook navigation pane, selecting Properties > General > Advanced.)
After browsing to the PST file, click Open and then Start. The data will then be checked and repaired, and when you next launch Outlook you should find it runs much faster.
Mailbox Full Error
One common and frustrating issue with Outlook, particularly in the work place where Microsoft Exchange is regularly used, is getting the "Mailbox is full" error or an automated email message from the mail server advising you of the same.
When the mailbox is full, you will be unable to download or sync any new messages from the email server until there is sufficient space on your computer.
Start by right-clicking the Inbox and selecting Properties to check the current size of the mailbox. You will then need to have a browse through your inbox and any other folders you have for messages that can be saved or archived to your PC in order to provide enough space for new messages to be downloaded.
The best places to find emails that you can delete are your Junk, Sent and Deleted Items folders.
Deleting Large Messages in Outlook
While there are various reasons why you might be able to send email messages in Outlook, these are usually related to the account settings, which might have changed.
However, another cause of being unable to send emails is when the message has an attachment that is too large to be routed via your email server and to the recipient. Typically, corporate email systems have an upper limit of 10 MB for attachments (sometimes 20 MB) with larger data files exchanged via SharePoint, Extranet or a standard file server.
If you have attempted to send an email message that is too large to route, you will find that it stays sat in your outbox. The problem here is that all subsequent email messages that you send will be cued up behind the large email, and deleting the message is likely to fail.
To get around this problem, you will first need to use File > Offline to disconnect Outlook from the mail server, then select and Delete.
References
Author's own experience.
Screenshots by author.