What to Do if Outlook Cannot Open Default Email Folders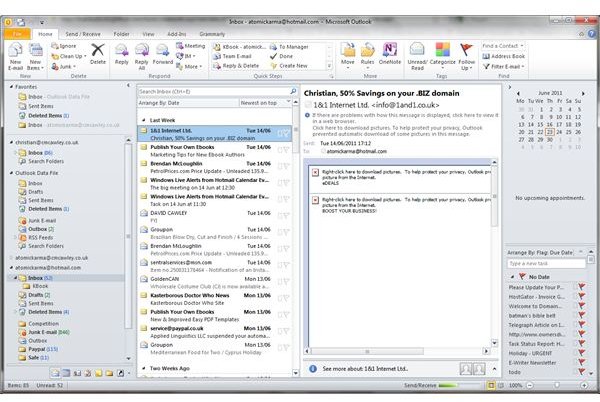 Why Won't the Default Folders Open?
Thanks to Microsoft Outlook, there are millions of people around the world able to access email messages, calendar information, manage their ongoing tasks and easily find and get in touch with their contacts. As part of Microsoft Office, Outlook is a desktop communications and time management hub, designed to make it easy to arrange meetings and share information via email.
However, on some occasions Outlook doesn't work quite as it should. A good example of this is when you switch on your computer and find that Outlook cannot open the default email folders. This information is usually relayed as an error message, one that leaves you with the choice of opening a system folder as an alternative.
The error message may be displayed as:
Unable to open your default e-mail folders. The information store could not be opened. Would you like to open your default File System folder instead?
or
Unable to open your default e-mail folders. You do not have permission to log on. Would you like to open your default File System folder instead?
While the offer is kind, opening a system folder isn't going to help you to display your emails. This type of fault is usually traced to a corrupt OST file, however there are a number of other things to check first of all.
Reboot and Compatibility Mode
There are various reasons why Outlook might display this error message, from problems with the OST file to issues with other applications and add-ins causing a problem.
The very first thing you should do is to restart your computer and try again; it isn't unheard of for Outlook to fail to run correctly due to a conflict with another application that has failed to launch correctly.
Next, and for users of older versions of Outlook (pre-2007), try launching in compatibility mode. This is done by opening Start > All Programs > Microsoft Office > right-clicking Microsoft Outlook and selecting Troubleshoot compatibility. Follow the instructions displayed in the Compatibility Wizard to continue, and shortly you should be able to run Outlook and view your default folders.
Safe Mode and Disk Space
If you suspect an Outlook add-in is causing the problem (for instance you might have an anti-spam tool that acts as an Outlook plugin or "add-in") then you will need to open Outlook in Safe Mode. To do this, exit the program fully, and then press WINDOWS+R to open the run box. Enter the following text and press OK: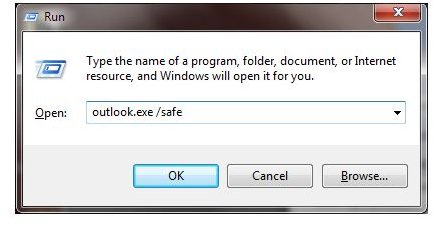 outlook.exe /safe
(you might also use the full file path, such as:
C:\filepathtooutlook\outlook.exe /safe
Note in both examples the space before the "/".)
With Outlook running successfully in Safe Mode, you should be able to access your default folders; the next step is to determine which add-in was causing the problem. Your first step here should be to uninstall all add-ins via Start > Control Panel > Uninstall a program, and then reinstall each in turn, starting and closing Outlook between each. As add-ins are typically provided by third party developers, there is no guarantee that several of these applications will work at once, so you may have to decide to discard with them altogether.
One other thing you should check is the remaining disk space on your computer. If Outlook has difficulty opening the OST file then this might be because there is not enough space to do so. Clearing temporary items with Start > All Programs > Accessories > System Tools > Disk Cleanup is a good starting place, but if this doesn't help use a utility such as WinDirStat (available from https://windirstat.info) which offers a graphical representation of your hard disk usage. This is a great tool for finding space that you can free up.
Resolving OST Corruption
In the worse-case scenario, such a problem with Outlook might indicate that the OST file has become corrupt, leading to the error message informing you that Outlook cannot open default email folders. The OST (Offline Storage Table) file is created by Outlook to handle an Exchange mailbox when your computer is offline. Such a scenario might occur if you are using a laptop, for instance.
If this issue is affecting you, the following message would be displayed:
Cannot open your default email folders. The file filename.ost is not an offline folder file.
The error is usually caused by data corruption, although an inability to open the Exchange mailbox on the computer or an incorrectly configured account can also result in this problem. Using the error message, you should be able to use your Windows search function to find the OST file that is experiencing the problem. There are two things you should do next.
First, make a copy of the OST file, and save this either in the same folder (with the default Copy of… prefix) or elsewhere.
Second, use the ScanOST utility (found in C:\Program Files\Common Files\System\Mapi\1033\scanost.exe by default) for Outlook versions prior to 2010 and check the OST file named in the error for problems. This will resolve the majority of corruption errors.
If fixing the OST file doesn't resolve the issue, or you are using Outlook 2010, delete the original file (you should make sure you have a copy before doing this) and with your computer connected to the network and able to access the Exchange server (you might check via Outlook Web Access or by pinging the server) restart Outlook; the email application should create a new OST file, and the issue will be resolved.
Choosing the Right Solution
So there are several reasons why errors concerning the default email folders in Outlook might occur, and as such a good selection of fixes. Your best option is to use the fix most appropriate to your situation and the error message that you received, and above all, remain patient, as issues such as this can be unnecessarily frustrating.
Let me know if you have any questions via the comments section below.
References
Changes in Outlook 2010, https://technet.microsoft.com/en-us/library/cc179110.aspx
Screenshots provided by author.