Using Built-in Microsoft Outlook Registry Repair Tools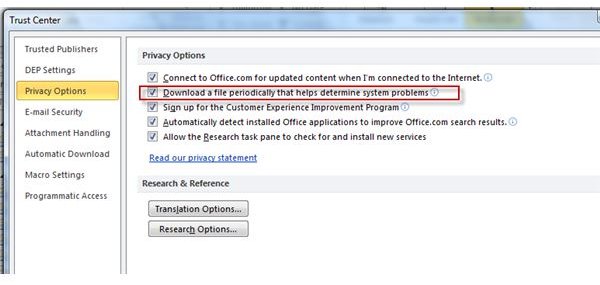 Microsoft Outlook
Microsoft provides a personal information manager software called Outlook. The key feature of Outlook is to send and receive e-mail using POP, IMAP and MAPI. Microsoft Outlook also includes calendar, contacts and tasks manager, RSS aggregator, notes and journal. The program also has a Microsoft Outlook registry repair or diagnostic options. Find out in the next section of this article on how you can use the available tools in repairing Microsoft Outlook.
Repair Outlook Program
There are two options to repair Microsoft Outlook which is available within the program:
Automatic repair using Office diagnostics
There is an option for Microsoft Outlook and other Microsoft Office programs to automatically check or diagnose problems in using Outlook. The option is disabled by default or when you first setup Outlook:
Click the File tab in Outlook program.
Under Help, click Options.
Click Trust Center, click Trust Center Settings, and then click Privacy Options.
Select or clear the Download a file periodically that helps determine system problems check box.
If you enabled the option, wait about a week to allow the file to be downloaded.
Manual repair for Microsoft Outlook
In some cases, the registry or components of Outlook becomes corrupted and this can be repaired using the manual repair option of the program. To manually repair Microsoft Outlook:
Click Start, then click Control Panel.
Click Programs and Features.
Click the Office program that you want to repair, then click Change.
Click Repair, then click Continue. You might need to restart your computer after the repair is complete.
Note that if you recently experience problems in Outlook after installing a program that integrates its' components to Outlook program e.g. antivirus, anti-spam or Outlook add-ons, you should first try to disable or remove the newly installed software before using the above steps. Disabling add-ons for Outlook works like Safe mode option in using Internet Explorer's no add-ons' mode.
Repair Outlook Data Files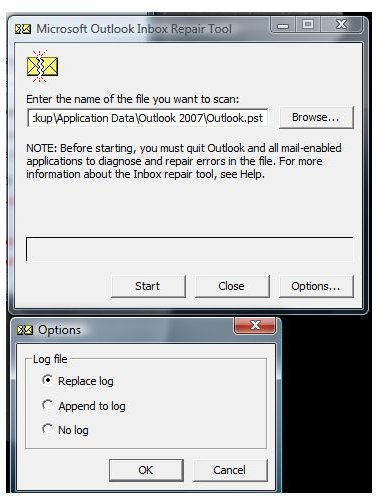 If you cannot open any Outlook data file (.pst) or an offline data file (.ost), you can use the Inbox Repair tool that comes in Outlook program. The Inbox Repair tool is installed on your computer when you installed Microsoft Outlook that can rebuild and reset Outlook data files. To use the Inbox Repair tool:
Exit Outlook program.

Open Windows Explorer and select the drive:\Program Files\Microsoft Office\OFFICE14 folder.

Double-click Scanpst.exe.

In the Enter the name of the file you want to scan box, enter the name of the .pst or .ost file that you want to check, or click Browse to select the file.

To specify the scan log options, click Options, and then click the option that you want.

Click Start.

If errors are found, you are prompted to start the repair process to fix the errors.

A backup file is created during the repair process. To change the default name or location of this backup file, in the Enter name of backup file box, enter a new name, or click Browse to select the file that you want to use.

Click Repair.

Start Outlook with the profile that contains the .pst file that you tried to repair.

In the Navigation Pane (Navigation Pane: A column that provides access to folders used to organize your information. Click a folder to show the items it contains. It also includes the Favorite Folders section and buttons to switch between Mail, Calendar, Tasks and other views.), click Folder List.

In the Folder List, you might see a folder named Recovered Personal Folders that contains your default Outlook folders or a Lost and Found folder. The recovered folders are usually empty, because this is a rebuilt .pst file. The Lost and Found folder contains the folders and items recovered by the Inbox Repair tool.

You can create an Outlook Data File (.pst), and drag the items in the Lost and Found folder into the new data file. When you have finished moving all the items, you can remove the Recovered Personal Folders (.pst) file, including the Lost and Found folder, from your profile.
Other recommendations
You can also reinstall Microsoft Outlook if none of the above steps will help to repair the program or Outlook becomes unusable due to corrupted files caused by malware infection or program updates. Microsoft Outlook program updates is offered by Microsoft via Microsoft Update website that you should install to keep the program up-to-date from security and program fixes and prevent future problems that is already known to Microsoft Office team.
References
Screenshots taken by the author, courtesy of Microsoft.
Information based on author's experience and Microsoft Outlook documentation.