The Power of Internet Explorer
Internet Explorer remains the world's most-used web browser, despite constant challenges from other software such as Mozilla Firefox or the recently-released Google Chrome.
Now on its eighth full version (with Internet Explorer 9 due for release in 2011), Internet Explorer can be used for not only browsing websites but local intranets as well, and the software also features FTP capabilities (unless disabled by local administrators).
In order to hold off the threat from other browsers, Microsoft has enabled Internet Explorer to be compatible with various plugins and add-ons, which can be downloaded and installed to enhance the browser's capabilities.
But where do you find these add-ons, and how do you install them? And when you've had enough, how do you remove add-ons from Internet Explorer?
Finding Add-ons for Internet Explorer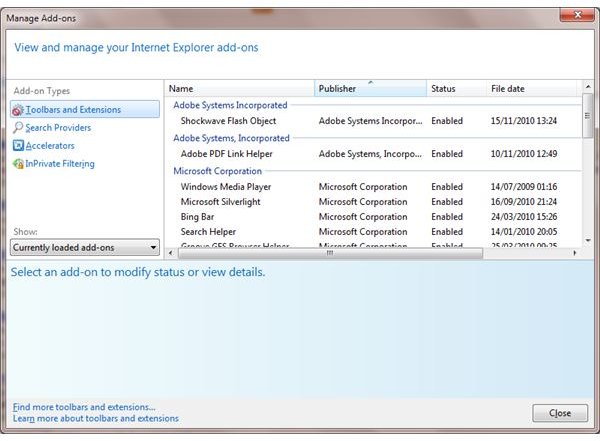 There are many different types of add-ons for Internet Explorer, from toolbars to enhancements like Flash player and download tools like LeechVideo.
Mostly these add-ons are only found on the various websites that provide them, but for the best selection of add-ons that are compatible with your version of Internet Explorer, point your browser at ieaddons.com.
This Microsoft website will present you with all of the best add-ons across different categories, such as blogging, shopping and social networking, and if you cannot find the one you want, just use the search tool.
Once you've chosen your Explorer add-ons you just need to install them.
Installing Add-ons with Internet Explorer
Once you have chosen an add-on that looks interesting, take a look at the full item description so that you are clear about what enhancement the add-on will bring to your browser, and also read any user reviews that might be displayed. If you can, avoid add-ons with no stars.
To take advantage of the add-on, click Add to Internet Explorer and then choose Run in the download box. If you're using Windows Vista or 7 the User Account Control box will ask you to confirm installation, so agree to this.
You will then need to run through the standard install wizard, selecting where you want the add-on data to be installed. This shouldn't take too long – once completed, restart your browser for the software add-on to be incorporated.
Deleting Internet Explorer Add-ons
If you have decided that you have too many add-ons or perhaps one is not working as intended, you can disable them from Internet Explorer via Tools > Manage Add-ons. Simply right-click the add-on you want to turn off and select Disable (note that this can be reversed by repeating the action and selecting Enable).
Meanwhile if you would prefer to delete such add-ons completely from your computer, then treat them as they were full programs. Unlike Mozilla Firefox, Internet Explorer add-ons are individual applications which can be found listed in Start > Control Panel > Uninstall a program (or Start > Control Panel > Add/Remove Programs in Windows XP) – so finding the extension, right-clicking and selecting Uninstall will delete the add-on from Internet Explorer permanently.
References
Source: author experience
Image: screenshot from Internet Explorer 8 by author