Plenty of free DVD burning applications are available on the Internet. Some of them offer limited functionality while others may not be compatible with Windows 7. Several others are paid software. I researched for free DVD Burning software on the Internet and got some really good software. I downloaded some freeware based on the number of positive reviews on different forums. Based on my experience with the DVD writers I downloaded, here is the list of top ten freeware for burning CDs and DVDs.
ImgBurn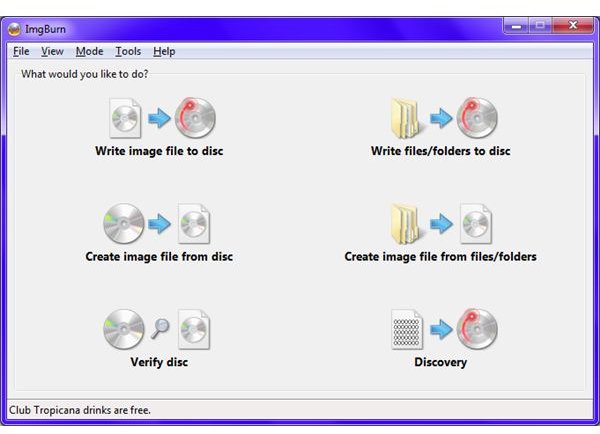 I would place ImgBurn at the first rank as it can accomplish a range of tasks from a single window. It offers you several options to fully customize your DVD burning experience.
Some of the basic tasks it offers include creating image files for the files/folders that you wish to write to the DVD, checking the most optimum speed for your DVD drive, and writing the image file to your DVD then testing for data consistency once the disk is burned.
You can also create an image file from a DVD and burn it to multiple DVD's. Thus, you can use ImgBurn to copy a disk to multiple DVD's. In short, the ImgBurn beats Nero Lite too. Nero Lite is a free software for DVD burning from the famous Nero brand. Being a freeware, Nero Lite offers very limited functionality. We will discuss Nero Lite on the next page.
CDBurnerXP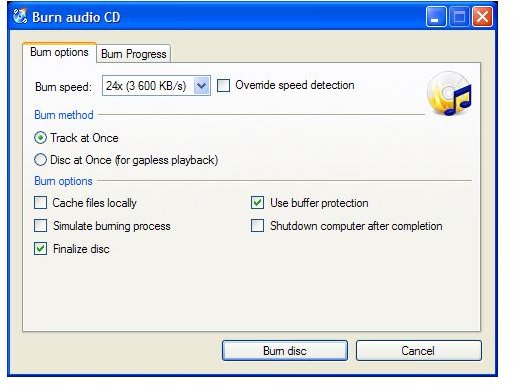 A great software that allows you to burn data in a way that spans multiple disks, CDburnerXP has an easy to use interface. You can create almost all kinds of CD's – including audio CD's in different formats. CDBurnerXP supports files in the following format for audio CD's: WAV; WMV; MP3; WU; MPC; and APE.
As with the full version of Nero, you get to select the type of task you wish to perform, select files, and either burn them directly or create an ISO file. With CDBurnerXP, you can also verify the data written onto the CD's or the DVD's.
You will also like the additional "cover-printing" feature in this software.
Note: Though the name contains XP, the DVD burning software is also compatible with Windows 7 (tested on my machine).
Burn4Free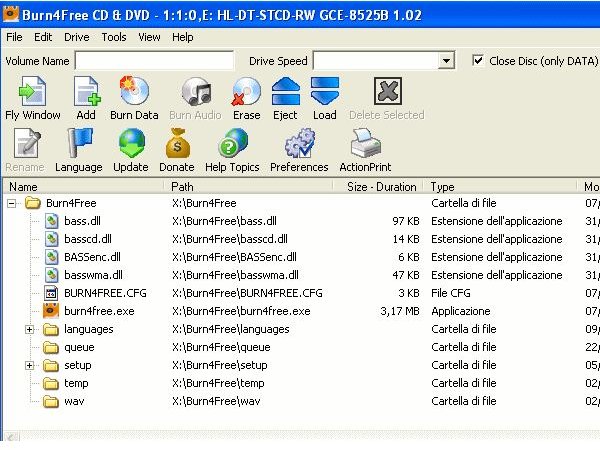 If you are looking at creating DVD's and making multiple copies of them, Burn4Free is the best software for you. Its simple explorer interface allows you to select the AVI files created by any program such as Adobe Premiere or from your Video Recorder. You can decide whether to create an ISO image or to burn directly to the DVD and then make copies.
Among other features are creation of audio CD's and Data disks. The Burn4Free software allows you to select the type of DVD you wish to create. It can offer you with details of the recorder and is compatible with Windows 7.
More Software Applications for Burning DVDs
BurnAware

Continuing our list of top ten freeware DVD burning software, BurnAware stands at number four – based on my experience with the software. The freeware DVD burning software, BurnAware, creates almost all types of CD's. You can burn normal CD's, DVD's and even Blu Ray disks without paying anything to use the software. The BurnAware software is also available in paid versions with enhanced features such as creating HD video disks.
The free version of BurnAware supports data disks, audio CD's from a range of file types, and videos from AVI and MPEG file types. It supports almost all video recorders and also allows you to create ISO images from DVD's so that you can use them as backups or to create multiple DVD's.
Ultimate DVD Burner
A simple freeware, the Ultimate DVD Burner is easy to install and use. It has a very simple interface that allows you to select the type of DVD to be created. It can be a data disk, audio CD, or a video CD. It supports a range of file types to create audio CDs. For video CDs, the Ultimate DVD Burner employs MPEG and AVI files.
UsefulUtils Discs Studio
UsefulUtils Discs Studio is a nice freeware for burning DVD's and CD's. However, the language of the software is not English. You can still understand the navigation and use the software to burn any kind of DVD. You can create a data disk; an audio CD or a video disk as you like. The UsefulUtils Disc Studio contains a simple explorer that allows you to select files and burn them either to an ISO file or directly to the disk. The software also features buffer underrun protection and data verification on disks that you burn. The current version however, does not support Windows 64 bit.
Ashampoo Burning Studio
Ashampoo Burning Studio, in addition to creation of CD's and DVD's, also allows you to rip audio CD's and save it to your hard disk or pen drives. It also allows you to burn data that spans a couple of CD's or DVD's and thus, is a good tool for creating backups for your hard drive.
Among other features of Ashampoo Burning Studio include: Backup and Restore of data, Blu-ray Compatibility, Audio Ripping, and support for Super VCD's.
Totally Free Burner
Totally Free Burner stands up to its name. It allows you to create data disks, audio CD's, video CD's, and ISO images without having to pay anything. The interface is too simple with all four options presented in the main menu. It allows creation of audio CD's using a range of file formats: wma, ogg, wav, and MP3. You can either copy a video DVD and create its ISO image to burn multiple disks or use the Totally Free Burner to create direct copies of a video disk. You can also use the VOB file directly to create video disks.
Nero Burn Lite 10
Nero Burn Lite 10 is a stripped down version of the famous Nero brand of DVD burning software. Nero brought in this software to counter piracy and to stand out in the market of freeware DVD burning software. Unlike Nero 9, the software does not allow you to create video CD's and also it lacks the backup feature found in the standard edition. Plenty other features are missing. Still, if you need a basic DVD burning software to create data disks and to create audio CD's, you may want to use it.
Plato CD DVD Data Burner
Plato CD DVD Data Burner supports almost all CD/DVD recorders and offers the basic functions of burning data and audio to disks. It allows multi-sessions and supports "on-the-fly" CD recording. This means the software does not use space for temporary files while burning.
This concludes my list of top ten freeware DVD burning software applications. If you wish to share any other DVD burning software for Windows 7, please feel free to contribute using the comment boxes.
References
Images from
ImgBurn
CDBurnerXP
Burn4Free
Wikimedia Commons, https://commons.wikimedia.org/wiki/File:Dvdburner.jpg