Top 3 Downloadable And Online Free Storm Tracking Software Options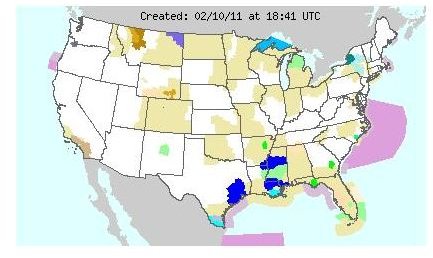 Why Would Someone Need Storm Tracking Software?
If you live in an area that is under the threat of hurricanes, tornadoes, or severe weather, having the ability to obtain and view up to the minute information about weather events in your region is vital. This is especially true if you are responsible for the safety of children or animals. By using these online resources or downloadable tools, you can be confident that you have the latest information at your fingertips
Top Downloadable Software
Weather Blink - Weather Blink is a downloadable freeware program that is not so much a weather tracker as a toolbar that focuses on weather sites. Think of it as a shortcut to weather information kept online. This allows for great flexibility and differing perspectives on local or regional storm conditions. It will also enable the user to check conditions at another location; i.e., work, a relative's home, or vacation destination. It has been found to be safe by Norton from malware.
Weather Bug - Weather Bug has been around for over a decade now and had developed a reputation as more of a nuisance than a legitimate piece of free storm tracking software, but it appears to have cleaned up its act. Weather Bug as a very user friendly interface that allows for real time data to be displayed in the user's choice of formats. Complaints of uninstall problems have been remedied by the inclusion of an uninstaller. It is adware however, and that can present problems for marginal systems.
The Weather Channel Desktop - The Weather Channel has been a repository of global weather information on cable TV for nearly 30 years and quickly moved online when the opportunity arose. One of the most trusted names in weather; they have produced a desktop gadget that brings their data and expertise to the computer user in real time. Like most free programs, there are advertisements to maneuver around, but the reputation of the company makes it a safe bet that this is quality software.
Top Online Resources
_The Weather Channel -_The Weather Channel has been online for over 20 years and can be easily be added to your favorites for one click navigation. In addition to local storm tracking and warning, you can program a list of locations that you can then check for advisories whenever you wish. The Weather Channel also offers its status as being the source of storm information for many of the country's transportation providers.
Local Emergency Management - Many local government emergency management services have sites detailing weather radar, conditions, and forecasts; many times from the local airport. Most local television stations also carry weather pages on their sites which not only provide local information, but will cover major storms in other parts of the world.
National Weather Service - The NWS offers real time satellite imagery, radar, and text advisories for any part of the country. They also provide forecast models for storm tracking and archival records. They provide first hand data from any number of their thousands of weather recording stations nationwide.
Finding storm information is very simple and easy, checking around will help locate a site or a program that will present the data you need in a format that is easy to read and comprehend. All the information about the storm will be of little use unless you plan for a storm to hit your area. Emergency food, water, clothing and power needs should be planned for and developed; evacuation routes planned and the location of shelters mapped out, especially if you have animals or family members with special needs.
Image Credit: weather.gov
Resources
https://www.weatherblink.com/index.jhtml
https://weather.weatherbug.com/