Protecting a computer using BitDefender Internet Security 2011 is easy for any level of user, especially beginners. The new edition provides not only protection from viruses, Trojans, worms, rootkits, spyware, adware and other types of malware, but also scans for vulnerable applications that are often a target of zero-day viruses.
BitDefender runs on Windows XP, Vista and Windows 7 operating systems and I'm glad to see it protects web searches not only when using Internet Explorer and Firefox, but also the Opera browser.
Setting Up BitDefender (5 out of 5)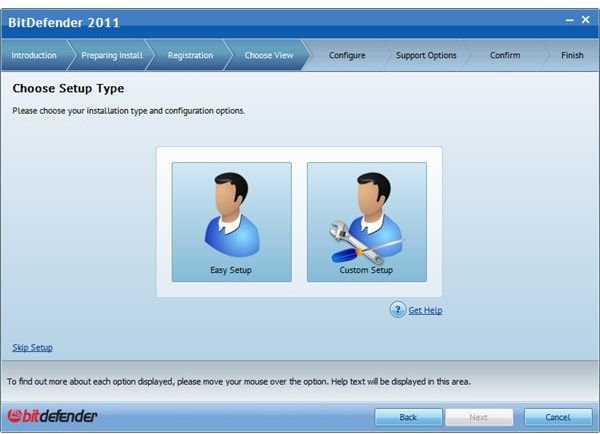 One of the requirements to install BitDefender is to have .NET Framework 2.0 or higher which provides direct support for security. If .NET Framework is not installed in a system, BitDefender setup will install it for you since it is included in the package. The Microsoft Visual C++ 2008 redistributable application is installed as well. Note that the version of the Visual C++ included in BitDefender setup is vulnerable, but there is an update available via Windows Updates.
The BitDefender install is a straight-forward process, but you need to enter an e-mail address to proceed with the install. The registration of your e-mail address is required to enable their customers to access web services that are included with BitDefender such as online product support and parental control remote settings.
The main components of BitDefender are automatically installed whether you choose to install using an easy or a custom setup. End-users may opt to use a basic, intermediate or expert view, which is a good option to prevent confusion by non-advanced users, while also catering to the needs of advanced or expert users.
A PC reboot is not required after installing the program. It will immediately start protecting Windows from viruses. The program reports its status to Windows Security Center and uses 214MB of hard-disk space.
BitDefender intalls an add-on for Firefox and IE browsers (IEToolbar.dll) which is the anti-phishing toolbar that blocks known phishing websites and also provides a search advisor similar to the Web of Trust add-on. Users of the Opera browser can take advantage of the same search advisor during a web-search.
BitDefender also adds 3 services: BitDefender Web Server (arrakis3.exe), BitDefender Update Service (updatesrv.exe) and BitDefender Virus Shiled (vsserv.exe). There will be two start-up items that run in Windows — BitDefender antiphishing helper (ieshow.exe) and BitDefender Agent (bdagent.exe).
Features and Performance (5 out of 5)
What most end-users need to protect their computer is included with BitDefender Internet Security 2011, including: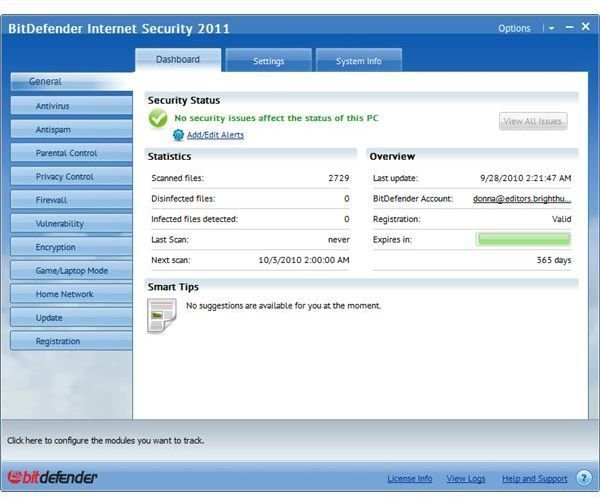 Antivirus and anti-spyware
Anti-phishing and anti-spam
Identity protection and privacy controls
Chat encryption and vulnerability checker
Firewall
Parental Controls
Home network monitor
Scanning of archives files
Quarantine Manager and Scheduler
Automatic Product and Detection updates
All of the above components are enabled by default except the parental controls.
A Host-based Intrusion Prevention System (HIPS) is included but not enabled by default. Several methods of scanning are available: a quickscan, autologon scan, and a custom, full or deep scan. A context menu scanner is also added to scan a single file, folder or partition. The virus scanning in BitDefender is easy to manage and you can scan network drives. For gamers or laptop users, BitDefender provides the ability to surpress messages, use low CPU resources or to not disturb during game play or when using your laptop battery.
Important events are logged by BitDefender such as scan and protection events: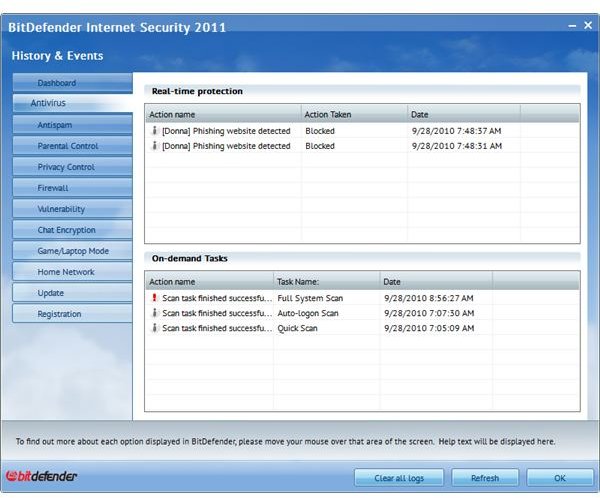 BitDefender uses around 28MB of memory while monitoring the computer for malicious activity. The scan engine will use 19MB of memory usage during a full system scan.
The only issue I found is that BitDefender is not accurate when detecting that the test system requires no update for third-party applications: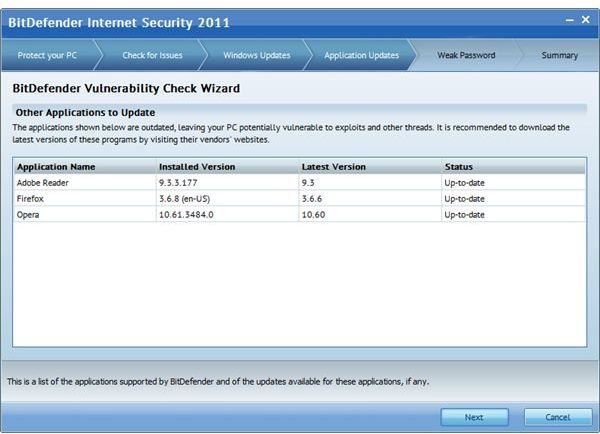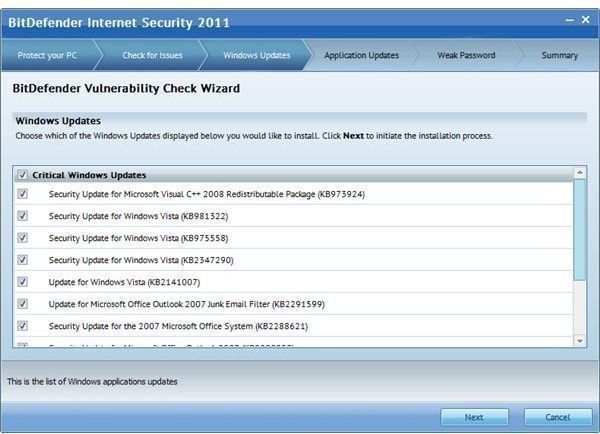 The above screenshots show the correct detection for missing Windows Updates.
Browsing Malware Protection (5 out of 5)
Malware spreads not only in e-mail messages or untrusted P2P sources, but also when browsing the Internet. End-users that do not have complete or extra layers of protection are more vulnerable to online threats such as malware targeting, 0-day vulnerabilities in an application, or from unsafe downloads.
Below you will see images that are examples of the browsing protection that BitDefender Internet Security 2011 offers.
The screen shots show BitDefender preventing infections by PDF or IE exploits, as well as unsafe downloads, in real-time.
It did miss a rogue scanner web page, however, after testing multiple security software programs, I've learned there is no 'perfect' antivirus protection, which is why I gave this Suite a top score regardless, based on its comparative performance to other Internet Security Suites.
Images of Prevented and Not Detected Unsafe Sites by BitDefender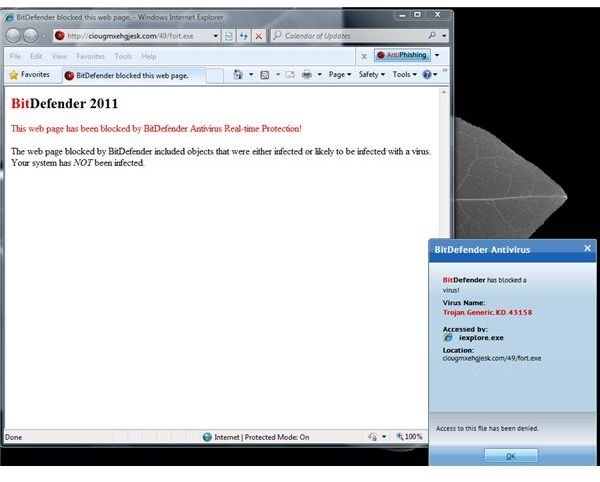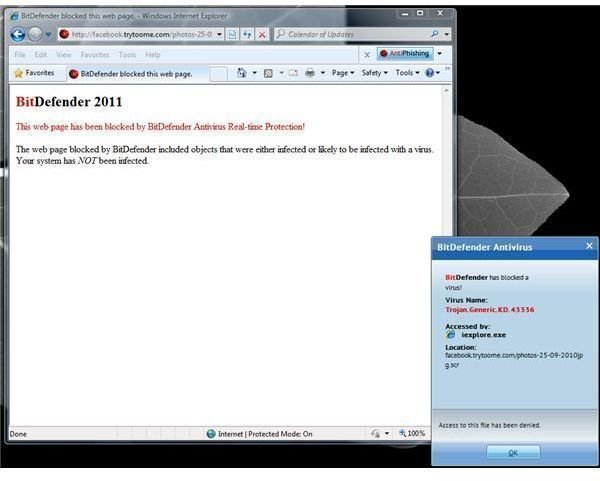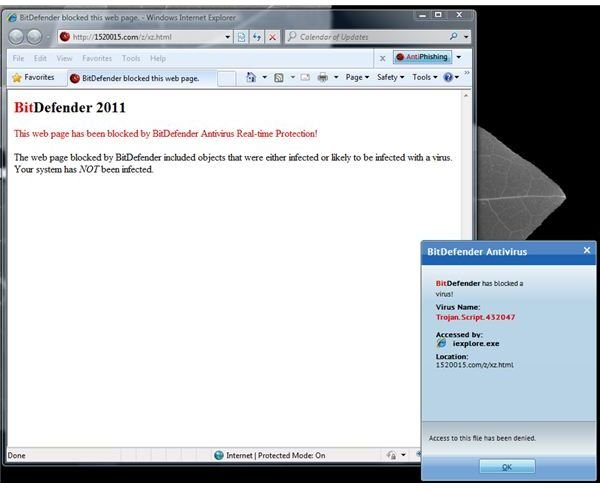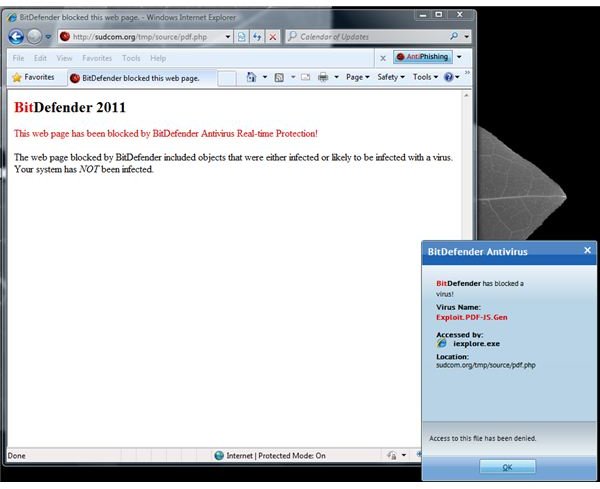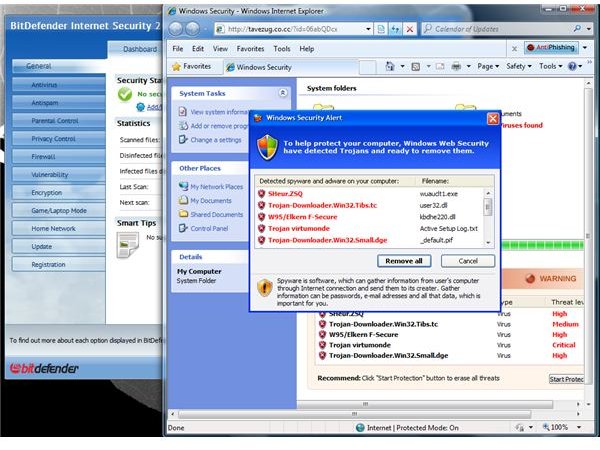 Malware Protection (4 out of 5)
I put to the test BitDefender's real-time protection by transferring 395 malware samples onto my PC, containing malware exploits, rogue programs, Trojans, rootkits, worms, virus, spyware, adware and other types of malware.
BitDefender detected and blocked 267 out of 395 malware: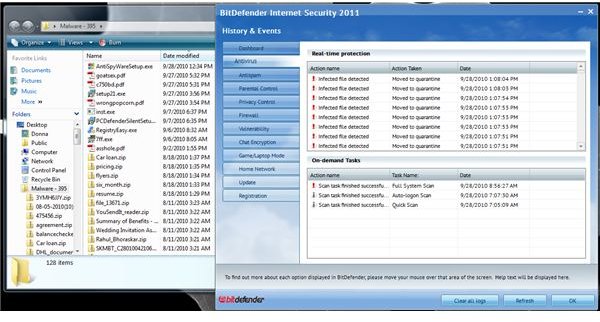 Next, I let the BitDefender on-demand scanner attempt to find more malware in the remaining samples that were transferred to the system drive: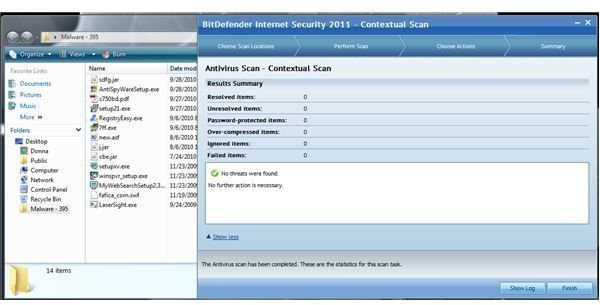 The program's on-demand scanner quarantined 114 additional malware and only left the system vulnerable to 14 malware. That is around a 96.5% protection by the BitDefender antivirus module, which makes it an above average security solution.
Value
At $50 for 3 PCs, BitDefender Internet Security Suite 2011 is not only an affordable security solution, but it also provides the most commonly needed end-user protections, which is preventing intruders and protecting against malware infecting or attacking Windows.
Best of all, you can try the program for yourself! You can download a free trial of BitDefender from https://www.bitdefender.com/world/Downloads/
Image credit: Screenshot taken by the author.