TrendSecure Transaction Guard Review: Free Online Spyware Monitor and Password Clipboard
Overview
Spyware and other type of malware have the ability of stealing credentials of internet banking, login or any other financial credentials. To protect end-users from spyware, Trend Micro is offering a free tool, Transaction Guard via TrendSecure website. Find out how Transaction Guard works.
System Requirements (5 out of 5)
Transaction Guard requires Internet Explorer or Firefox browsers on Windows Vista, Windows XP with SP2 or Windows 2000 with SP4. The install of Transaction Guard requires internet connection for it will be download a cabinet file, TmHcmsX.cab and will proceed installing the component, TmHcmsX Control with .ocx extension via ActiveX (for IE) or using Java (for Firefox).
Sun Java Runtime Environment is required if you are using Firefox browser. Opera browser is not supported.
Note: You do not need to disable the Protected Mode in Internet Explorer 7/8 or the UAC in Windows Vista to use Transaction Guard.
Features and Options of TrendSecure Transaction Guard (5 out of 5)
With Transaction Guard running, it will keep its notification icon only until you reboot or turn of the computer. There are two components in using the service:
Spyware Monitor – when the program detects spyware intrusion, you will be notified. Transaction Guard does not include a scanner or removal component. There is an option to Checkup the system for spyware by using the online scanner in TrendSecure website.
Password Clipboard – An on-screen keyboard can be use to start using this component. You will need to type your login or any sensitive information in the on-screen keyboard then visit the webpage that you the typed information to use by simply hitting "paste" button.
Trend Micro Internet Security Suite customers should note that Spyware Monitor is in your program already.
The icon of Transaction Guard includes the option to disable the real-time detection for spyware intrusion while you are online and to quickly launch Password Clipboard. You will not see Transaction Guard's notification icon after a system restart. To continue using this online spyware monitor and password clipboard service, you will need to visit TrendSecure website again. If you did not manually remove its components and files, clicking "Launch Transaction Guard" in TrendSecure website will simply launch the program again.
Setup or Installation (4 out of 5)
If you are using Windows 7, Vista and IE browser, the components of Transaction Guard is located in C:\Users\Your User Account Name Here\AppData\LocalLow\Trend Micro but if you are a Firefox user, the files will be added in C:\Users\Your User Account Name Here\AppData\Local\Trend Micro. Windows XP users should find it in C:\Documents and Settings\Your User Account Name Here \Local Settings\Application Data\Trend Micro.
Installing Transaction Guard is a quick process. It will download the necessary service components and updates before the icon of Transaction Guard will appear in Windows notification area (aka systray). Once installed, you will find the 2 running processes: tgui.exe and tmsvcnt.exe.
Performance and Effectiveness (5 out of 5)
In Windows XP, the two processes of Transaction Guard (tgui.exe and tmsvcnt.exe) will use 56MB of memory. If you are Vista, you will find higher memory usage by these processes: 75MB.
After installation Transaction Guard in Vista with IE8, the Spyware Monitor alerted me that it detected a spyware. There is option to "Checkup now" to find out what spyware program that Transaction Guard has detected but after numerous try, the page that the Checkup now button has opened will not do anything more other than leaving the browser open. This issue occurs again when I did a fresh install of Transaction Guard using Vista with Firefox as default browser. I'm curious on what it can find on the system so I decided to manually launch TrendSecure's Housecall to run a quick and system drive scan: No threat is found. It is strange to continue receiving spyware alert from Transaction Guard, if their Housecall service is finding nothing.
The Password Clipboard is a neat component. It will give a sense of security and also confidence, if you are sure that you don't have any malware sitting in any part of your computer. I tried using the Password Clipboard in Transaction Guard by entering the login credentials in the on-screen keyboard and it simply works.
Images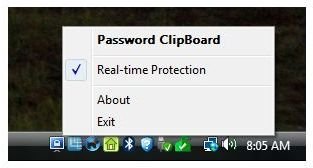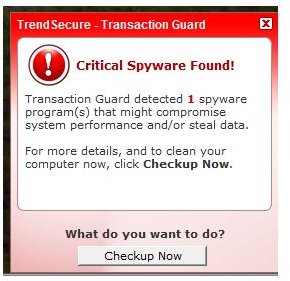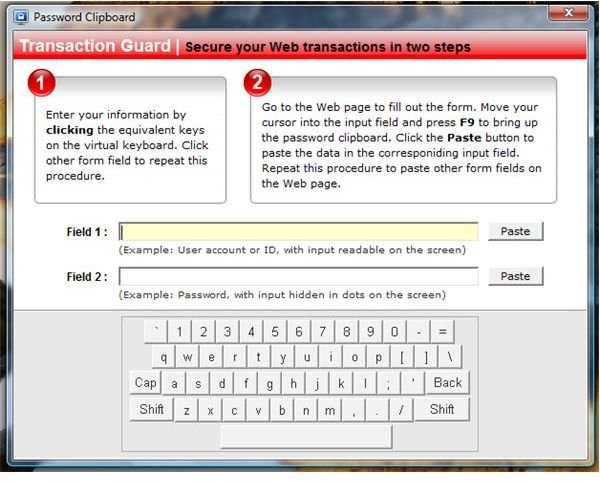 Price to Value (5 out of 5)
Free online service. What else can I say?
Conclusion
TrendSecure Transaction Guard has a good use but the memory usage is too much. Recommended if you want to take advantage of the on-screen keyboard. Let's only hope that Trend Micro will fix the link or page that their Checkup now button will open when a spyware is detected.