Review for CyberScrub Privacy Suite
Introduction
CyberScrub Privacy Suite has recently released its latest version, which is called version 5.1. The CyberScrub Privacy Suite is among the top picks in the PC and Internet Privacy software category. The software belongs to CyberScrub Privacy Tools from CyberScrum Inc. The tool is exceedingly helpful and functional in clearing the PC from unwanted tools and removing tracks.
Features (4 out of 5)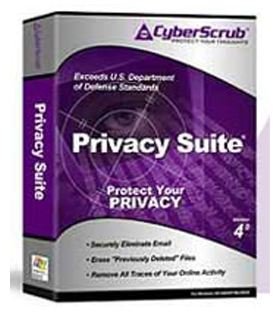 The features of CyberScrub Privacy Suite are much more than what can be expected from a clean up software. Apart from removing internet browsing tracks, it also wipes previously deleted files and folders. Many a time's files are unknowingly written on the hard drive. Sensitive data like financial information, bank information, records, or passwords are always at a risk that can be easily detected by a technician or a professional. Thus, it is a good idea to use this software if you want to delete files and folders forever without the chance of it being recovered. Moreover, it removes all evidence on online activity. This software has over 50 new features and improvements that cannot be found in other softwares.
Effectiveness (4 out of 5)
The software is extremely effective in its functionality as well. While completing a disk wipe of previously deleted files, we were assured that the deleted files would not be recovered again. The only issue with this software is that it does not allow users to view the files before they are erased.
Ease of Use (5 out of 5)
CyberScrub Privacy Suite is a software that is very easy to install, use and understand. The functions are easy to understand and use. In addition to this, each step is explained in detail, which gives users the reason for performing each step. The user interface is highly sophisticated. The tool also gives an option of a basic scan and an advanced scan.
Help and Support (4 out of 5)
CyberScrub Privacy Suite also offers support through email and a well-detailed frequently asked questions section. The replies to queries are quick and efficient. However, the query form is quiet extensive.
Overall (5 out of 5)
Overall, the CyberScrub Privacy Suite is a valuable tool that helps remove all tracks and all unneeded files and folders that do not want to be recovered again. This is only software that has the ISAAC random number generator. This feature helps better and higher protection for your personal information.