Introduction
With so many firewall options out there, from Open Source to commercial appliances, choosing the best solution can be far from a simple task. Free, customized solutions you design and piece together yourself can be optimized in terms of the exact features you desire and streamlined for a unique yet effective result technically. But such home-grown options have only your individual knowledge and community support. There are (often overlooked) costs as well in the time and effort to design, integrate, test, and document your creations.
Several vendors have selected, combined, integrated and tested Open Source firewall and VPN software options and offer them as packages, including support or additional non-Open Source features for a fee or license. Much of the "labor overhead" is eliminated by choosing such a product, and benefits such as the additional features and support are welcomed with open arms by many businesses. Even though you can do everything yourself with Open Source doesn't mean you want to.
Untangle is one of those products that is based on Open Source components. The base configuration is free to download. There's much more to Untangle though than a free firewall that offers support and some bells and whistles for a support fee. Let's take a look.
Options (5 out of 5)
Open Source Package – Untangle's base package is Open Source, so of course it's a free download. It's available as a 474 MB ISO download you can burn to a CD and use to install a dedicated server. The package includes 12 Open Source security applications, including: Attack Blocker, Firewall, Intrusion Prevention, OpenVPN, Phish Blocker, Protocol Control, Reports, Routing & QoS, Spam Blocker, Spyware Blocker, Virus Blocker, and Web Filter. The base package and all apps are GPL licensed.
Professional Package – This includes the base Open Source components, plus apps for Live Support, Configuration Backup, Remote Access Portal, Policy Manager, Branding Manager, WAN Failover, and AD Connector. The main additions that interested me were the WAN Failover and AD Connector apps.
Super Bundle – This package includes all of Untangle's paid apps. Commercial app offerings from vendors other than Untangle are included such as Kaspersky Virus Blocker, eSoft Web Filter, and Commtouch Spam Booster.
Education Package – The Education bundle includes a subset of apps aimed specifically at the education market, including WAN Failover, Web filtering, the AD Connector, and others.
Untangle for Windows – Interestingly, Untangle offers Untangle for Windows, a firewall package which runs on a Windows XP computer. Untangle describes the Windows package as using a trademarked Re-Router technology. Untangle for Windows is a Free Download like the free Open Source dedicated server package.
Features (5 out of 5)
Untangle can be dropped in to your network behind a current firewall or router. No changes to your network routing or IP configuration will be needed if you set up Untangle in transparent bridge mode. Untangle's 12 free applications make a strong base firewall, anti-malware and VPN package. Advanced networking features such as QoS (for ensuring bandwidth is available for sensitive applications such as VoIP) are present and easy to access and configure.
For businesses without IT staff experienced in network security, Untangle has channel partners that can be contracted to build and install an Untangle firewall. The Education bundle has a strong set of apps providing the network security features needed by most institutions, as far as I can see.
Features such as WAN Balancing, WAN Failover, and the AD Connector are enterprise-level features that are quite impressive–if they work well. I don't have the resources to thoroughly test them currently, or to compare them and their performance to other offerings on the market. Inclusion of Kaspersky Virus Blocker in the Super Bundle places Untangle's AV position in a very competitive position, since Kaspersky is a prominent and respected AV vendor. Likewise the Super Bundle provides the eSoft Web Filter, another strong commercial component.
Installation and Setup (4 out of 5)
Untangle is as easy to set up as a modern Linux distro (since it's based on Debian). The Windows install was straightforward, although I found their marketing for it almost too full of assurance that it would be an "install it and forget it" process. I have used Linux-based Open Source security solutions, firewalls, and routing technology since their beginnings, and am very familiar with them. Untangle's web management interface for these apps is simple and straightforward.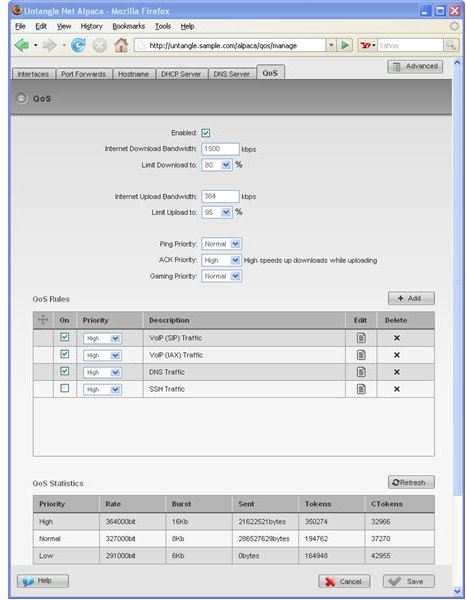 Pricing (3 out of 5)
The pricing model starts with the Professional package for 1-10 users for $270/yr. Untangle does list monthly pricing although I can't see where anyone actually would buy that way. Instead it does provide a way to demonstrate the monthly cost of ownership. The Professional package pricing for 150 to unlimited users is $2,700/yr.
The Super Bundle is $4,999 for 150 to unlimited users. This is an impressive suite of network security products, but there are other firewall options on the market that are perhaps more out of pocket initially but with lower recurring costs.
The Education package offers a single price for unlimited users, $1,695/yr. This seems like a very good deal.
Overall (4 out of 5)
There have been numerous companies that have packaged and integrated Open Source networking applications and offered them as a product, often with add-ons. Usually the value add is mainly support as well as a tested and integrated product. Untangle has some excellent add-ons that would be difficult or impossible for many customers to build and integrate themselves from existing Open Source and commercial tools. Support can be expensive for custom deployments of Open Source or home-grown solutions, so Untangle is in a strong position by offering support (along with app licensing) at a reasonable yearly price. If you haven't found a firewall and network security platform that you are satisfied with yet for price to value, you may want to give Untangle a try.