AVG LinkScanner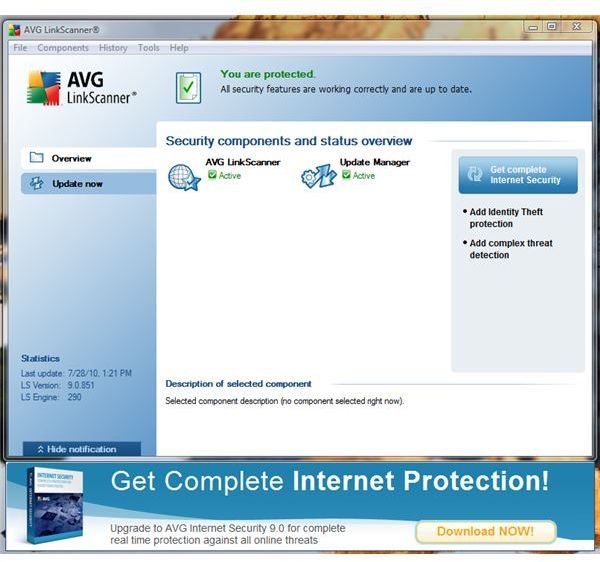 Exploits and dangerous websites are checked for threats by LinkScanner. AVG link scanner update/download is free for personal use. Links or search results using major search engines are also checked or rated by the program. LinkScanner is included in the antivirus and security suite software by AVG Technologies. It is also available as a standalone program to help prevent malicious websites. AVG LinkScanner will run on Windows 7, Vista, XP, Windows 2000 and Intel-based Macintosh computers. The program is compatible with Internet Explorer and Firefox browsers.
How to Get AVG LinkScanner
If you don't use AVG Antivirus or AVG Internet Security programs, you can get AVG LinkScanner from the following websites:
In the Download page, you will find two options to download and install LinkScanner: Download the AVG Download Manager or AVG LinkScanner Edition 9.0 for PC. Using the Download Manager is only recommended if you have fast and unlimited internet connection. If you plan to keep the installer for later use or to install the program in more than 1 PC, you should use the full installer and not the download manager.
Installing AVG LinkScanner
The installer requires an Internet connection to proceed with downloading the update for AVG LinkScanner. It will add the following to your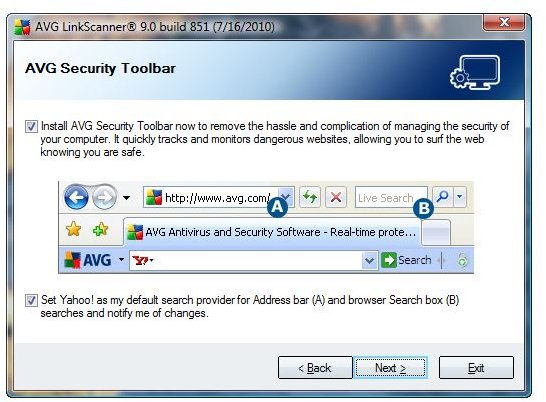 computer:
AVG Tray icon – The startup item will show avgtray.exe.
AVG Security Toolbar Service – One of the services of AVG, if you opted to install the optional security toolbar. The process name is toolbarbroker.exe.
AVG Watchdog Service – Another services by AVG LinkScanner with process name, avgwdsvc.exe
AVG Safe Search – A browser add-on by LinkScanner with filename avgssie.dll. This is installed even if you don't install the security toolbar.
AVG Security Toolbar BHO and AVG Security Toolbar – If you select to install the toolbar, you will find the add-on with IEToolbar.dll as filename.
AVG LinkScanner will use 47.7MB of hard-disk space if you don't opt to install the security toolbar. If you selected to install the optional security toolbar, it will use 54.8MB of HD space.
Conflicts with AVG LinkScanner
You don't have to be an advanced user to install AVG LinkScanner, since the installation process is straight-forward. I would suggest that you check the knowledge base on AVG for incompatibility or conflicts between LinkScanner and other security solutions. It is located here. At the time of this writing, AVG has confirmed conflicts between AVG LinkScanner and the following products: (Note that the page might change so be sure to check it again for the current information):
If none of the above programs are installed in your PC, installing AVG LinkScanner should not give any issue. The browsers will open normally without any lag.
Updating and Using AVG LinkScanner
New AVG link scanner update downloads will begin automatically so you don't have to worry about whether you have the latest LinkScanner program updates or database upgrades. If you prefer to manually install the virus database, you can get it from https://www.avg.com/us-en/download-update and allow the installation via the program:

AVG LinkScanner is easy to use! Simply browse normally and it will automatically check URLs or websites that you will view, visit or click. It's not a perfect tool but it does help. I wrote "not perfect" because I found that it failed to give a red rating on some rogue websites while it does rate also others. Examples are in the images below: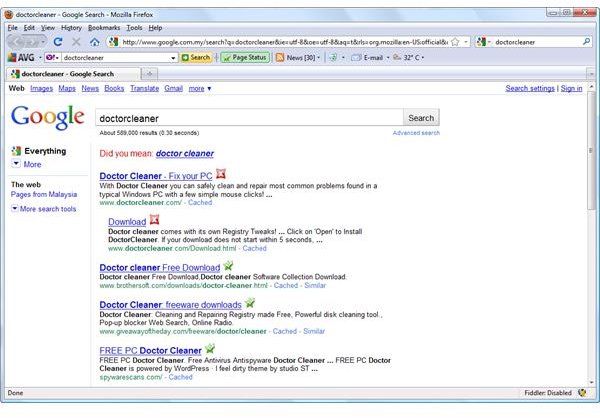 In the above image, AVG LinkScanner is correct in giving a red rating to the first link but it failed to give a red rating to spywarescans.com which is another site that will offer rogue programs. In the screenshot below, it's unfortunate that this known unwanted site is not rated properly: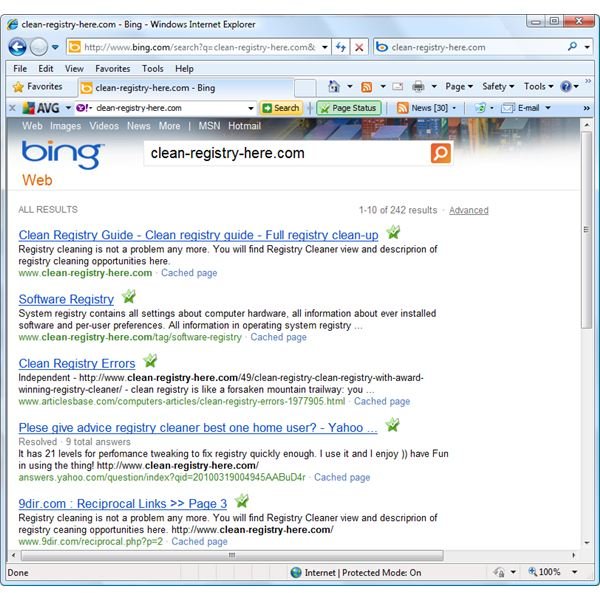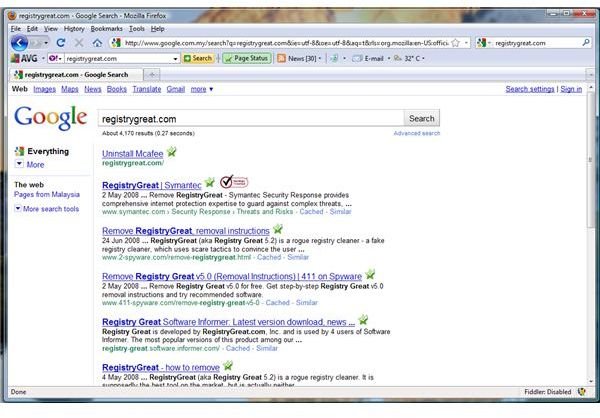 Another screenshot is below, where the website will automatically show the download window of a malicious Trojan downloader: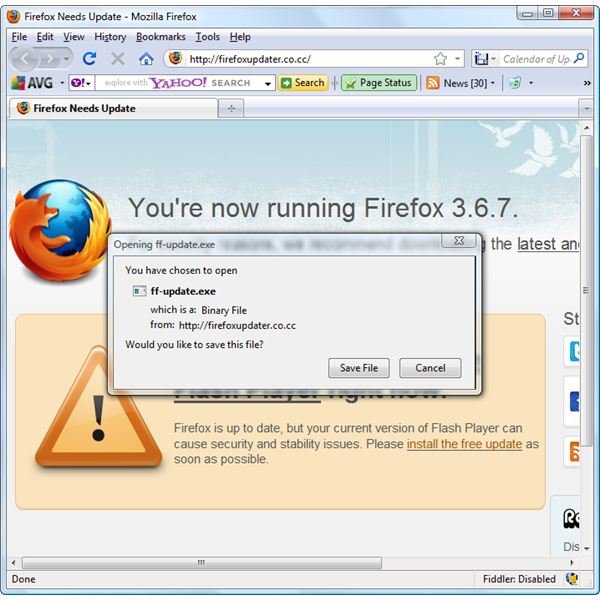 The User Interface of AVG LinkScanner is simple. You can configure how LinkScanner will work with some simple options: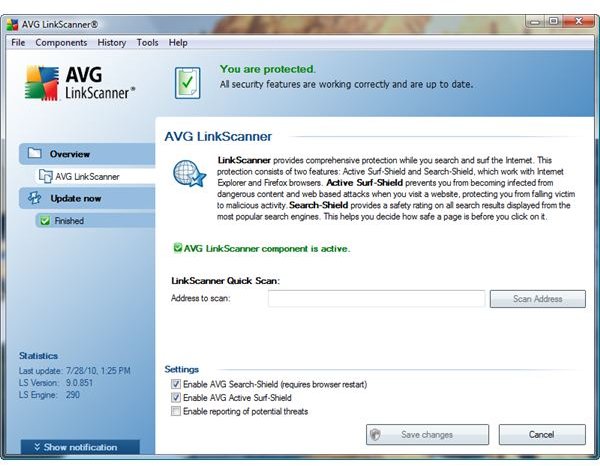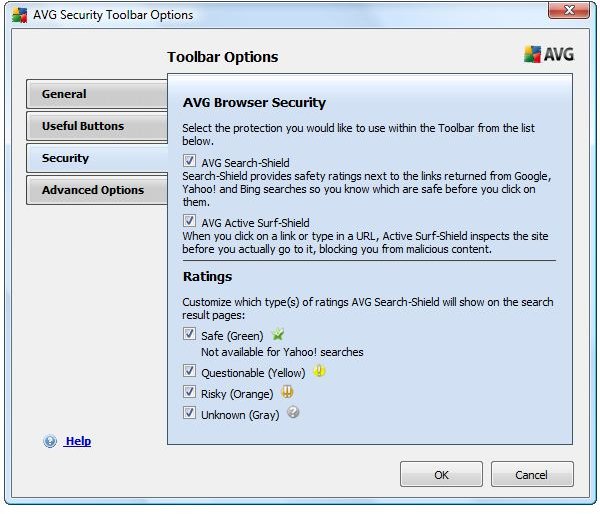 You have the option to view blocked websites and pages that was prevented to load due to exploits:

Recommendations
Always use an up-to-date antivirus program together with an advanced firewall program to help protect against malware, exploits and other dangerous websites and content. Do not depend on AVG LinkScanner for full protection. It is only a program to use as an extra layer of protection. If you have AVG Antivirus or AVG Internet Security Suite, you will have better protection against malicious downloads and content online.