Popular & Free Virus Removal Tools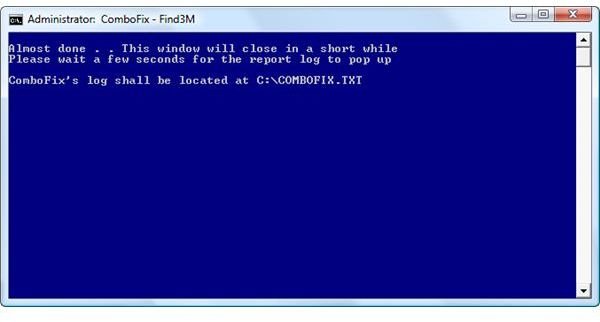 Introduction
Virus or malware authors are now using different strategies to spread their nasty software, but the most common distribution technique is by sending the malware in an email message, visiting a compromised website or downloading a fake or misleading program. Malware can damage the PC if the computer does not have the latest security updates that should prevent exploits to known but fixed security flaws in Windows. If there is no anti-virus protection or the real-time protection by anti-virus fails to protect the sytem, the PC will become slow or will display annoying pop-ups and fake notifications. Some malware will shutdown the anti-virus and firewall programs.
ComboFix - EmsiSoft - GMER
The antivirus programs Avira AntiVir Personal, Avast! Home Edition, Microsoft Security Essentials, AVG Antivirus, Panda Cloud Antivirus, PC Tools Antivirus and ClamAV are free for personal and home use. Some antivirus program are effective in detecting malware but will fail to remove it. AV-Comparatives.org found out that no single antivirus program will remove a malware and its traces by 100%. If any malware has disabled your antivirus protection or it detects the malware but removal did not work, you can try the following free removal tools:
ComboFix – A free tool to remove nasty and rogue infections that traditional antivirus programs could not remove. An example is removing Antivirus 2009 using ComboFix. Note that you need to temporarily disable your antivirus protection to prevent interference during the scan and removal by ComboFix.
The tool allows manual clean-up after you have scanned and checked the report. Several security forums, including support forums of anti-malware programs, use ComboFix to detect the location infections.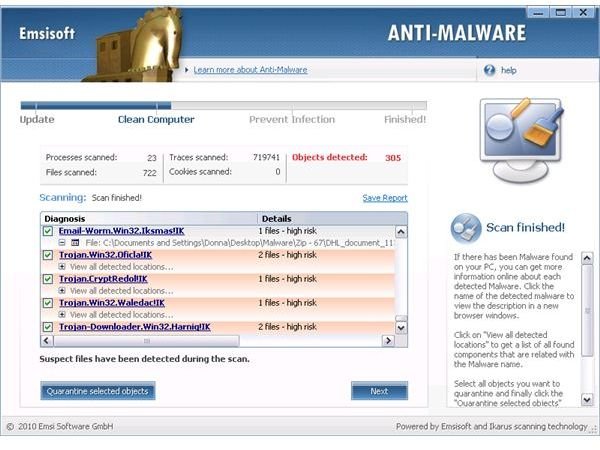 EmsiSoft Anti-Malware – This tool is formerly known as A-squared Free. It's still available as a free malware scanner and removal tool that often detects more than other scanners. The removal engine by this program is effective too. EmsiSoft is also offering EmsiSoft MalAware that will scan and remove malware without the need to install the scanner in your computer.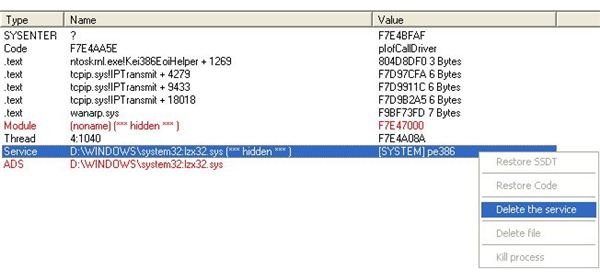 GMER – This simple but powerful tool will scan the computer for malware that is hiding itself to avoid other scanners. GMER allows you to also delete rootkits to help your antivirus disinfect the computer, if any other malware is added in the system.
Kaspersky - Malwarebytes - SUPERAntiSpyware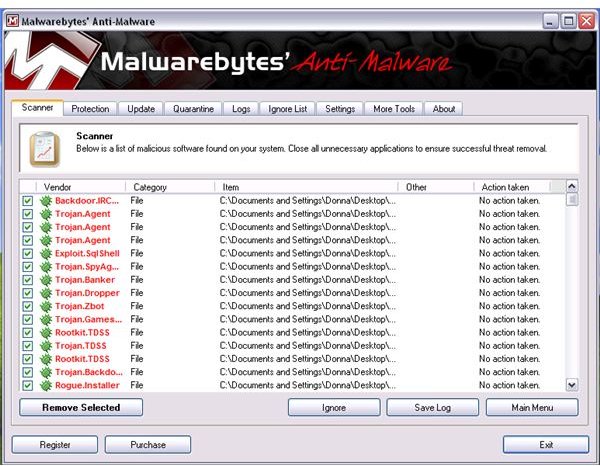 Kaspersky Virus Removal Tool – This free removal tool by Kaspersky is another one to consider using**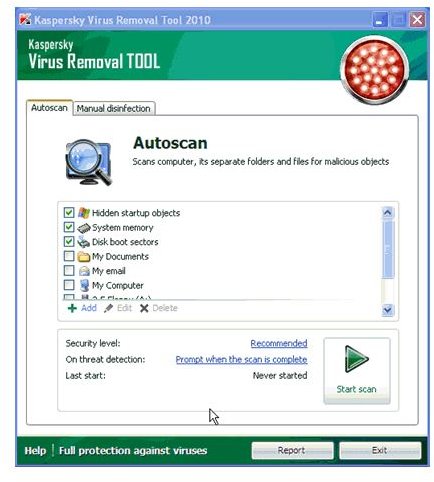 **. The tool is updated daily to detect and remove rogue programs, viruses, Trojans, rootkits, worms and other types of malware. Kasperky Virus Removal Tool is updated on a daily basis with new or modified detection signatures.
Malwarebytes Anti-Malware (MBAM) – One of the popular malware scanners and removers in the security community. It's easy to use, the installer is small, the scan engine is fast and it can remove malware in no time too. Alpha Antivirus is an example of a rogue program that MBAM will detect and remove.
SUPERAntiSpyware – this program is free to use for scanning and removing malware. Like any of tools mentioned in this article, SUPERAntiSpyware offers daily updates with good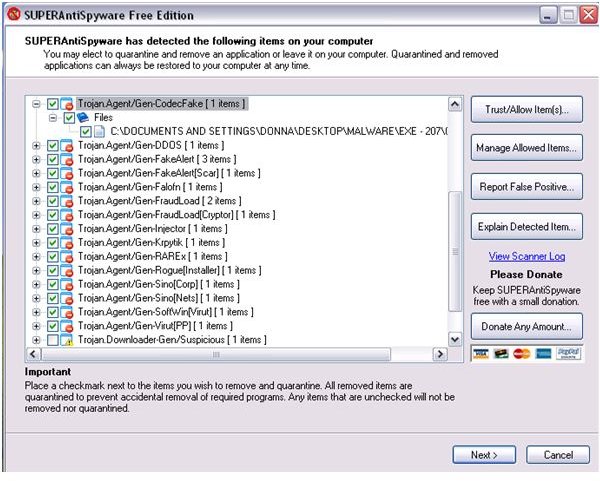 detection, especially in detecting rootkit infections. Note that there is also SUPERAntiSpyware Online Safe Scan which offers easy removal of detected malware in a system. This online scanner requires no installation of programs or browser add-ons.
Ad-Aware - F-Secure Easy Clean - Norman Malware Cleaner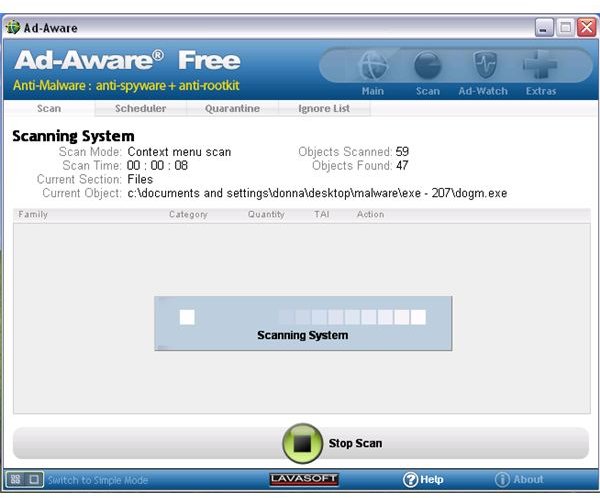 Ad-Aware - The new version of Ad-Aware has improvements in scanning and removing detected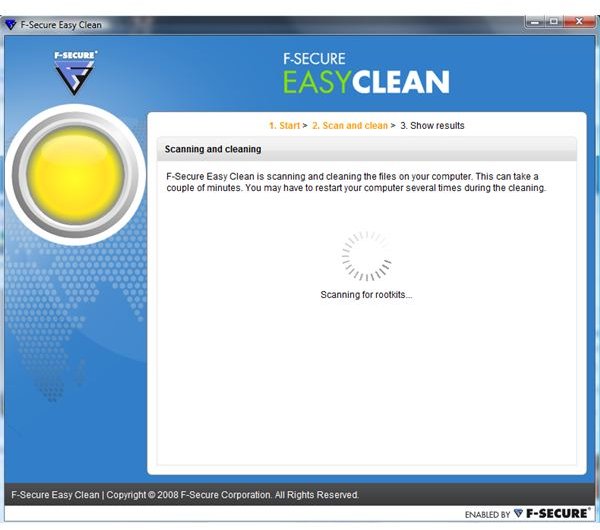 malware for free. The detection signature has daily updates. If you keep its real-time protection active, it will scan the system and remove the infection if Ad-Watch detects any malicious activity or process.
F-Secure Easy Clean - Malware that is in the wild is what F-Secure Easy Clean will try to detect and remove. The free removal tool will not detect all type of malware. It will only scan and remove common viruses, rootkits, trojans and worms that are currently impacting people. This tool is updated often with new virus detection signatures.
Norman Malware Cleaner - Another free malware remover and scanner that is updated on a daily basis. Norman Malware Cleaner will look for specific malware that is in the wild. The tool unfortunately cannot be used in safe mode.
Spybot S&D - VIPRE - Windows Defender - MRT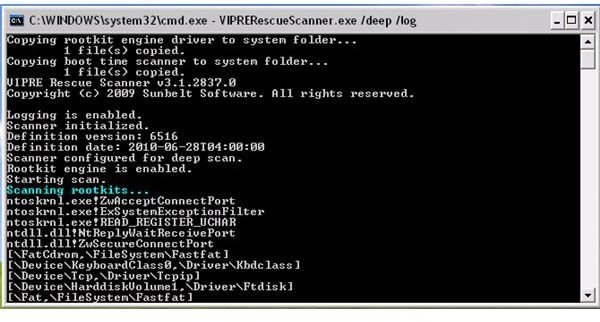 Spybot-S&D - Spybot-Search & Destroy has offered a free malware removal tool for years. Use this program to try to remove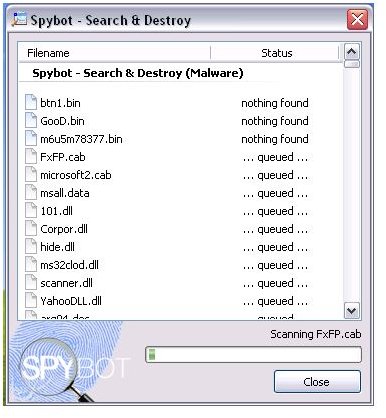 malware when your other antivirus program has failed.
VIPRE PC Rescue - VIPRE Rescue by Sunbelt, the maker of CounterSpy and
VIPRE Antivirus offers this free virus removal tool. It provide the same detection and removal engine by the paid products of Sunbelt but only to remove detected malware. An option to run a quick scan is available.
Windows Defender - Free spyware and malware removal tool from Microsoft. Windows Defender is included by default in Windows Vista and Windows 7 systems. Windows XP customers can download the program from Microsoft website.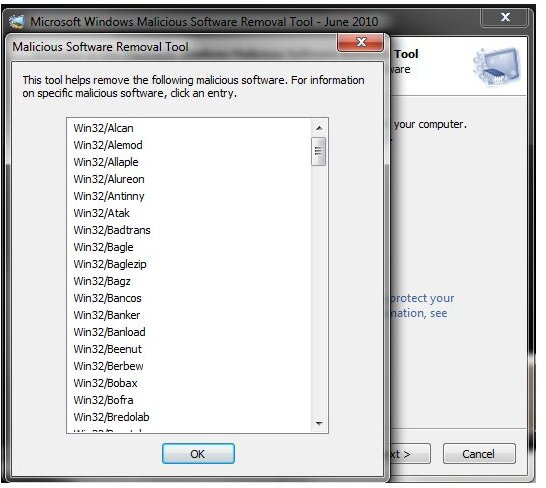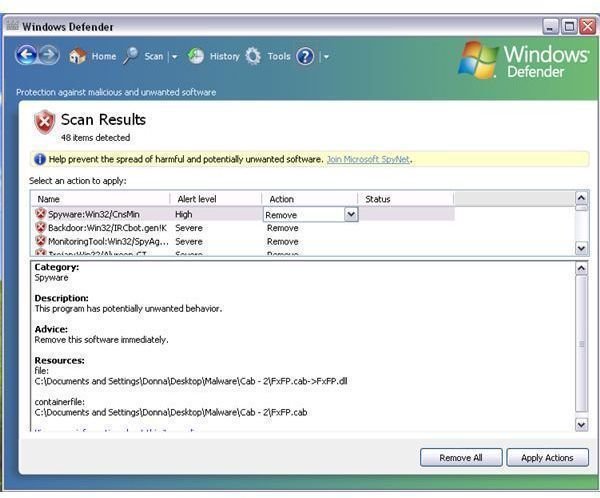 Windows Malicious Software Removal Tool (MRT) – This tool is not updated daily by Microsoft. They only update it once a month. Use MRT to handle infections that are known to take advantage of security flaws in Windows. Rogue programs, Koobface and the Conficker virus are among the infections that MRT can remove. You can run MRT by opening the mrt.exe file that is located in C:\Windows\System32. If the tool is not current, download a new version from Microsoft.
Conclusion
There's a recent study that security software companies are not always on top of detecting malware. If this report is true, using the above free virus removal tools should help cover any security gaps and make it easy to clean-up your system. Don't forget to download the Rkill tool. It will assist your malware scanner and remover in shutting down malicious process.
Putting these good tools to use will make it easy to keep your computer safe from any infections.