The Facts

Norton Ghost
Norton Ghost 15.0 offers a full system (disk image) backup and restore program. This utility will protect users' applications, settings, folders, files, digital photos, and media. Note: Version support will let users restore older disk images made with Ghost 10, 12 and 14. It's available for only $49.99.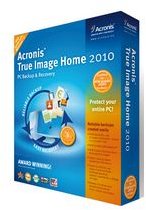 Acronis True Image
Acronis True Image Home 2010, offers a comprehensive, reliable, and timeless backup and recovery of a user's operating system, applications, settings, folders, files, and disk imaging. It's available for $49.99.

This Acronis product is considered by many users and reviewers to be one of the best disk imaging programs on the market; it's said it works faster and harder than other similar products. Its user interface and functionality is highly praised by users. It definitely receives thumbs up. Available now is Acronis True Image Home 2011.
The Comparison
How important is it to perform system backups and restores? Most PC users would say "Very" important. With this in mind, here are two software products that can do both, but one seems to stand out a bit more than the other. Which one? Let's compare.
Key Features
Norton Ghost 15.0 provides both onsite and offsite backups for files and folders, and can perform both incremental and event backups. Plus,

it has enhanced security features like drive encryption, error checking, and integrity checking.
New features include: Professional grade backup and recovery, Windows® 7 Bitlocker™ support, Cold imaging, Symantec ThreatCon integration, and Blu-ray Disc support.
Acronis True Image Home 2010 provides both nonstop and online backups, as well as being able to make incremental and event backups.
New features include: Windows® 7 capability, one-click backup, and expansion of scheduling tasks.
OS Requirements
Norton Ghost runs on Windows 7/Vista/XP.
True Image runs on Windows Vista and XP (not on Windows 7).
User Benefits
With Norton Ghost 15.0, users can easily restore their PCs and recover files from system failures (e.g., faults, incidents, and malicious threats, etc.). Additionally, this software can

back up (full system or specific files and folders) when users want (automatically, or at scheduled times).

Furthermore, it

makes a great image of the computer, which allows for easy disaster recovery.
With Acronis True Image Home 2010, users can restore, recover, and perform backups easily. The software includes wizards that walk users through tasks, and help is available through customer support with just one click on the control panel. Optional for users is an online storage account with Acronis, but it requires users to sign up at the company's Web site. If interested, check the Acronis Web site for details.
Summary
In summary, when comparing Norton Ghost and Acronis True Image software products, both provide continuous system and data protection, prevent data loss, and are capable of a full, incremental and differential backup using removable media (i.e. CD or DVD). The one important difference that could determine the better program is, Ghost v15 is said to be slower at incremental backups–when backing up individual files and folders–than Acronis True Image.
The Best Product
Both Norton Ghost and Acronis True Image are good utilities, but one may just stand out a bit more than the other in the eyes and mind of a PC user. It really depends on the PC users' needs and wants that will make the determination of which utility and product is best. Between the two, however, the one that impresses most PC users for its performance and ease of use when it comes to performing backups and restores is Acronis True Image Home 2010. For this reason, and for its free trial offer, this software gets the thumbs up. Why not give it a try! This is an excellent data backup software product with high ratings and has great customer support.
What's new: Available now is Acronis True Image Home 2011 with Windows 7 Integration. It features local and available online backup. For extra security, Acronis will create a secure zone on your hard drive.
Advice: Consider trying it (has a free 30-day trial) before purchasing the software to see if it has what you need for performing PC backups and recoveries.
References Section
Read more about it in BH:
Software sites:
https://www.symantec.com/norton/ghost
https://www.acronis.com/homecomputing/products/trueimage/
Image Credits: 2011 Best Data Backup Software Comparisons and Reviews