How to Set Up MozyHome
MozyHome delivers a full set of online backup features. After install you can easily configure Mozy by double-clicking the Mozy icon in the Notification Area of the Taskbar. Click Configure to see all your options.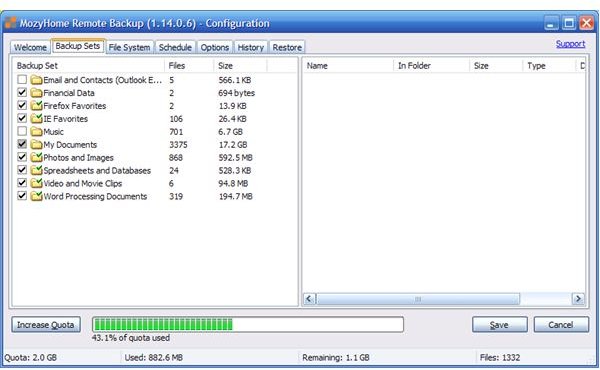 Configuration options include a Welcome screen that provides an overview, Backup Sets, File System, Schedule, Options, History, and Restore. You can easily pick which components you want to back up in the file system, or use Mozy's defined backup sets which show what is going to be backed up (or not, if you de-select it). Backup sets are shown by type of data, including Email, Favorites, Music, Photos and Images, and other types of Documents. This is really convenient. How much of your quota you're using is shown at the bottom of the window.
Automated Backup
Automated backup has many configuration options, but it is not as complicated as it might first appear. You can schedule backups at a particular time or automatically when the computer is idle. It is easy to temporarily suspend automatic and scheduled backups.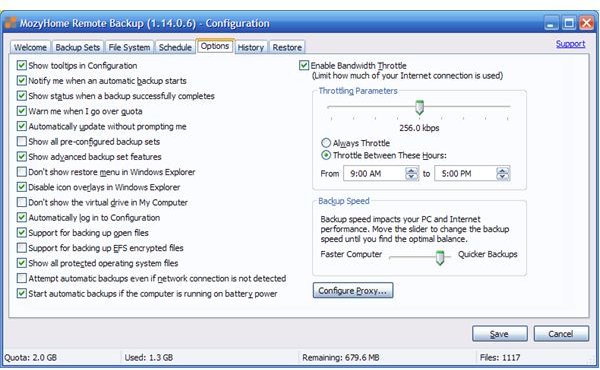 To keep from using all your bandwidth, you can throttle the use of your Internet connection during backup. If you need to, you can set a throttle to limit use of bandwidth during a particular time. A related setting for performance allows configuration of how much CPU the program can use while running. This prevents your PC from being sluggish. You can schedule backups for a particular time, or just start backup when the computer is idle.
You can start backup at any time by clicking Start Backup in the program window.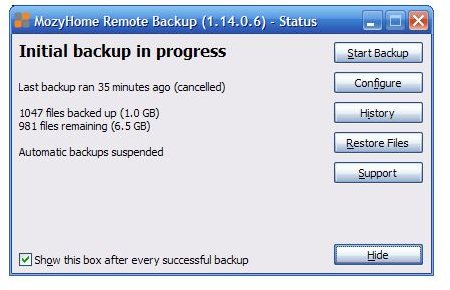 How to Restore Files
Restore is very straightforward: you can see all the files that have been backed up by opening a Mozy folder found in My Computer. The folder lists all files on MozyHome servers, and is navigated just like you would with local folders, so it's simple to browse to the files that you need.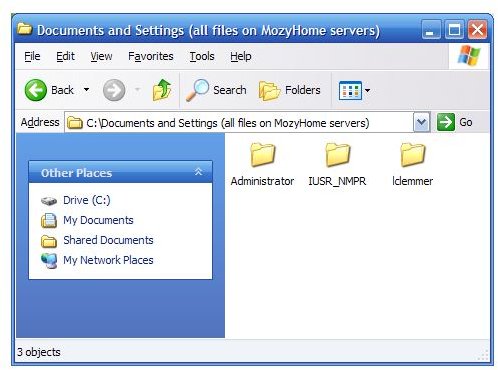 When you have found a folder or file, you can right-click on it and see the following options: Open, Explore, Restore, and Restore To. You most often would just want Restore once you have found the file or files you need. Choose Restore To if you want to put the file in a new or different location. It's that simple; far simpler than many backup solutions I have used over the years.
That's It!
It's that simple to use MozyHome Remote Backup. For some additional information see my review of MozyHome Remote Backup and try it yourself at mozy.com. Since it's free for up to 2GB it won't cost you to try. Maybe this is the online backup solution that's right for you.