Learn How to Customize Windows Vista's Start Menu for Computer Privacy & Security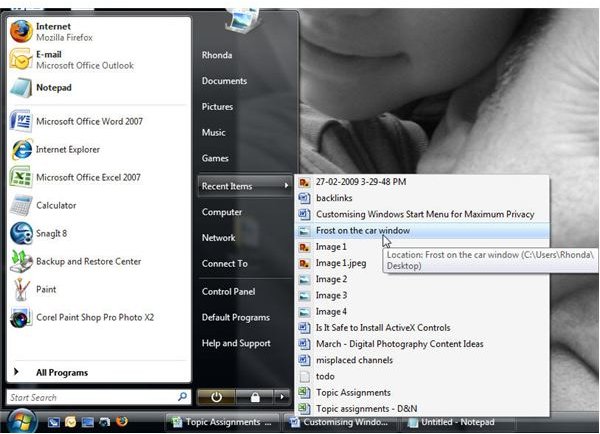 Should You Tweak Your Start Menu?
Did you know that each time you open a document – including photos – Windows remembers this and creates a list in your Start Menu under Recent Items? The same applies for programs – the list of the most recent programs will show on the left.
(Click on any image to enlarge)
This feature makes it convenient for users to quickly and easily access frequently used files and applications. However, if you are on a shared computer, this could also pose as a privacy issue because anyone who uses the computer after you can see what programs you were using and which documents and photos you were looking at. In most cases, this probably isn't a problem. Nevertheless, if you cherish your privacy – or have something to hide – you can take the following steps to ensure that Windows does not keep a history of this information.
How to Customize the Start Menu in Vista
Step 1: From the taskbar, right-click over the Start button (or any empty space in the taskbar), and then select Properties.

If, for whatever reason, you don't like to take shortcuts, you can also open the Control Panel (from the Start Menu), click on Appearance and Personalization, and then Taskbar and Start Menu.
Step 2: With the Properties window open, click on the Start Menu tab.
Step 3: Within the Privacy box, all you need to do is uncheck Store and display a list of recently opened files and Store and display a list of recently opened programs.
Step 4: Click on OK.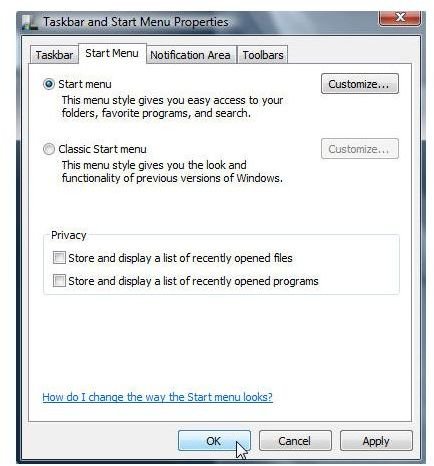 Changes will take effect immediately and the programs and files listed previously will no longer be visible. You'll notice from the image below that not all of my programs appear to be removed from the list…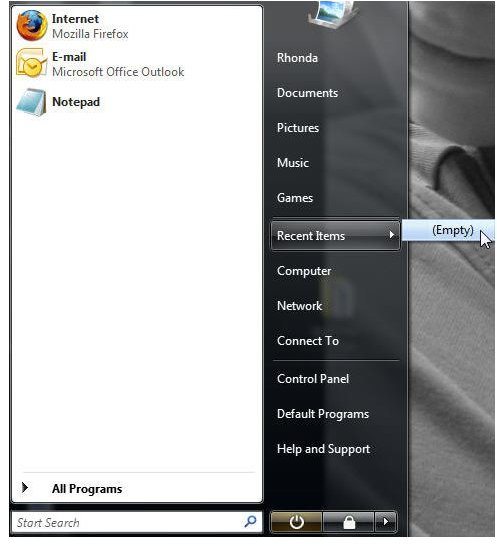 …this is because these programs are pinned to my Start Menu. If you refer back to the first screenshot in this article, you will see a line separating the programs I have pinned to my Start Menu and the programs that Windows has pegged as recently used. If ever you want to remove a program from here, simply right-click on the listed application and choose Remove from this list. Conversely, any program shown in the recently used list can be pinned to your Start Menu by simply dragging and dropping the icon above the line.