Anti-Virus - Symantec Downloads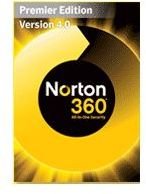 Symantec's Main Product - Norton AntiVirus
Norton AntiVirus is probably Symantec's most well known product. It's one of the mainstays in paid antivirus software and they currently offer a number of Internet security suites that cater to complete computer protection.
At the moment, their major product is Norton 360. This is not just an anti-virus program, but a complete set of tools for protecting yourself online. Although, the tools get more "complete" as you upgrade to more expensive packages.
Norton AntiVirus 2011 - This is the bare bones for $39.99. You get an antivirus program and that's about it. This program can scan for viruses, find them and then usually remove them. It should also offer a basic live scanner to keep an eye out for malware trying to sneak its way onto your computer. Personally I'd go with any number of free antivirus programs, but it's up to you.
Norton Internet Security 2011 - This package adds on a spam blocker, parental controls and identity theft protection. The spam and parental controls can come in handy, if you're looking for these tools anyway. The identity theft protection could also be useful. For the most part, it looks like it spots phishing websites and alerts you to them so that you don't hand your information over to a criminal pretending to be your bank. The few other features aren't really that useful or material. It costs $69.99.
N
orton 360 Version 4.0 - This builds up the suite more, with online backup and storage options. It also includes a series of PC tuneup tools. 2GB of online storage space is secured for you with your purchase. Personally, that's not a whole lot of storage. That's probably barely enough for family photos and your documents, and you can get thumb drives for a few dollars that have the same amount of space. I believe a stack of 25 DVDs from Radioshack costs $8. The cost is $79.99.
Norton 360 Version 4.0 Premier Edition - This is the top end. The only added feature is a major upgrade to online storage space. This offers 25GB of online storage space, which is much more respectable. You can buy it for $99.99.
If you'd like to learn a bit more about these products and some of their flaws, read our latest Norton 360 review.
Other Symantec Downloads
Symantec has branched out a little bit, so you won't just find anti-virus products in Symantec's download list.
For business users, there's Symantec Endpoint protection. It's a business version of their popular antivirus program and seems to offer a few interesting features to make it easy to implement. If you're looking for a more tough and in-depth rundown, we have a separate Symantec Endpoint Protection review. It should be able to answer any questions about the product's power and cost effectiveness.
Symantec also has Norton Ghost, that seems to be updated quite quickly. It's a fairly neat disc imaging program that could come in handy to someone who needs a better way to quickly back up their information.
Image Credit: Norton Product Page https://us.norton.com/360-premier-edition/