Panda's Internet Security extends Panda Antivirus Pro 2011 features with anti-Spam protection, parental controls, identity protection, backup & restore, online backup and remote PC access.
System Requirements (5 out of 5)
Panda's Internet Security suite runs on 32-bit and 64-bit editions of Windows 7 and Windows Vista as well as on Windows XP. Minimum requirements include free disk space of 275 MB, a Pentium 300MHz CPU, and recent browser edition of Firefox, Chrome or Internet Explorer. 1 GB RAM is recommended.
Setup (4 out of 5)
Setup involves extraction, choosing the setup language, EULA, install options and a collaboration agreement. A restart is required when the install routine finishes. Make sure to update Panda Internet Security 2011 right after the reboot. Then, you need to activate the product.
If you want to make use of parental controls click on Install Settings at the bottom of the status pane, the typical install does not include them.
Interface (4 out of 5)
The Panda GUI is logically structured, yet some menu items could be improved by tooltips.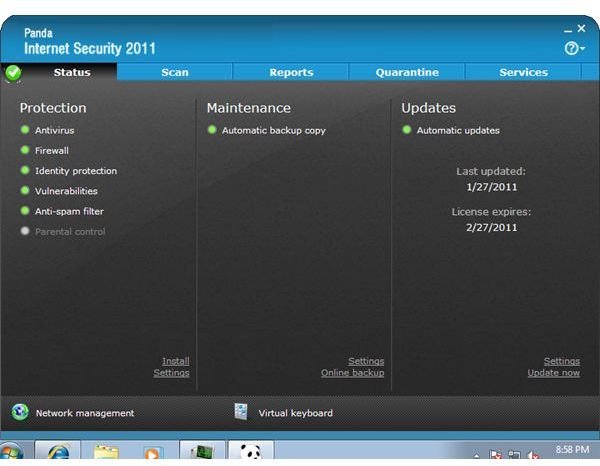 Features & Performance (4 out of 5)
Panda Internet Security 2011 aims at total protection of the computer and computer user. So, first and foremost, the software provides antivirus and antimalware protection including scans as well as behavioral analysis incorporating collective intelligence over cloud computing, a feedback to Panda process we have consented to during setup.
Also included is a two-way firewall to guard inbound and outbound connections, WiFi protection, as well as Identity Protect, which prevents the user from sending out sensitive information and helps stop phishing attacks, for example.
USB drive vaccination, a virtual keyboard for entering passwords safely to prevent keylogger attacks and safe browsing using sandbox techniques increase the level of computer security further.
What's more is that Panda Internet Security 2011 also ships with a spam filter and gaming mode which automatically suppresses messages when you watch movies or play games in full screen mode.
On top of that is backup and restore to local media as well as free online backup space with 2 GB capacity outsourced to Mozy, where Panda customers receive a 15% discount should they need more than 2 GB of remote storage capacity.
Also shipped with the latest release is a rescue CD (downloadable, bootable CD) to clean your computer from malware in case your Windows won't start properly.
During scans on our test systems, and while working on the test PC we noted average performance. A link scanner is missing though.
Help and Support (5 out of 5)
Panda Internet Security 2011 comes with an excellent help file, and on the vendor's website you can find a tech support forum. More support options include email support, the rescue disk as well as the possibility to send suspicious files to Panda, if that's not being done automatically as agreed during setup.
Price to Value (3 out of 5)
The license comprising the protection of up to 3 PCs for 12 months costs US $81.99, telephone support – although hardly necessary – is not included.
The Bottom Line
In this Panda Internet Security 2011 review we have seen that the software provides a high degree of protection, for both the computer as well as the user.
If you are looking for an alternative internet security suite including online backup before deciding we recommended to check out McAfee Total Protection 2011.
References
Product reference: Panda Internet Security 2011
Screenshots taken by the author
Official vendor product page: http://www.pandasecurity.com/homeusers/solutions/internet-security/