Provoc Review: Study Languages and Vocabulary on Your Mac
Provoc is nice bit of software for Mac users that allows them to upload study material and test themselves for virtually any vocabulary based subject you can imagine. It comes in handy when studying languages, science terms and so on and could be indispensable for those studying for the SATs or GREs.
Download and Installation (4 out of 5)
Provoc is available at the developer's website. It is freeware, so you don't have to pay a dime. However, for the newest version to work you must be running on Mac OS X 10.5 or later. If not, you can still download an older version.
Once downloaded, the file will mount on your desktop. Opening it will prompt you to copy it into your applications folder, then it will be ready to use.
Features (4 out of 5)
Provoc is a pretty powerful studying tool. The interface is easy to use and understand and looks very Mac-like. It gives you the choice of either inputting your own studying information or downloading study material from their website. Both have advantages and disadvantages, but many of the material packs on their website are good for basic language learning. If you want something more advanced or specialized you are better inputting it your self.
Once you have the materials ready to study, you can put them into tests and take them. You even have a nice preferences menu in which you can decide how strict or forgiving your tests are. While taking a test, you can go into full screen mode to block out distractions.
All in all, the material, tests and preferences menu are top notch. I wish I'd had this to use while studying in college.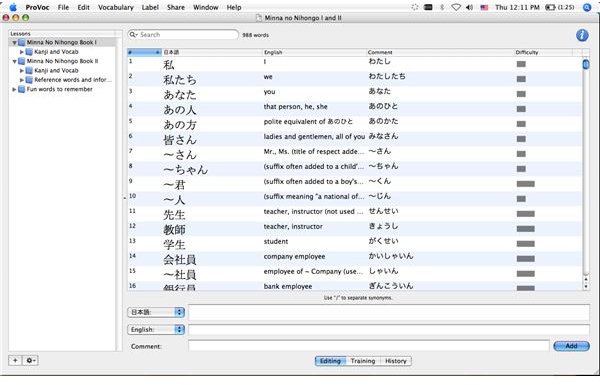 Usefulness (4 out of 5)
If you are in any language course or just want to brush up on some terms for your own good, Provoc is perfect for you. The amount of personalization is great since it can be used to study for any language based test or just for your own fulfillment.
Overall (4 out of 5)
Provoc is a great piece of freeware with awesome features and an easy to use interface. If you are studying a language, don't pass up this powerful software that can help you learn more efficiently.