JahPlayer Review: A Full-Featured Media Player
JahPlayer is one of the most powerful and professional media players for the Mac, and it is freeware! With features QuickTime lacks, JahPlayer is a nice way to round out your media player library.
Download and Installation (4 out of 5)
You can download JahPlayer at the this website. After the file mounts on your desktop, all you have to do is open it and use. However, JahPlayer only works with Macs running on OS 10.4 or later.
Features (4 out of 5)
JahPlayer doesn't offer the same plethora of playable file types as the VLC player, but it does have some nice features. Users can play uncompressed video and images with high resolutions, control the frame rate and real-time aspect ratio, control the RGBA color channel views, control the playback, pan and zoom, and create thumbnails.
JahPlayer can also play a variety or formats: AVI, Mpeg, QuickTime, JPEG, TIF, TARGA, HDR, EXR and PRX. Also, you can encode movies into a variety of formats using JahPlayer as well including: DV, Mpeg and FLV.
JahPlayer looks sleek and is pretty easy to use, after a little bit of fiddling. There are no menus for it in the menu bar, as everything is available within the JahPlayer window. All the funtions are labeled clearly and it is simple to figure out how to load a video and encode it.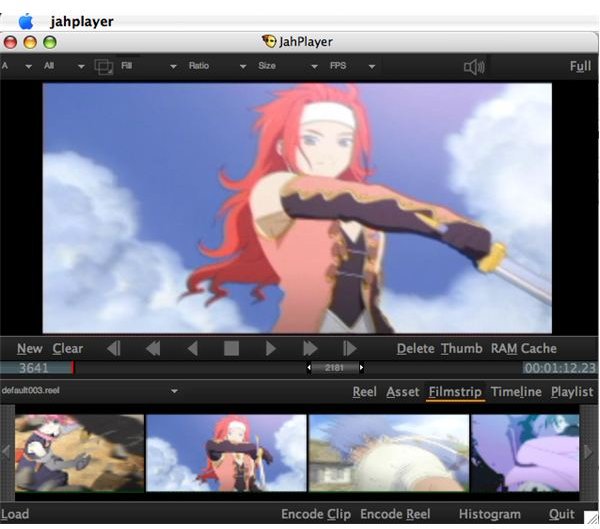 Usefulness (3 out of 5)
JahPlayer is not really a good media player for just watching videos. If that is what you need, download the VLC player and move on. However, if you need a powerful and professional grade media player that allows you to slightly edit a movie and encode it, this is the media player for you.
Overall (3 out of 5)
JahPlayer isn't for everyone. While you can watch videos with it, it is really meant for more specified use. But, if you have use for it you can't go wrong.