Perhaps your 17 inch MacBook Pro rechargeable battery isn't holding the charge it used to. Perhaps it's holding no charge at all. Either way, you'll find the best value on MacBook Pro batteries by looking beyond the Apple Store and keeping in mind a few criteria.
Finding a Battery for a Unibody 17 inch MacBook Pro batteries
If you have one of the newer 17 inch MacBook Pro's you'll notice that there's no discernible battery at the bottom of the laptop. Unfortunately, Apple made the decision to make the battery internal, which allows more room for actual battery cells, but makes the battery a non-user-replaceable item. This means that even if you were to locate a replacement 17 inch MacBook Pro battery, replacing the battery would void any warranty on the MacBook Pro.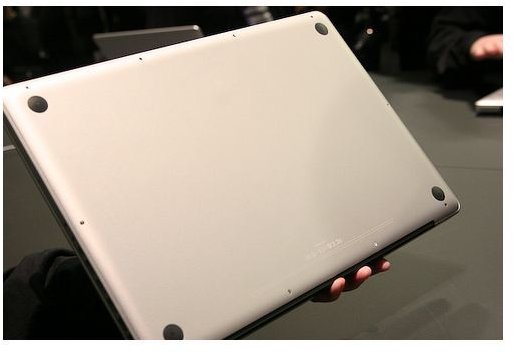 If your unibody MacBook Pro is beyond the Apple Care warranty period then you have two options: the official Apple MacBook Pro battery replacement service or a do it yourself (DIY) approach. The first choice will set you back $179 USD and will require you to give up your laptop for a close to a business week so Apple can replace the battery. However, it does this option does have the benefit of coming with a 1 year warranty directly from Apple.
Your second option, the DIY approach is unfortunately not as popular. While well-known websites like ifixit.com provide instructions on how to carry out the replacement procedure and make the promise of having replacement 17 inch MacBook Pro batteries in stock, that promise is currently unfulfilled as there are no replacement batteries in stock. It appears then that the only option to find a 17 inch MacBook Pro battery for unibody MacBook Pros is limited to the Apple store at this time.
Finding a Battery for an Older 17 inch MacBook Pro battery
While the older 17 inch MacBook Pros lack the benefits of the unibody design, they do have the added feature of user-replaceable batteries. This means that there are a number of sources for batteries and the question shifts to whom can you trust. Sure, there is the Apple Store, but there are better options if you're looking for better value.
So what is the best place to find a 17 inch MacBook Pro battery if not the Apple Store? In order to find out we must look for a vendor that offers three things:
-At least a one year warranty to ensure our battery won't turn into a paperweight a few months into its lifespan.
-The battery must have a capacity of at least 6,400 mAh
-A return policy which allows us to return the battery should we get a bad item
Vendors that Meet our Criteria
With these three criteria you're well equipped to find a 17 inch MacBook Pro rechargeable battery at a great price. While your local offerings will vary, online we were able to locate numerous storefronts which offer a good deal.
On eBay, CBK USA Electronics has a reliable stock of 17 inch MacBook batteries at great prices, with warranties going up to 3 years, and free shipping within the United States. If you're not a big eBay fan, USBPhoneWorld.com offers 17 inch MacBook batteries for less than the Apple Store price and will grant you volume discounts if you buy more than one. Best of all, both of these vendors meet our three criteria so you know you'll be getting the best bang for your buck.