MacFamilyTree 6.0.4 (5 out of 5)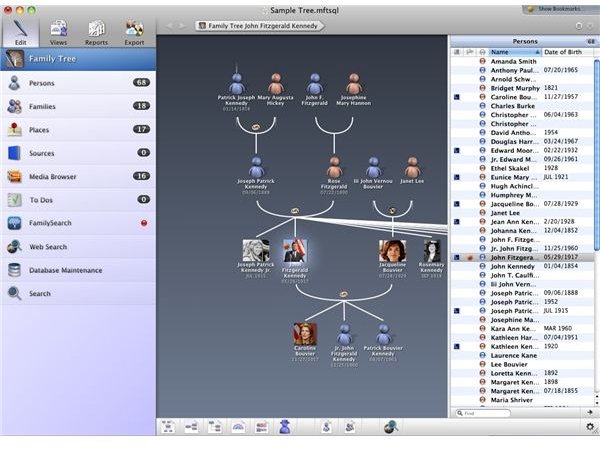 Synium Software has released the latest version of MacFamilyTree genealogy software. If you are new to using family tree maker mac software, I suggest that you download the free trial of this software to give it a test. You can import a GEDCOM file or start from scratch.
To start a family tree from scratch, click on the human icon in the second screen. From there, you can enter the information about the person you are adding, their picture, special facts, siblings, and children. It took me about twenty minutes to build a basic tree that included my family, husband, and children.
MacFamilyTree contains other solid features, such as report generators, searching, and exporting your trees. View your tree in a variety of different formats, from the traditional tree, a 3D tree, flowchart, etc. Add a variety of multimedia, including video, to add personality to the names on your charts.
Searching for missing information on relatives came up a bit short for me. The "search by web" feature took me to a paid site. In order to use the FamilySearch.org, you have to be a member of the LDS church.
Another great feature that I need to mention is the World History tab under each person's profile. This tab lists all the important world events that occurred during every person's lifetime.
Once you are finished with your family tree, you have the option of exporting it to your computer, the MacFamilyTree.com website, MobileMe, from the web to a CD or DVD, or MobileFamilyTree.
Other than the search issues, I enjoyed my experience with MacFamilyTree 6.0.4 and would recommend it to anyone who is looking for mac family tree software.
Source: Synium Software
MyBlood 1.3 (5 out of 5)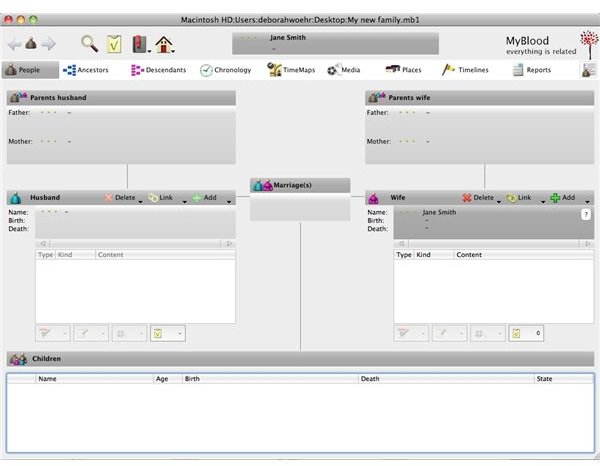 At first, I was intimidated by the interface because there was so much information on the screen. I skimmed over the online help manual, and then I began to experiment with MyBlood. The more I played around with the software, the more I liked it. Like MacFamilyTree, you can add multimedia files to your database.
Adding relatives and events were fairly easy. I had to reformat the dates to get the ages to display correctly. Also, I'm trying to figure out how to add marriage and divorce dates.
I enjoyed looking at the output of the reports and timelines. They can be very simple or data-intensive, depending on how much information you type into the database. I also like the search features better than MacFamilyTree because I could look up my family's names in a variety of browsers. You can also perform a general search of the database or by time and distance.
Exporting to web pages is a simple process. In the next update, I would like to have the ability to export in from the web (or the database) to a CD or DVD so that I can pass copies of my family tree to my relatives.
Overall, I enjoyed what I could do with MyBlood. It is an intensive family tree maker that was made for professionals and for hobbyists. It is compatible with both Macs and PCs.
Source: MyBlood
Reunion 9 (3 out of 5)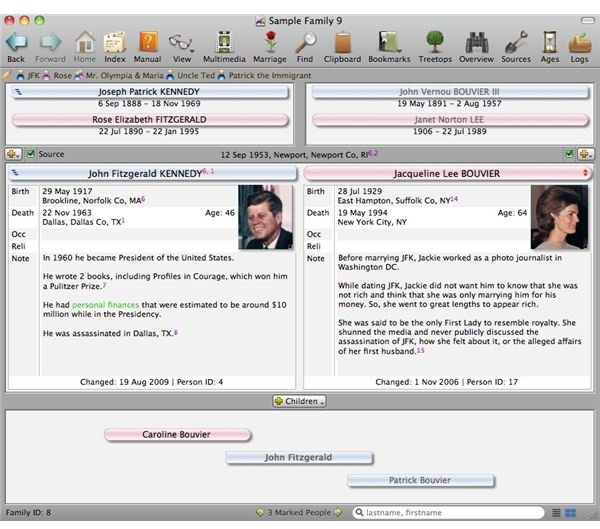 Reunion 9 is also a robust family tree maker for Macs, although it is not as aesthetically pleasing as its competition. I found the navigation cumbersome and wasn't impressed with the style of the reports. They looked like the flow charts I made in the early 1990s.
Learning how the Reunion system works does not take as much patience and effort as MyBlood, but there is a learning curve, especially if this is your first genealogy program. The good news is that there is an active forum to help you with any questions that you may have.
A wide variety of categories and reports are available to add more depth to your trees. You can also import multimedia files into your database and export your pages to the web. Reunion 9 is also available for the iPhone and iPad.
Source: Reunion 9
Conclusion
I hope this article gives you a good starting point for family tree maker mac software. All of them have a free trial so that you can try before you buy.