Connect your Mac to a Stereo, Entertainment, or Home Audio System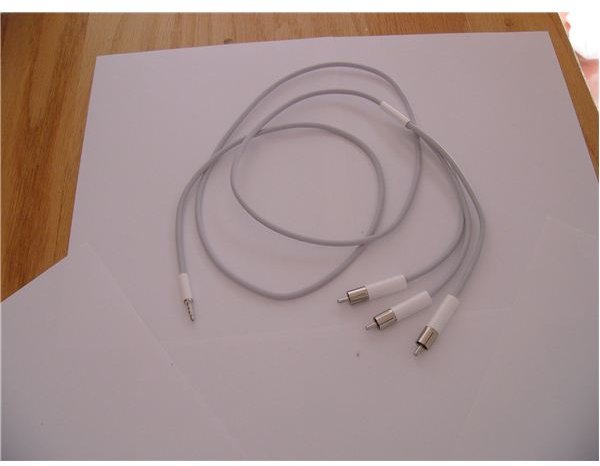 Make the Connection
It's pretty easy to connect you Mac to your stereo. Just purchase a 1/8-inch RCA cable where one end can connect to the Mac and two ends can connect to your stereo. You may already have an RCA cable that has three prongs though, two for audio and one for video. You can use this cable, but when making the connection only use the red and white ones for the audio.
To connect your Mac to a stereo:
Move your Mac to the room that contains the stereo or entertainment center and place it close enough so the RCA cable will reach. Make sure it is in a physically safe area where it cannot be damaged. If you plan to use your wireless keyboard or mouse, take the wireless keyboard's range into consideration.
Locate the audio out port on the back of your Mac. Connect the new cable to it. Connect the end that only has one connector. [See Image 1]
Locate the audio in ports on your stereo system, home theater system, or other device.
Insert the red and white ends of the RCA cable into their related ports.
On the stereo or home theater system, if applicable, make sure the setting for the system is correct. Try Component1, Component2, SAT, and similar settings until you find one that works. You may have to repeat this step if you aren't sure, after turning on your Mac and opening iTunes.
Turn on your Mac and open iTunes.
Select any playlist and enjoy!
Use your Keyboard
Experiment with these keyboard functions:
Use the down or up arrows to move up and down the playlist.
The Home and End keys will move to the beginning and the end of the playlist, so will Page Up and Page Down.
Press F11 to hide iTunes. Press F11 again to bring it back.
Press the Space bar to pause any song. Press it again to resume.
Press Return to restart any song.
Press return to play the selected song.
Use the left arrow key to restart any song.
Use the right arrow key to end the current song and play the next one in the list.
Images