Personalized concert dates based on your iTunes Library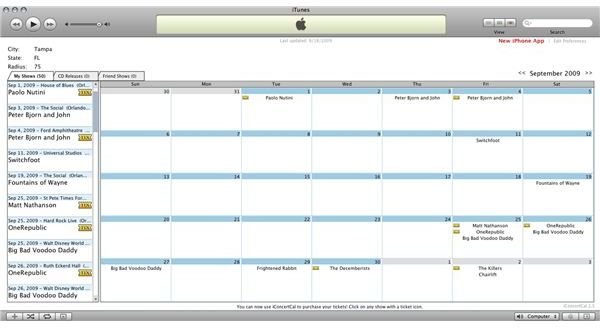 Find Out Which Concerts are Coming to Your Town Within iTunes.
If you haven't heard of iConcertCal then you are in for a real treat. One of my favorite things to do is attend live music. Any off time I have is spent tracking down bands and attending their shows. What makes this process a lot easier is a great plugin for iTunes called iConcertCal which can be downloaded at https://www.iconcertcal.com/
Here is a screenshot of what it looks like:
Once you download the plugin you will have to install it and launch iTunes. Then, open iTunes and simply go to View and then choose Visualizer. From there you should choose iConcertCal.
This is what you should see: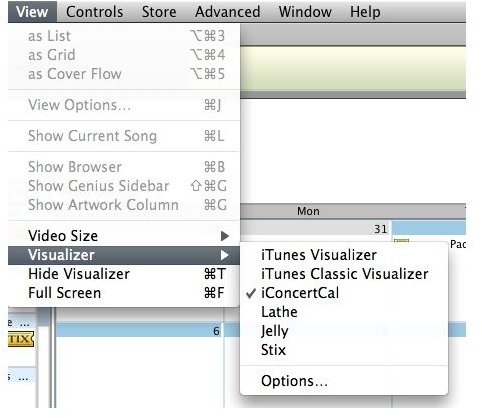 Now that you have told your iTunes Visualizer to utilize the iConcertCal plugin you can press command+T and you should see a calendar that will provide you with a personalized list of concerts based on your iTunes music library. In the upper left hand corner you'll notice the option to enter your location and choose a radius to narrow down your concert search.
Not only does iConcertCal provide you with upcoming concerts but it will also notify you of any upcoming CD releases.
The latest version of iConcertCal supports venues in the US, Canada, and the United Kingdom. It is also available for the Windows and Mac operating systems. iConcertCal v2.5 will also export events to your iCal and there is even an iPhone application available for download. The latest version also brings with it the opportunity to purchase tickets directly within iTunes. With iConcertCal there is no reason to miss the next show.
The biggest downside to iConcertCal applies to those of us with very unique music interests. iConcertCal is essentially a search engine and there are inaccuracies. Fortunately, you can submit the any missing concert dates by clicking the "edit preferences" link in the top right hand corner of the calendar and then visiting the sharing tab. Enter a username and click the sharing tab and you will be able to immediately share any of your personalized concerts.