Using Disk Utility
In All About Repair Functions Of Mac's Disk Utility, we studied the functions of Mac Disk Utility. In this article, we will discover how to use Disk Utility to verify and repair disk issues.
If your Mac won't start properly, you may use Disk Utility to repair the issues. This utility can also be used to check for any file system problems. To check for any such problems, use the verify feature of Disk Utility and if issues are discovered, you can repair these using Disk Utility's Repair feature.
If your startup disk is in Extended (Journaled) format and you are using Mac OS X 10.4.3, you can use Disk Utility to verify your disk when the computer is started up from it. It's called Live Verification. If disk verification discovers any problems, you will need to boot from a Mac OS X Install disc to make repairs. Here are the steps required for using the Repair feature of Mac Disk Utility:
1. Insert the Mac OS X Installation disc and then restart your Mac while holding down the C button on your keyboard.
2. When the computer starts up, open the Installer menu and select Disk Utility. (If you are running Mac OS X 10.4 or a later version, first select your desired language)
Note: Don't click on the Continue button, or you will need to restart your computer to again access Disk Utility.
3. Click on the First Aid tab.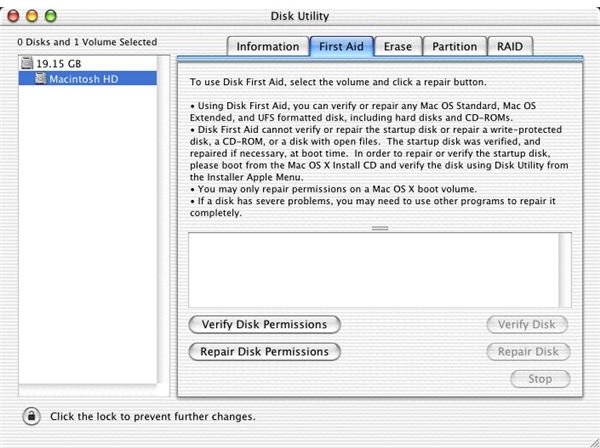 4. Click on the revealed triangle at the left hand side of the disk icon to see the names of available volumes on your disk drive.
5. Select the volume you wish to repair.
6. Click on the Repair button, the Disk Utility will start checking and repairing the disk.
Issues That May Occur While Verifying Or Repairing Un-Mountable Disks
It is possible for the Disk Utility to stop suddenly without showing any error message or hang your Mac for a few seconds while trying to verify or repair a non-startup volume that can not be un-mounted. A possible cause for a disk not to dismount could be some files that are open or in use by another application.
You need to close those open files, but if you can not find which files are open, you will need to restart your Mac and then mount the disk again or boot up from Mac OS X Install DVD/CD to repair.
When you attempt to verify or repair your volume, you might get a messaging "Incorrect size for file temp[number] e.g. Incorrect size for file temp410491. If you get a message like this, you can safely ignore it.
— Looking for other Mac repair tools? Learn about top Mac repair tools in Top Mac Repair Tools.