Keyboard Shortcuts
If you want to know how to take a screenshot on a Mac, then keyboard shortcuts are a great place to start. Once you learn them, they are defintely the quickest way to start taking your own screenshots. Essentially there are three main ways to take a screenshot in Mac OS X, but for each one, you can choose to save your screenshot as an image file, or you can simply copy it to the clipboard to copy and paste into another program. So, here are the key combinations that you need for each method.
Cmd+Shift+3 – If you want to get a screenshot of the whole screen (desktop), use the shortcut Cmd+Shift+ 3 together. If your speakers are turned on, you will hear a camera sound effect and the capture will automatically be saved as a .png file on the desktop. To view the screenshot, just double-click on the file to open it.
Cmd+Shift+4 – For a selection of your choosing, use the shortcut Cmd+Shift+4. A cursor with a cross hair will show up that you can drag with your mouse to pick the portion of the screen you want to capture. A screenshot will be captured as soon as you will release the mouse button and saved to the desktop.
Cmd+Shift+4 then space – You can also capture a particular application window. To do this, press Cmd + Shift + 4, and then hit the space bar. You will see that the cursor now appears as a camera icon, and you can hover it over different windows on your screen. As you hover the camera over different items on the desktop, some will seem highlighted. Just press the mouse button to take a screenshot.
If you want to copy any of these screenshot types to your clipboard, simply add the Control key to your keyboard combo above. For instance, copying an screenshot of your whole screen to the clipboard would now become Cmd+Ctrl+Shift+3. This works for any of the above shortcuts.
The Grab Utility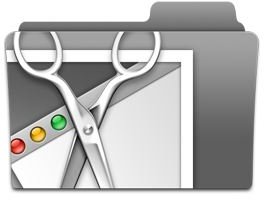 There is a very good utility in Mac OS X that also lets you capture screenshots, called Grab. You will find Grab in the Applications –> Utilities folder. To take a screenshot with Grab, open the application first and from the Capture menu, choose one of the following capture modes.
Window mode
The Window mode lets you select the window you wish to capture. When you select the Window mode, a window will open requiring you to choose the window you wish to capture. Click on the Choose Window button and the screenshot will be taken.
Selection mode
This mode lets you capture a specific portion of the desktop by dragging the mouse pointer around it. Grab displays a tooltip showing the size of the area you have selected and as soon as you release the mouse button, the screenshot will be captured and opened in a new window.
Screen mode
If you select the Screen mode, a window will open waiting on you to click anywhere on the screen to take screenshot. In this mode, you can capture anything on the screen that is at the front.
Timed Screen
This mode enables you to set up your desktop for timed capture. Click on the Start Timer button and the timer will start. You will then have 10 secs. before the screenshot is taken. In this wait period, you can adjust the screen items, open any menus, etc., to include in the screenshot.
3rd Party Options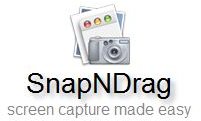 If you need yet more options for your Mac screenshots, there are a number of good 3rd party software options that are freely available for download. Jing is a good option for both Mac and PC users, because it integrates well with social media sites like Twitter. Capture Me is another popular choice, as is SnapNDrag.
If you only do screenhots from the web, then consider a browser plugin for Firefox or Chrome. These integrated programs are among the quickest ways to take screenshots from the web. Shooter and Screengrab are great options for Firefox users, while Lightshot is an awesome tool for Chrome fans.
Options like these will help ensure that you never forget how to take a screenshot on a Mac, as they undoubtedly make it very easy and do all the hard work for you.
References
Grab icon courtesy of Prax08
SnapNDrag screenshot from YellowMug.com