How to create custom Christmas cards using Apple iPhoto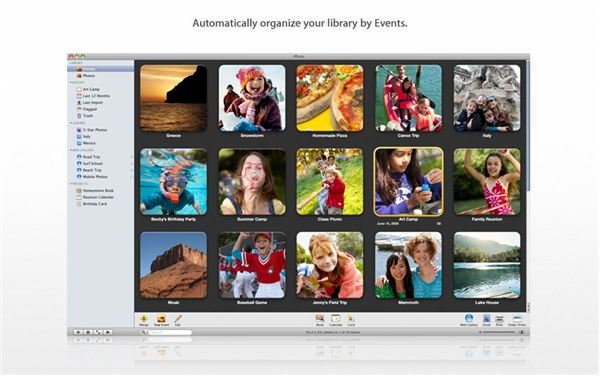 iPhoto
iPhoto is the default photo application that comes equipped on Apple computers. If you want to create your own personalized Christmas cards this holiday season, iPhoto makes it a snap. To get started, you will first launch iPhoto. After it is up and running, you will want to select the photo or photos that you are going to use for your card.
Next, click the "card" button located on the bottom toolbar in iPhoto. This will bring up a new window which will allow you to select the type of card you want to create. On the left hand list menu, you will want to select "Holiday/Events" Now a list of templates for your card should appear to the right. Select a template. I recommend the template entitled "Christmas Stitching." Click the "Choose" button on the bottom of the template menu.
Now, your card should appear on the iPhoto main page. From here, you will want to click on the picture on the card. A slider will pop up. You can use this slider to edit the picture. Move it to the right to create the appropriate zoom on your photo. If you want to do more detailed editing to the card, select the picture by clicking on it, then click "Adjust" on the bottom toolbar. From here, you can add effects and adjust the brightness, contrast, etc.
To edit the text inside the card, simply click the inside view of your card which will be directly to the right of your card. Next, you will want to locate the slider on the bottom of the iPhoto window and drag it all the way to the right. This will bring you a zoomed image of the text inside your card so that it can be edited.
After you are satisfied with your card, then click the "buy card" button on the bottom of the iPhoto window. That's all there is to it. From here, Apple will guide you through the necessary tips on purchasing your Christmas cards and will mail them out to you.